2023 Updated: Enabling Samsung Tablet into Kiosk Mode
We sometimes find receptionists who greet us and provide complete guidance about the building or mall we visit. The reason is that every person needs guidance and information about the place they are visiting. But the problem is that in a populous place, it's hard to deal with every person individually. That obviously demands a lot of staff at a high cost.
To overcome this problem, Samsung tablets are utilized at such places as information Kiosks. With the help of these Kiosks, more people can get accurate information in a few seconds. Let's discuss how to configure Samsung tab Kiosk mode with its all parameters to completely understand it.
1 What is Samsung Kiosk Mode?
Samsung Kiosk mode is a special feature that helps enterprises convert Samsung devices to purpose-oriented ones. It help businesses in various ways and make working smooth and efficient.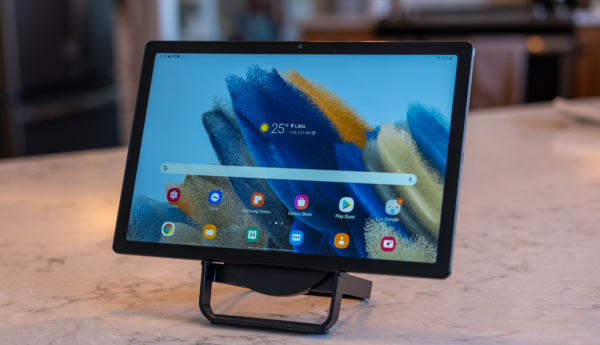 Benefits of Kiosk Mode:
Samsung Kiosks help reduce the cost of a business by eliminating the need to employ extra staff.

Samsung Kiosk mode improves employees' productivity by streamlining tasks and avoiding using devices during working hours.

Kiosk mode helps manage the restrictions of peripheral devices used to input the commands to the devices and make modifications in the device settings per business needs. You can also create menus and toolbars in browsers using a Kiosk mode.

With Samsung Kiosk mode, you can customize the theme and logo of the brand to display them on the kiosk devices for the advertisement of the brand or any specific product newly launched.

Samsung Kiosk mode provides a single interface to the users and a Dashboard for the admin to control and monitor all the activities of Kiosk devices remotely. Maintenance of Kiosks devices is also very easy to manage remotely.

Eliminating the boring and time-consuming tasks with digital Kiosks is a valid reason for customer satisfaction. Similarly, efficient working of the employees also increases their satisfaction with the work, and they concentrate more on work.
2 Best Practices of Samsung Tablet Kiosk
Samsung tablet Kiosks have extensive use in every industry. They are made purpose-built for a specific task with the help of Kiosk mode. Let's discuss the uses of Samsung tablets in various industries:
Restaurants
In restaurants, Samsung tablets are arranged as self-ordering Kiosks to save visitors time and handle more orders quickly. It serves a positive impact on the customers about the restaurant services, and resultantly more customers are attracted. Employees are also able to perform other tasks efficiently. Self-ordering Kiosks also reduce labor costs.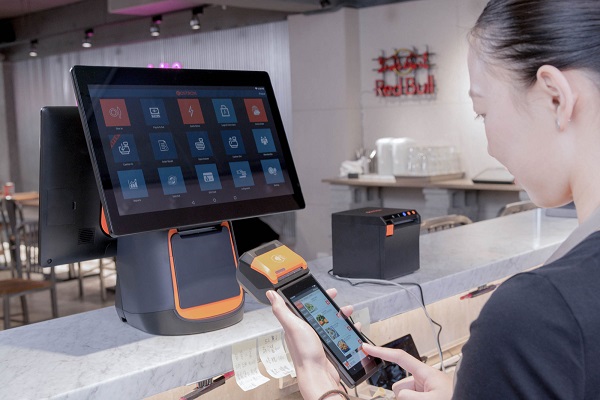 Hotels
Standard hotels have many people to deal with. Samsung tablets are placed for check-in and check-out by the customers to save customers time and avoid the crowd at the reception. These Samsung tablets are in Kiosk mode and only maintain the check-in and check-out records. It is also perfect for keeping a record of hotel visitors that can resolve several issues.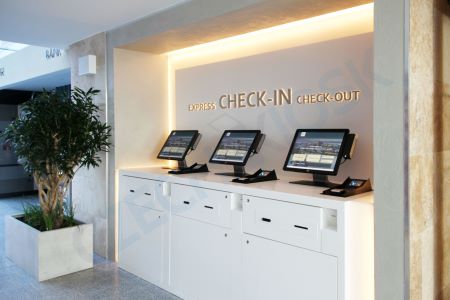 Retailers
Have you ever used Kiosk devices at retailer's shops? If you need help, you must visit a shopping mall and try using the Kiosk devices available to get an idea for their purpose. Retail shops use Kiosk devices for the customers to use as self-service Kiosks.
It includes all the details of products available, non-available products, and prices. Customers can use Samsung tablets with Kiosk mode to select the items to buy, and then a bill is generated that they can pay online.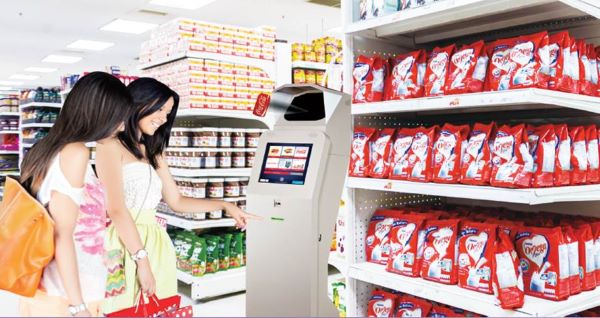 Transport & Logistics
In transport and logistics, the most important part is driving. Drivers are given Kiosk devices only to use for business purposes, and all other activities on the Samsung tablets are blocked using Kiosk mode so they cannot distract by any call or notification. It is also very important to track the location of vehicles to estimate delivery time. Kiosk mode will help you check the location of the devices in the vehicles.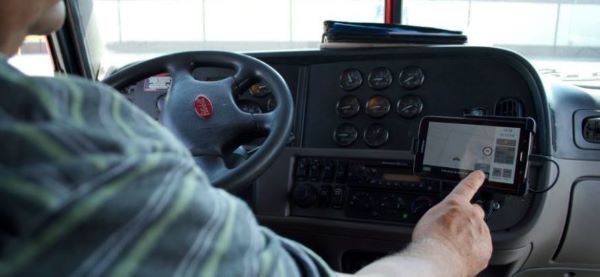 3 Lockdown Samsung Tablet to Specific Needs
1. Single-app Kiosk Mode
Single-app kiosk mode is a special feature that locks down the whole device usage and provides a single app interface to use by the visitors to use for any specific purpose. When Kiosk mode is signed in, Single-app mode automatically launches. There are various ways to set up single-App Kiosk mode on various devices. One of the best methods is to use a solution that provides Kiosk mode features.
Examples:
Digital Signage, ATMs, ticket booking Kiosks, and self-ordering Kiosks in restaurants are all good examples of single-App Kiosk modes.
2. Multi-app Kiosk Mode
Contrary to single-app Kiosk mode, multi-app kiosk mode enables more than one app to be operational on a Samsung tablet in Kiosk mode.
Examples:
In a call center, several employees work with limited devices, and even they use different Apps. The devices have multi-App Kiosk mode, so employees can use different Apps but only those limited to their work. End-users can only switch between those Apps allowed by the admin controlling the Kiosk mode.
3. Kiosk Browser Mode
Kiosk browser mode is a unique feature to enable Samsung tablets to be limited to a web browser with limited access to specific websites. Users cannot perform all web research but can only perform web research on relevant websites.
Examples:
Educational institutions use the Kiosk browser mode to limit students to only search on web browsers related to their studies.
4 AirDroid Business MDM - Remotely Configure Android Devices in Bulk
AirDroid Business MDM solution helps streamlines operations, reduces expenses, and boosts the productivity of the business. With this solution, you can transform each device into a Kiosk that is according to your demands.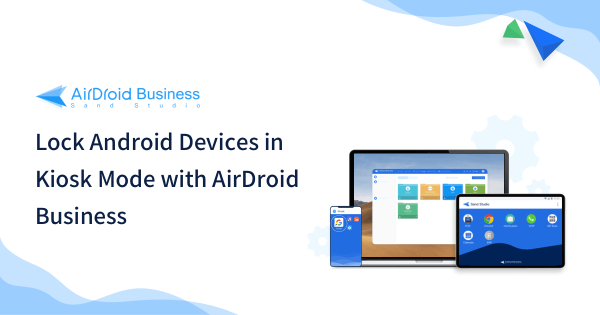 You can configure devices to function as desired. Including wallpaper settings, volume and other system settings. Select apps to run on each Kiosk device so that the device automatically launches those apps even after reboot.
You would need an AirDroid account to log into the MDM admin console (dashboard). You can sign up by clicking the Free Trial button below.
1. Lock Samsung Tablets into Single-app Kiosk Mode
Step 1.Open Admin Console

Log in your AirDroid account to open the AirDroid Business admin console.
Step 2.Config File

Click on the "Policy & Kiosk Config Files > Create New Config File >Kiosk and then tap "OK".

Step 3.Apply Kiosk Profile

Add the app that you want to set up on your device in "App Allowlist", Go to the Kiosk Launcher > Single-app Mode. Then select the app in the box to launch in Kiosk mode. Finally, apply the settings on devices.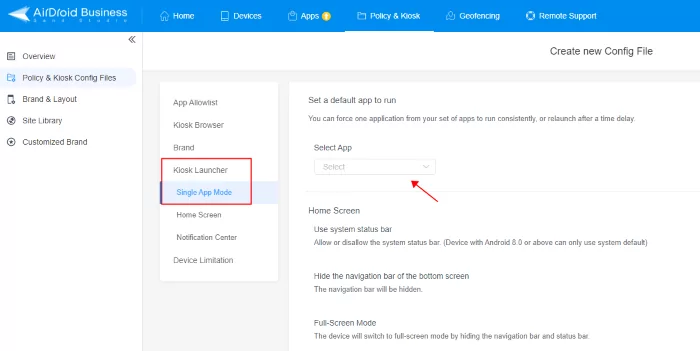 2. Lock Samsung Tablets into Multi-app Kiosk Mode
Step 1.Open Admin Console

Log in with your AirDroid account to open admin console.
Step 2.Privacy and Kiosk Config Files

After opening the admin console, click on the 'Privacy and Kiosk Config files' tab and select the 'App Allowlist' tab. Keep scrolling down and select all the apps you want to run on selected Kiosk devices.
3. Configure Kiosk Browser on Samsung Tablets
Step 1.Login Admin Console

Log in to the Admin Console of AirDroid Business MDM using the email and password.
Step 2.Config File

After successful login, a Dashboard will appear with many options. Click on the 'Privacy and Kiosk' tab from the top menu and select the 'Privacy and Kiosk Config files' option.
Step 3.Create New Configuration File

Click on the 'Create Config File' tab with a plus symbol to create a new file. You can also click on the change button to edit the already created file.
Step 4.Browser Settings

From the left-side menu, click on the 'Kiosk Browser' tab and select 'browser Settings.' A list will appear on the screen, and you can modify and apply all changes to the Kiosk browser Settings.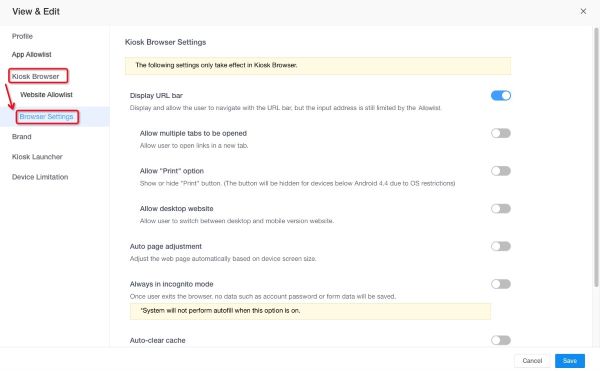 How to Disable Kiosk Mode on Samsung Tablets?
There are two ways to disable the Kiosk mode enabled by AirDroid Business MDM on the Samsung tablet. The first one is from the device itself and the second method is from the admin console.
To exit the Kiosk mode from the device, click the three-dot symbol at the upper right corner of the screen, and then click the About tab. Now, click the Exit Kiosk tab, and enter the security password to exit the kiosk mode.
5 Customize the Samsung Kiosk to Perfectly Match Your Business
AirDroid Business provides a lot of unique features for setting up Kiosk mode. These features are a complete package for your business support to meet all the end points of your business smoothly and perfectly.
Custom Brand and Layout
AirDroid Business supports promoting your brands by providing the facility to customize the interface. You can create a layout for your brand and a theme. Display it on your Kiosk screens with an eye-catchy view so that viewers get more attracted towards your brand. Similarly, this software enables you to customize the notification center according to your needs.
System Setting
Many things can be done on any connected device remotely, like setting up the device's sound volume, hotspot, display, Wi-Fi, and many other settings on a selected device. With the help of AirDroid Business MDM, you can remotely manage the connected devices' system settings.
It also enables you to monitor various activities of the devices remotely, like the battery level and online and offline status. Even you can access the target device's cameras and view what is happening.
Custom App Store & App Allowlist
The App Allowlist feature of AirDroid Business MDM is amazing as it enables the users to add some apps that are allowed to access the device while all other apps are hidden and cannot operate on the device.
You can also use single-app Mode to allow only a single app to be operational on the Samsung tablet in Kiosk mode. AirDroid Business MDM supports managing your apps from Google Play Store and also enables you to customize the private app store with your specific brand name, logo, and theme that perfectly fits your brand.
6 Can I Configure Kiosk Mode on Samsung Tablets without MDM?
Let's discuss how we can configure Kiosk Mode on Samsung tablets without any MDM solution. Samsung has a built-in pinning feature in Settings. You can set Samsung tablets into Kiosk mode easily using the pinning feature
To pin an App on a Samsung tablet:
Open the Settings App on the tablet.

Tap on 'Security' or 'Security & Location'.

Select the 'Advanced' tab, click on the "App Pinning" or "Pin Windows" option and turn it on.

Now open the screen that you want to pin and swipe your finger to the middle of your screen. Then tap on the pin icon.
With the help of this method, only a single app can be pinned. It does not provide multi-app pinning feature. The app Pinning feature is only available on Android devices with Version Lollipop 5.0 and later.
Pros
It is suitable for domestic purposes.
It is free to use.
Cons
The pinning feature allows only one app to work on an Android device.
It is not a certain feature because anyone can easily exit the App pinning and other apps can open from a single app, so not recommendable for commercial use by large enterprises.
7 Would Kiosk Mode Be Exited By the Home Button?
You can exit Kiosk mode on some Samsung tablets by pressing the Home button. It is a drawback for Kiosk mode because, with its help, anyone can exit the Kiosk mode and use the tab freely with complete access. Then obviously, the need and purpose of the Kiosk mode failure.
Let's correct the things here. It depends on your method because if you use the right MDM software for Kiosk mode, it will never allow anyone to exit the Kiosk mode except the admin. AirDroid Business is a fully secure tool for Kiosk mode on Samsung Tablets, as there is no other way to exit the Kiosk mode except at the admin's will. It provides services to control businesses conveniently.
8 Bottom Line
There are various challenges that need effort to handle in business. There are several technological solutions to these difficulties. Kiosk mode is also one of the most effective solutions for many company obstacles. Businesses like Samsung tablets for Kiosks because they are readily available, less expensive. Kiosk mode offers several diverse sorts like single or multi-app mode. Samsung's App pinning functionality is unsuitable for business use. Therefore, it is crucial to use an MDM solution that delivers a completely secure and configurable Kiosk mode to fulfil all corporate requirements.
INFOGRAPHIC

Was This Page Helpful?