Google MDM: What is it? How to Use it for Your Business?
Three hundred million. It's the number of Google Workspace global users that is released in Google's Year in Review report on Jan 2023. The digit is surely not the ultimate number that people use Google for work. Tools like Gmail, Calendar, Docs Editors and others are common to most people.
However, Google for work does not end with these. As remote work becoming a mainstream mode these days, business owners show enthusiasm for mobile device management for the sake of security. As part of Workspace, Google brings its MDM solution to respond to their enthusiasm.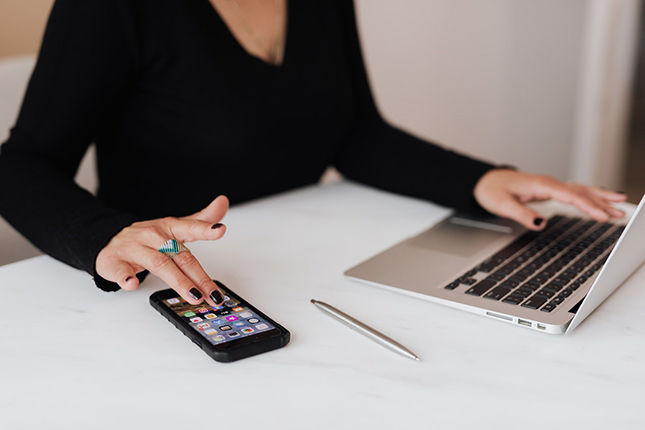 Google Mobile Device Management is loved by many small and medium-sized companies, in particular, by startups. Here we will take a deep-going look at Google MDM and see how to use it for your business.
Part 1: What is Google MDM? What Can You Do with It?
Does Google have a MDM? Yes, Google includes device management service in Workspace. So, what is it exactly? Google MDM is a service-like term to illustrate the solution of managing and monitoring endpoints in an administration panel. It enables companies to protect sensitive data with internal management and within one place.
Fall into operations. Which specific tool does it refer to Google Mobile Device Management?
Google Workspace is the answer you're looking for. However, it should be pointed out that Workspace contains a series of tools and many of them are teamwork-convenient rather than controlling devices.
To be clear, Google Workspace MDM is more directed to its Admin console. After you have signed in to Workspace, you will be given access to the console. And this is the place to carry out your organization and management work, such as enrolling devices, monitoring event log, managing apps, and users, etc.

Then, what Google MDM features are contained in the Workspace Admin console? Or, more precisely, what can you do as an administrator in the panel and use Google for your business? Achievable operations are as follows:
● Add or delete your employees' user accounts from your organization so that you can further assign tasks or permissions
● Divide employees into different teams
● Assign Admin roles to another user account
Endpoint Management
● Add or remove mobile devices from your organization
● Enforce users to set a screen lock or password on their mobile devices
● Define which apps device users can install and the third-party apps are available to manage
● Block devices and limit their access to your company Drive files and info
Rules and Security
● Set 2-step verification when users sign in their accounts
● Set duration or permission for users when they use tools and apps
● Set alert notification once unusual activities occur
Monitor and Report
● View users' activities like login, creating content, sharing content, etc
● View how tools and apps are used
● View alerts that configure to user accounts and devices
Security is the highest concern when enterprises choose mobile device management services for unsafe circumstances that could happen out of expectation. For example, a BYOD device can become dangerous due to public network connection, malware installation, or loss. It could threaten data safety.
To secure your company, the Admin can set up a set of mobile device management features which are divided in to the basic ver. and the advanced ver.
Part 2: What's the difference between Google basic and advanced mobile management?
Both are Google Workspace MDM built-in features to control the added devices for protection purposes. The differences lie in the control degree and the requirement of the device.
Basic

Advanced

Features
Passcode enforcement
Set screen lock
Set password
Set password & confine password length
Reset password periodically
App management
Whitelist for Android apps
Whitelist for Android apps and iOS apps
Control installation permission
Rules settings
Default rules provided by Google Workspace
Set up restrictions, such as device approvals, camera usage, data encryption
Remote wipe
Wipe user accounts
Wipe all work data and apps from devices
Device
Android 2.2 and later
Apple iOS 8 and later
iPad OS 13.1 and later
Android 6.0 or support work profiles and fully managed mode
iOS 12.0 and later
iPad OS 13.1 and later
Advanced Google MDM has more features for enterprises than the basic one. Click here if you're interested.
Google provides four pricing plans starting from $6 per user per month for Workspace users. Notably, features of Advanced management are not open to Starter and Standard plan.
If you have a lower security need and have more interest in online teamwork, Basic management can meet most of your business demands. But, if you're looking for higher control or prefer company-owned devices, the advanced ver. is the one for you.
Part 3: How to Set up Advanced Google MDM and Manage Your Enterprise Devices?
Applying Google Workspace MDM can bring you confidence in coordinating teamwork and reduce the risk of a data breach. It's worth noticing that the MDM provider supports company-owned devices like mobile phones, laptops, and desktops.
Because the basic management mode is a default setting which does not require additional app installation, this guide will go with Google advanced mobile management. Now, time for practice.

1. Create an Account to Log into Google Admin Console
Find the official website of Google Workspace. If you're a complete beginner, click "Get started" to get an account.
You're asked to provide your brand name, employee number, region, email address, domain, company address, and credit card info for the account creation.
Once you've finished, log in to the Admin console. And you will see fifteen feature logos in the panel, including Dashboard, Users, Groups, Organization units, Devices, Apps, Security, Reports, Admin roles, etc. Here is the springboard for all operations of Google mobile device management.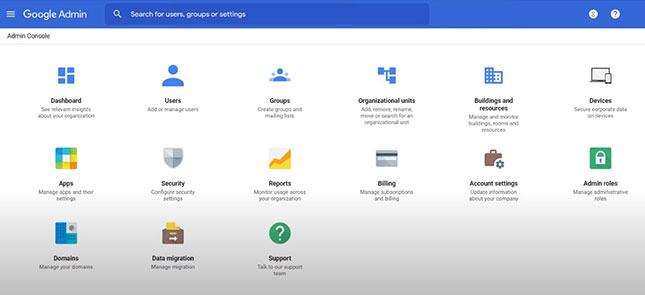 2. Add User Accounts and Group them in Organization Units
You will need to invite a new user or add a new one in Users to make up your organization blueprint. After your personnel is added, go to Organization units to manage your team. In this way, you can manage users in bulk and assign tasks at once.
3. Turn on Advanced Management Mode
Now follow the direction to open the mode: Devices > Mobile & endpoint > Settings > Universal settings > General > Mobile management. Select Custom, then Advanced.
Remember to confirm the Organization units that you want to apply the mode.
4. Enroll, Manage Mobile Devices and Complete Configuration
Here we will take Google MDM android as a demonstration.
First, to enroll android devices, you need to ask the user to choose Google in Setting> Accounts > Add account on his phone. Then, a prompt will pop up and require him to proceed the log on to Google Workspace email address.
Next, ask the user to install Android Device Policy app so that you can set up a password for the managed android device and further use advanced management features. You will need to inform the device user about it.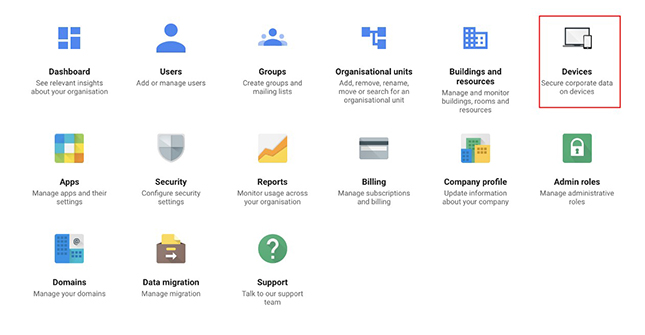 Lastly, go to Device > Mobile & endpoints > Settings > Android settings to finish configurations. This step is to control how the user can access Workspace and use his Android device for work.
In Android settings panel, you can see the following features: General, Work profile, Apps and data sharing, Networks, Device features, Lock screen, etc.
5. Monitor User and Device Activity
Monitoring is an important part of mobile device management. Those alter and potential problems hide in data and monitoring them can timely identify risks and solve them. Google MDM introduces Reports for supervision. In the menu, you can check log events, app usage, user and device activity, etc.
Part 4 : What Industries are Suitable for Using Google Mobile Device Management? And what are not?
Mobile devices represented by phones and tablets take more and more jobs in people's work. Hence, MDM solutions play a rising role to cope with the change. Google mobile device management, with a world-known logo, is an option listed at the top. Some scenarios make full use of it - education, government, sale team, and marketing team.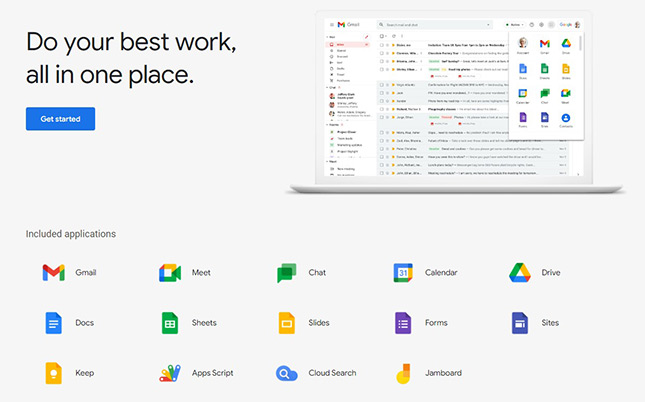 Together with a control center, Google Workspace has a toolset to support working remotely and simultaneously.
For instance, teachers and students can use Google Meet for online classes. Google Drive makes it easy to keep and share files at anytime and anywhere during department cooperation or companies with overseas offices. If you're focusing on people-to-people interaction and collaboration, Google MDM will be an ideal choice for your business.
However, Google MDM service is limited by user quantity and features. An admin can only add up to 300 users to his organization, which is not suitable for large-scale enterprises.
Plus, Google Workspace MDM does not have Kiosk mode, geofencing and remote control. It's quite different from other MDM software and prevents it from being applied to more industries. Some cases:
Retail & Service Industry:
Assuming you have to manage a great number of unattended devices to provide payment or consulting service, you will need the Kiosk mode feature to lockdown devices in a work-saving way.
Logistics & Transportation:
Geofencing, a feature for tracking location and geofence alerts, can help logistics companies to monitor mobile devices used by drivers.
IT, MSP & Hardware:
Those industries will need remote control to make troubleshooting easier.

In addition to the mentioned, MDM providers like Airdroid Business offer more functions. As an example, Airdroid Business is available for:
Black Screen Mode - allows IT admin to maintain a device invisibly
Kiosk Mode - support Single-app Mode, Multi-app Mode, and system settings
Kiosk Browser - block access to unsafe websites, safeguards user privacy with the incognito mode and auto-clearing caches
Policy template - choose configured template provided by Airdroid Business to manage devices immediately
File management - transfer or delete files in bulk and in multiple endpoints via TLS encryption
You may ask:
1. Does Google have a MDM?
Definitely. Google offers MDM through Google Workspace. You can access it in Admin console. Check the details
here
.
2. How do I remove Google MDM?
The method depends on your role.
If you want to disable Google MDM as an administrator, you will need to log in Admin console for Google Workplace. Open the Menu and go to Account > Account settings > Account management. Click Delete Account and you will no longer enter Workspace.
If you want to disable your device from Google MDM, you will need to ask the admin to wipe your user account in the Admin console and delete Google Device Policy app. Once it has been done, you can end the connection with the organization.
3. What devices does Google endpoint management support?
Google supports the following endpoints: mobile phones, tablets, laptops, and desktops that run Android, iOS, Windows, MacOS, and ChromeOS.
4. What is the difference between Google Workspace and G Suite?
In fact, they are one thing. G Suite is a predecessor of Google Workspace. In 2020, the company rebranded G Suite and strengthened features between tools and apps for business users. Then Google Workspace comes to the public.
Was This Page Helpful?