How to Disable Screen Timeout on Company-Owned Android Devices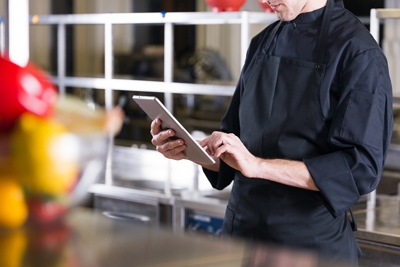 Screen timeout is a common feature found on most electronic devices, including Android phones. However, it can become an obstacle for employees in various industries who need to keep their screens stay on longer. Disabling screen timeout can significantly improve work efficiency, allowing employees to focus on their tasks without interruptions.
In this article, let's explore various ways to adjust and disable screen timeout on Android devices. We will also provide concrete examples of how turning off this feature can significantly enhance work efficiency in a range of business scenarios.
1 Adjusting Screen Time on Android
To begin with, we will guide you through the process of changing the screen timeout duration step by step.
Open your Android Settings
First, open your Android Settings app.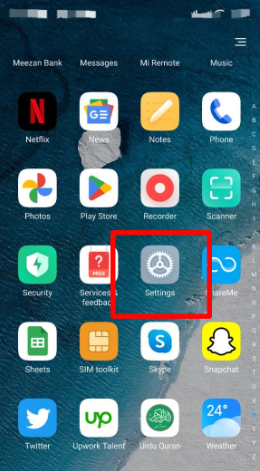 Tap Display and Look for the "Sleep" or "Time Out" Option
Once you're in the Display settings, look for "Screen Timeout" and tap on it. You'll then be given a range of options, ranging from just 15 seconds to 30 minutes or even "Never."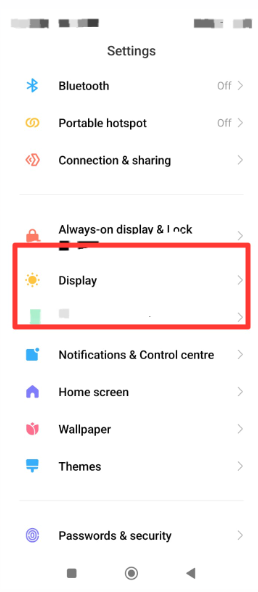 Adjust Accordingly How Long Your Phone Screen Should Stay on While Idle
Select when you'd like your phone's screen to stay on while idle, and you're good to go!
Remember that setting a longer screen timeout will drain your battery faster, so you might want to find a balance between keeping android screen on and preserving battery life.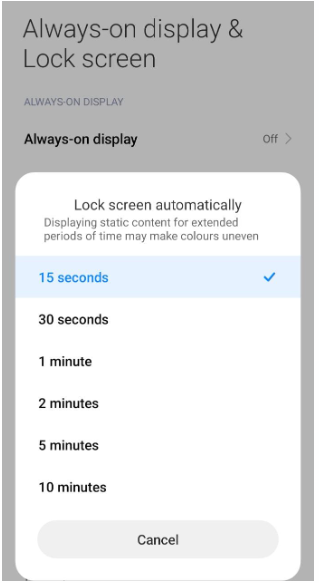 2 How to Disable Screen Timeout on Android Devices
If you find that adjusting screen timeout settings does not quite meet your needs, there are several ways to turn off screen timeout on Android devices.
1. Lock Screen Options
One way is to enable lock screen options in your phone's Settings menu. You can also set your device to never-ending lock screens and keep it that way.
To do so, follow these steps:
Step 1.Go to "Settings" on your Android device
Step 2.Tap "Lock Screen" or "Security & Location" (depending on the Android version)
Step 3.Select the "Screen Timeout" or "Sleep" option
Step 4.Choose "Never" or the longest available time to turn off screen timeout on Android
Pros
Built-in feature that doesn't require downloading any additional app.
Easy to access and configure.
Can extend the screen timeout to a longer duration or even disable it altogether.
Cons
The device may consume more battery power when the screen is constantly on.
2. Third-Party Applications
You can also keep Android screen on using various third-party apps on Google Play Store.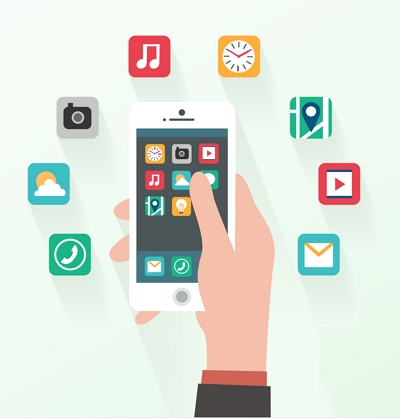 Here's how you can do this:
Step 1.Go to the Google Play Store
Step 2.Search for a screen timeout disabling app
Step 3.Download and install the app of your choice
Step 4.Follow the instructions provided by the app to disable screen timeout
Pros
Provide more customization options and features than built-in screen timeout settings.
Some apps can provide advanced features like dimming the screen or disabling touch inputs.
Easy to install and use.
Cons
Some apps may require in-app purchases to access all features or contain intrusive ads.
Some apps may not be reliable or may conflict with other installed apps.
3. Through the Display Option
This is one of the most straightforward ways to keep Android screen on longer.
The procedure is as follows:
Step 1.Go to "Settings" on your Android device
Step 2.Tap "Display"
Step 3.Select the "Screen Timeout" or "Sleep" option
Step 4.After Clicking on Screen Timeout, your phone screen will stop turning off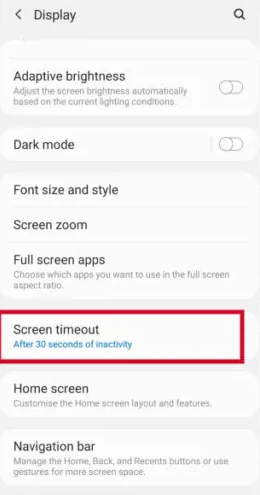 Pros
Simple and easy to configure.
Does not require downloading any additional app.
Cons
Built-in screen timeout settings may not offer as many customization options as third-party apps.
3 3 Industry Scenarios: The Benefits of Disabling Screen Timeout
As mobile device usage continues to rise, businesses are looking for various ways to boost employee productivity and streamline workflows. One of them happens to be turning off screen timeout on Android devices.
Let's examine a few industry scenarios:
Industrial or Manufacturing Companies
In industrial or manufacturing settings, engineers and technicians often need to refer to manuals or technical drawings on their mobile devices while operating machinery or working on the factory floor.
By disabling screen timeouts on their Android devices, workers can avoid interruptions and maximize their productivity. This simple adjustment can save them valuable time and streamline their workflow, leading to increased efficiency and productivity.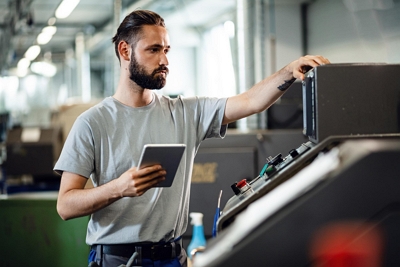 Retail or Hospitality Industries
Turning off screen timeout on Android devices can be especially beneficial for workers in the retail and hospitality industries. For instance, retail employees often need to check inventory levels or process transactions using mobile devices.
Similarly, front desk agents at hotels need to access a guest's reservation details using a point-of-sale (POS) system. If the screen times out, they must go through the hassle of unlocking the device and returning to the reservation management app, which can significantly slow down the check-in process.
By disabling screen timeouts, frontline workers can avoid these interruptions and carry out their tasks more efficiently, improving customer service and productivity.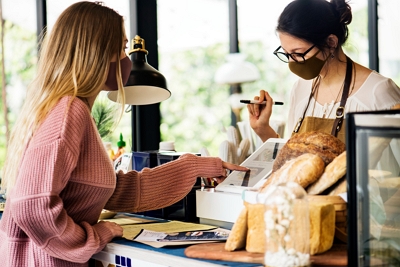 Logistics or Transportation Companies
Logistics and transportation companies use mobile devices extensively to help drivers with navigation and shipment tracking. Drivers usually use smartphones or tablets to get live traffic updates, scan barcodes or QR codes, and stay in touch with the dispatch center.
Drivers can save time by turning off screen timeout, which prevent the device from turning off automatically. This means they don't have to unlock and restart their devices repeatedly, especially when driving. This can make the process more efficient and straightforward, enabling drivers to concentrate on their main tasks while ensuring timely delivery of shipments.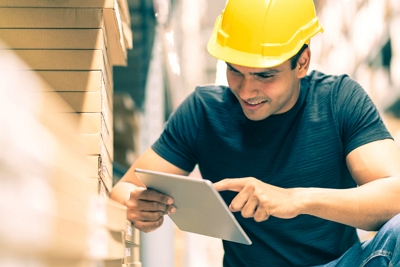 4 What are the Downsides for Disabling Screen Timeout?
Although disabling the screen timeout on company-owned Android devices can have significant advantages, businesses need to assess the potential drawbacks before taking this step. Here are some factors to consider:
1. Reduced Battery Life
When the screen timeout setting is turned off, the screen will remain active until it is manually shut down. This can drain the battery faster than if the screen had turned off automatically after a few minutes of inactivity.
In addition, disabling the screen timeout feature may lead to additional charging or the need for a battery replacement, which can incur additional costs for the company.
2. Increased Security Risks
Another downside of disabling screen timeout is an increased security risk. With screen timeout enabled, a password or other form of authentication is required to access the device after a certain period of inactivity. This feature acts as a safeguard against unauthorized access and protects sensitive information stored on the device.
However, if screen timeout is disabled, the device can be accessed without authentication. This increases the risk of data breaches and other security incidents.
3. Increased Risk of Screen Burn
Lastly, when you disable the screen timeout feature on an Android device, you run the risk of screen burn-in. This occurs when a static image remains on the screen for an extended period, leading to permanent damage to the display. As a result, the screen's lifespan can decrease, and your company may have to pay higher costs for device replacement or repair.
5 Using MDM Solutions to Disable Screen Timeout
If you are managing a large fleet of company-owned devices, manually adjusting the screen timeout settings on each device just won't work. This is where Mobile Device Management (MDM) solutions come in handy.
MDM solutions provide IT administrators with a centralized tool to manage, monitor, and secure mobile devices, including Android devices. With MDM solutions, administrators can remotely manage settings and configurations on multiple devices, saving time and resources.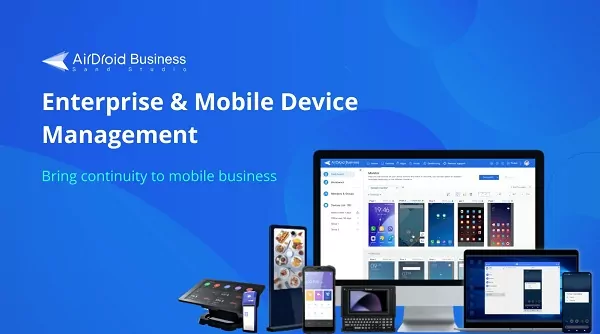 Managing a Large Deployment
Managing a large number of Android devices can be a daunting task due to the following reasons:
The sheer scale of the deployment can make it difficult to keep track of all devices
The devices can be spread out geographically, making it challenging for IT staff to be present to troubleshoot problems physically
However, Mobile Device Management (MDM) solutions can alleviate these challenges by providing a centralized platform for remotely managing and monitoring all devices. Using MDM, administrators can ensure that all devices are up-to-date, secure, and in compliance with company policies.
Moreover, they can easily configure device settings, including disabling screen timeout settings, for all devices, saving them time and effort.
Automated Enrollment and Configuration
MDM solutions are capable of automating the enrollment and configuration of new Android devices. This feature saves IT administrators time and reduces the chances of human error.
To configure device enrollment, you can establish a specified device provisioning template. Device options like grouping, device-specific limitations, programs that need to be loaded, etc., will be immediately pushed and applied to the device after it has been registered.
Security Policy
Businesses and organizations consider security as a top priority, and turn off screen timeout on company-owned Android devices can pose a significant risk of unauthorized access. This is where MDM solutions come into play, as they offer security policies to minimize such risks and safeguard corporate data.
Here are a few ways MDM solutions can enhance security on Android devices:
Encrypt data stored on the device to prevent unauthorized access, such as files and documents, as well as data transmitted between the device and company servers.

Remotely erase all data on a lost or stolen device.

Restrict access to company-owned Android devices through various lock screen password rules.
FAQs
Will disabling screen timeout drain the device battery faster?
Yes, disabling screen timeout can cause your device's battery to drain faster than usual. However, the extent to which this happens depends on several factors, including your device's hardware, the brightness of your screen, and the apps you're running.
How to disable screen timeout for certain apps on android?
The "Keep Screen On" and "Stay Alive" apps, available on the Google Play Store, enable users to keep the screen on for specific apps. The former turns off the screen when the app is closed, while the latter can also keep the screen on while the device is charging and has customizable settings for individual apps.
Will disabling screen timeout prevent Android devices from locking?
Disabling screen timeout on an Android device may prevent the screen from turning off after inactivity, but it does not necessarily disable the device lock. The screen timeout is a battery-saving feature that turns off the screen after a certain period of inactivity. At the same time, the device lock is a security feature that requires a passcode, pattern, or biometric verification.
Was This Page Helpful?