[Answered] How to Use Chromecast on Your Computer?
AirDroid Cast Screen Mirroring App
Cast Android/iOS/Windows/Mac to another PC or TV.
Control your Android/iOS devices with mouse and keyboards from the computer.
Best alternative to Chromecast for screen mirroring.
In this article, we will discuss the Chromecast; a screen mirroring device found helpful in sharing your mobile screen with a big screen. We often use screen mirroring apps and gadgets when we get tired from our daily routine of watching videos and shows on our tiny mobile screens.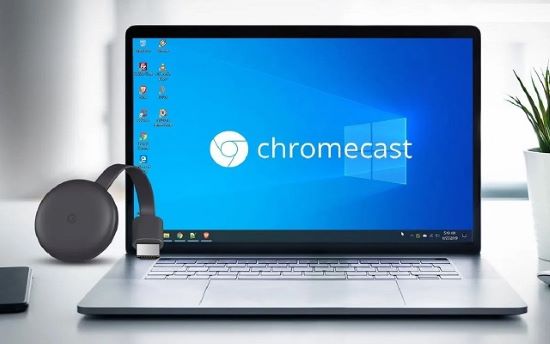 Other than Chromecast on PC, we have a large number of applications that we get from the Google Play Store and App Store for screen casting. Let's study the things in detail.
1 What is a Chromecast Device?
Chromecast is a pocket-size, beautifully designed device developed by Google to watch images and video content on a television. It is an adapter that connects with the TV and allows you to share your mobile screen with your TV or PC.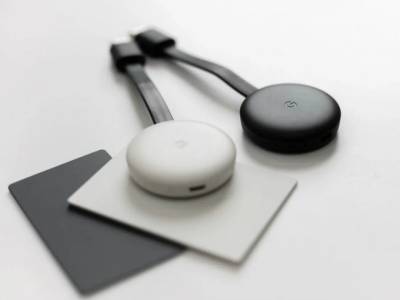 These devices are often preferred when you are tired of watching YouTube, Netflix, Amazon Prime, etc., on your tiny mobile screen. You can connect your mobile to the TV using a Chromecast device and display your mobile online videos on the connected TV.
Using this feature, you can enjoy movies with your friends and family. You must connect your phone and the Chromecast device with the same Wi-Fi.
Is Chromecast Free?
You need to buy the device once; the casting is free. You only need to buy subscriptions to Netflix or other platforms to enjoy them on the big screen. Chromecast itself is free to use.
2 Can I Use Chromecast on My PC for Free without Delay?
Chromecast is mainly used to share your mobile screen with a TV, but the exciting thing is that you can also use it on your computer. Let's discuss how it is possible. To setup Chromecast on PC, you just need an extension, a stable internet connection, and a web browser.
Steps to Cast Screen using Chromecast on Computer?
Install the Google Chrome Browser
Google Chrome Browser is the best option as we already know that it is a Google device. You can also use other browsers, but it would be more appropriate for you to Google Chrome. Google Cast is now built fully into Chrome.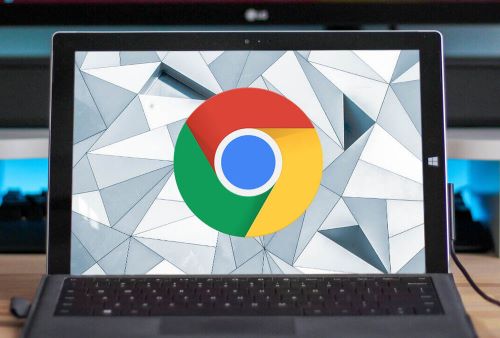 Pair Chromecast and your PC with the same Wi-Fi
To create the connection, make sure both the PC and the Chromecast are paired with the same Wi-Fi connection.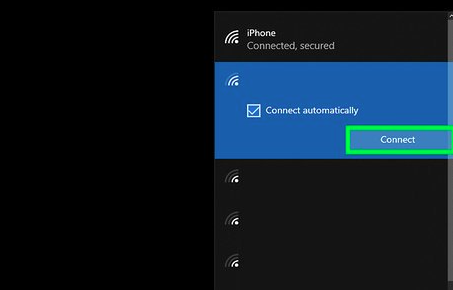 Select your Chromecast Device
Click on the Google Cast icon(on the top right corner of the Chrome browser) and select your relevant Chromecast device to cast the screen on it.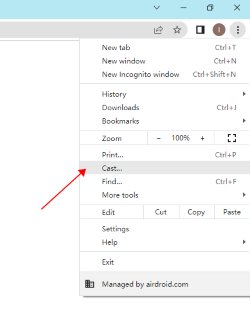 Choose a File from your computer
You can also choose a file from your system for casting. Drag the file to the browser on play it.
How is Chromecast Beneficial for Screencasting?
Chromecast is beneficial in screen mirroring because it is an easy-to-carry pocket-sized device.

You also don't need to purchase an HDMI cable for connecting the Chromecast device as it already has a built-in HDMI cable.

The Guest Mode allows you to share your presentations, which is also one of the critical reasons Chromecast is suitable for its users.
Why Should We Prefer Other Methods for Screen Casting?
Chromecast has no app installed on it, and its use is very limited.

The remote control feature is not available while using Chromecast.

To watch content is 4K, you need to buy Chromecast Ultra, which is very expensive than the other ways or screen casting.
3 How to Cast Phone Screen to PC/Mac without Chromecast?
Reading this portion will hopefully solve all your problems. Several other apps are available in the market for screen mirroring. All these apps can be used to cast your phone screen to a PC/Mac without Chromecast.
But the fundamental problem is the compatibility of these applications. Some apps would be supported for iOS devices and some for Android devices. Let's discuss the best app that is supported on all computers and mobile devices to save your time and get you out of this problem.
AirDroid Cast is the application that supports both Android and iOS devices, and you can easily cast your phone screen on Windows PC/Mac and even smart TV.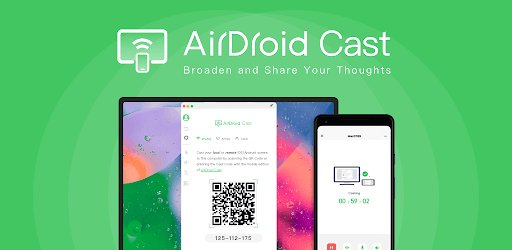 How AirDroid Cast is Used to Cast Phone Screen to PC/Mac?
AirDroid Cast is a powerful app getting fame rapidly in all fields as it can be used in almost all departments, from entertainment to professional work.
Install the App on Both Devices
Download and install the AirDroid Cast app on your mobile and PC by click "Try It Free" button below or search this app on App Store.
AirDroid Cast
Easy to cast the screens of your phone and PC
1,000,000+ people have signed up.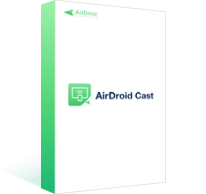 Choose the Connection Medium
AirDroid Cast supports different mediums to create a connection. Following is the list of mediums supported:
Wireless (Remote & Local Network)

AirPlay (Only available for iOS devices)

USB Cable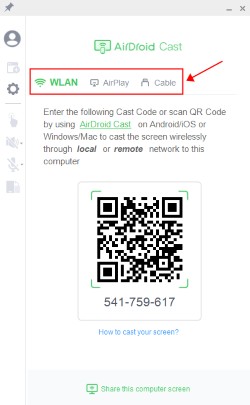 Click the option that you want to choose for connection, follow the instruction to connect both your devices.
Start Casting
After that, allow permission for both devices. Your screen will display on the PC. Another amazing feature of AirDroid Cast is that you can control your Android/iOS devices on PC. This function is useful when we are at work.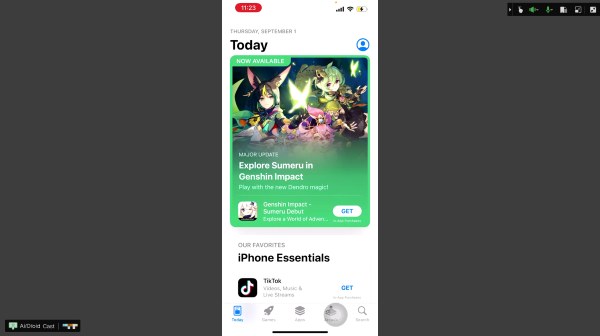 What are the Advantages of Using AirDroid Cast?
It fully supports all mobile and PC Operating Systems.

You can use it for remote and online meetings.

Two-way communication with clear audio makes it best for meetings and online classes.

Using AirDroid Cast, you can share up to 5 screens at a time.
4 Comparison between Chromecast and AirDroid Cast
There are several points on which we can compare the Chromecast and AirDroid Cast and decide which one is the best option for us.
Control Feature:
Chromecast does not provide a device controlling feature, while the AirDroid Cast allows you to control your mobile screen on your PC.
Two-way Audio Sharing:
Chromecast only provides you with the sound of the video or audio you are casting. In contrast, the AirDroid Cast provides you with two-way audio sharing that is really helpful in remote meetings organized using AirDroid Cast.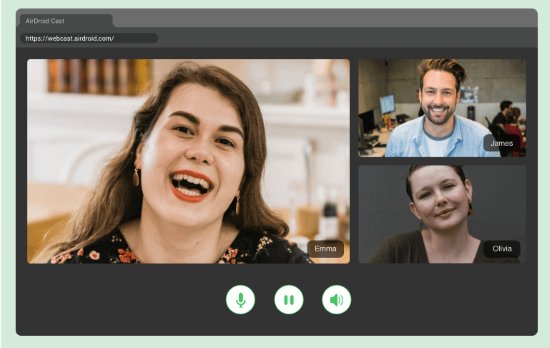 Connection Methods:
Chromecast only has one connection method, i.e., the HDMI cable and the Wi-Fi network should be the same, while the AirDroid Cast can create a connection using a USB Cable, Wireless, and an AirPlay. In AirDroid Cast, Wireless connection can be local and remote, both as per your feasibility.
Screen Casting Performance:
Screen casting from the Chromecast is quite tricky as, most of the time connection fails due to technical internet requirements. On the other hand, AirDroid Cast needs five minutes to create a connection with low delay in connectivity.
5 What are the Benefits of Screen Mirroring?
Screen mirroring devices have a comprehensive list of benefits it provides to users. These benefits may include entertainment, study, and professional uses. Let's have an eye on the benefits of screen mirroring.
Offices:
Screen mirroring tools and applications show slides on a big screen without handling your gadgets that are not easy to carry.
Schools and Universities:
Screen mirroring apps are used in schools and colleges to ensure you are well aware of the new technologies. Students can use this feature for presentations, and teachers can also use it to deliver their lectures effectively.
Entertainment:
Most children and elders use screen mirroring features in their homes for entertainment. Friends get together and play movies. Similarly, parents invite the family members to watch some show or movie together on a big screen.
6 Reviews about the Best Screen Mirroring App: AirDroid Cast
AirDroid Cast is a simple and super easy to use App. No other app can compete in providing extraordinary features like a screen mirroring App. This app is best for online game streaming on a big screen with the best controls. The display of AirDroid Cast is based on icons that are commonly used to understand what to do. A simple scanning QR code allows you to share the screen within a few times. Here are some images attached of the reviews by some valuable clients about the AirDroid Cast app.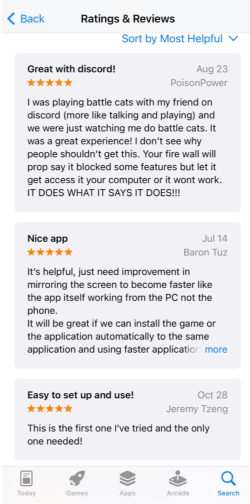 7 Conclusion
This article's primary purpose is to know the best method for screen mirroring. Chromecast is a device used to screen mirror your mobile or computer on the TV. Chromecast on PC is a complicated method for screen mirroring, so we should look for another option. We have compared Chromecast with the AirDroid Cast app for screen mirroring and found that Chromecast is good but has minimal features. At the same time, AirDroid Cast is the best option in all aspects we have compared above in the comparison portion. Moreover, by the user reviews, we can analyze that all the features and essential points about the AirDroid cast mentioned above are authentic.
Was This Page Helpful?