How to Remote Control Android with TeamViewer QuickSupport
Are you planning to use TeamViewer Android to remotely control your Android phone from a PC but couldn't decide it it's the perfect program for you? Worry not as we will walk you through everything you need to know about how to use TeamViewer for Android including its pros and cons.
Additionally, you'll learn about a perfect alternative to TeamViewer app Android that anyone can use – irrespective of their skill levels.
Let's find out!
Part 1. How to Use TeamViewer QuickSupport for Controlling Android Remotely
TeamViewer has been a popular Android remote access app for quite some time now. It does exactly what it promises and provides a consistent connection between your Android phone and PC.
Once a connection is established, users can manage everything on their smartphones including incoming calls and messages, social media apps, and so on. Aside from that, it allows users to play Android games, install or uninstall apps, transfer files, take screenshots in real-time, customize the Wi-Fi settings and so on.
Moreover, you can also hold meetings and chat with other people with TeamViewer for Android mobile to PC. But keep in mind that the setup process might be different for different devices which is quite a big downside for many users.
Text Guide
Check out the below steps to use this program:
Step 1.First of all, install TeamViewer on Android phone from the Google Play Store and launch it.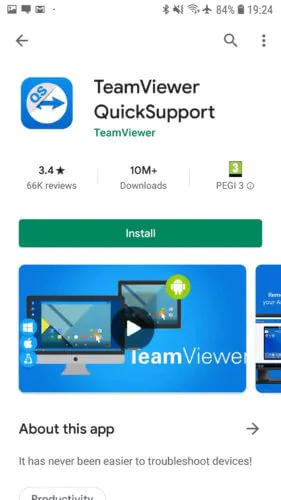 Step 2.Follow the on-screen instructions to complete the setup process. The app will generate a user ID for your device.
Step 3.Now, install TeamViewer.exe on your PC and launch it. Set it up and enter the generated ID under the "Partner ID"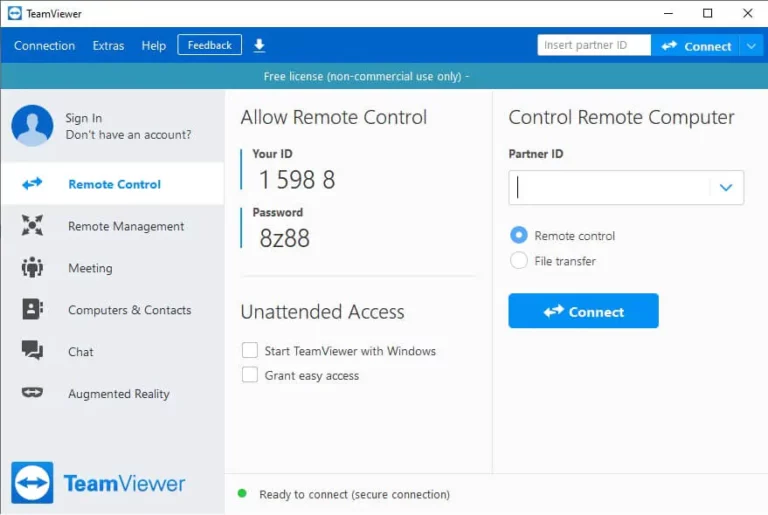 Step 4.The devices will connect wirelessly. Now, you can manage the smartphone from your mouse and keyboard.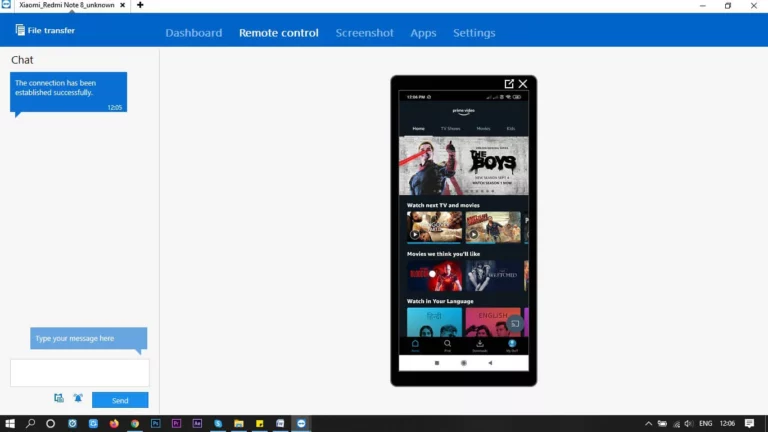 Part 2. Review of TeamViewer QuickSupport
TeamViewer is a great app to remotely control your Android device, but is it the best option you have got? The below pros and cons will make it clear whether you should look for the TeamViewer QuickSupport Android alternatives or not.
Pros
Offers a simple procedure to connect the devices
Supports advanced features like chatting (text, voice-over, video) as well as remote printing
Gives several options to customize the controls
It can store confidential information into the device clipboard
Users don't need to port forwarding configurations are necessary.
Comes at free of cost
Cons
The program generates a "permanent User ID" for your device. But many users complained that it might change unexpectedly or doesn't even work at times. It can be really frustrating and users have no option but to contact the customer support which is time-consuming.
The company can block your access if it thinks you're using it for the commercial reasons.
It supports limited Android devices, not to mention its incompatibility with the latest smartphones.
File Transfer is very slow and it often gets stuck during the process.
Not many options are available to customize the controls as needed
These reasons are enough to justify why you shouldn't consider it as the first choice and rather look for alternative options.
Luckily, we have just the right tool for you to remotely control your Android smartphone effortlessly.
Part 3. Best TeamViewer QuickSupport Alternative to Remote Control Android - AirDroid Personal
Our research shows that AirDroid Personal is the most comprehensive and efficient Android remote app. It offers a 2-click procedure to connect any Android device to a PC, both using USB cable and wirelessly.
After connecting your devices, AirDroid Personal allows you to transfer any type of files between devices at a blazing-fast speed. Its other features let users play games without any lag, manage notification and other settings on their smartphones as well as capture the phone's screen in HD.
Its ability to establish a smooth and consistent connection across different devices along with its compatibility with all platforms make it a perfect alternative to TeamViewer QuickSupport control Android.
Key Features of AirDroid Personal
Easily connect and control your Android phone from a PC
Allows you to manage an Android device wirelessly
Transfers all types of data between devices
Intuitive notification and SMS management
Plus Features of AirDroid Personal
Users can listen one-way audio remotely to keep tabs on the surroundings
Gives access to remote camera, with sound, to see everything near the device
Allows you to record your smartphone in high-quality
It also lets you detect your lost device to catch intruders
Pros
Compatible with all Android phones, tablets as well as Windows, Mac, Linux, iOS
Works with non-root devices
Budget-friendly
24/7 professional customer support services
Cons
Users have to get the premium version to access all its features.
Text Guide
Check out how easy it is to use this program for controlling any Android device remotely:
Step 1.Install AirDroid Personal Mobile Client on your Android device.
Step 2.Launch it and sign in with your AirDroid account. Make one, if you don't have any. Now, follow the step-by-step instructions to give permission to the program.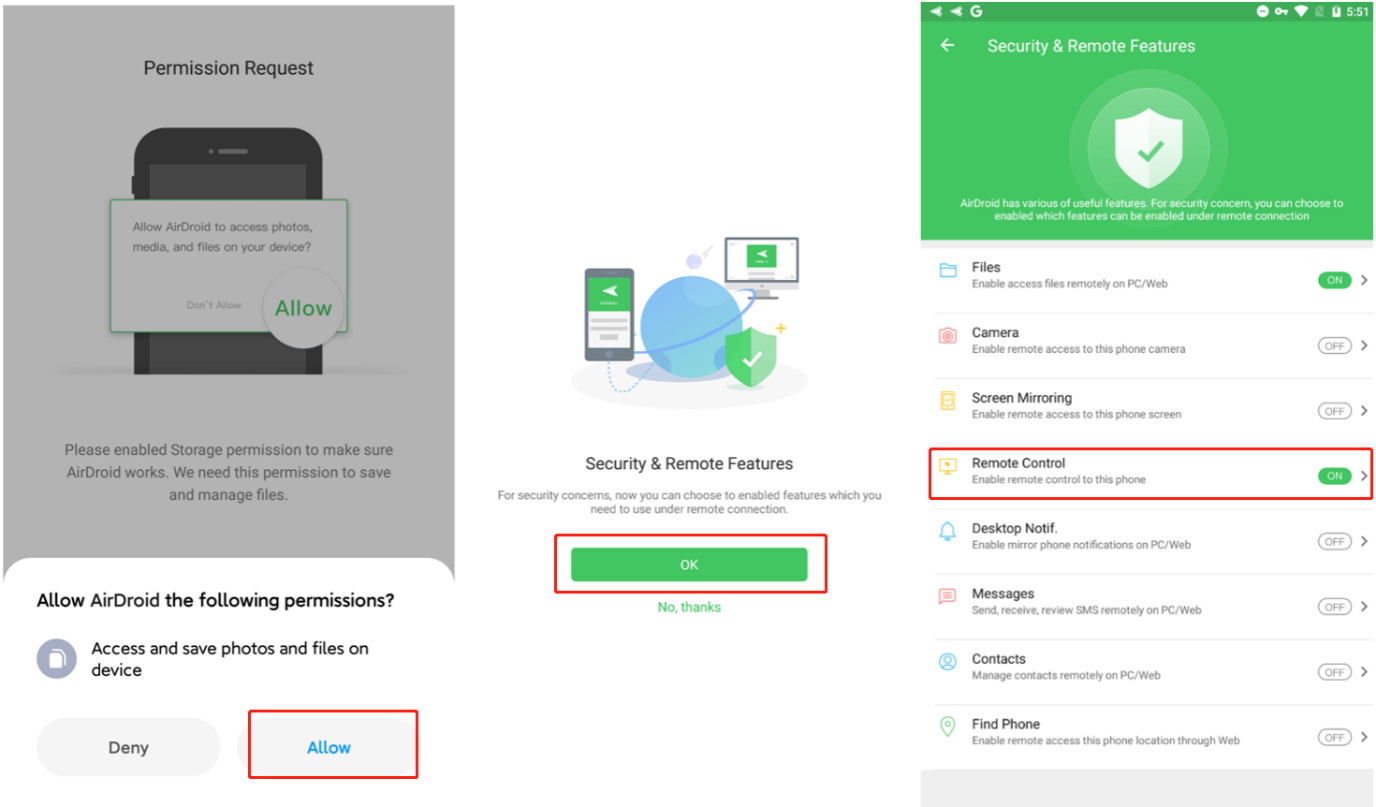 Note : This step appears only the first time when you're using this program
Step 3.Now, download AirDroid desktop client on your computer and sign in with the same AirDroid account.
Step 4.Launch the desktop client and hit "Telescope icon" in the left bar.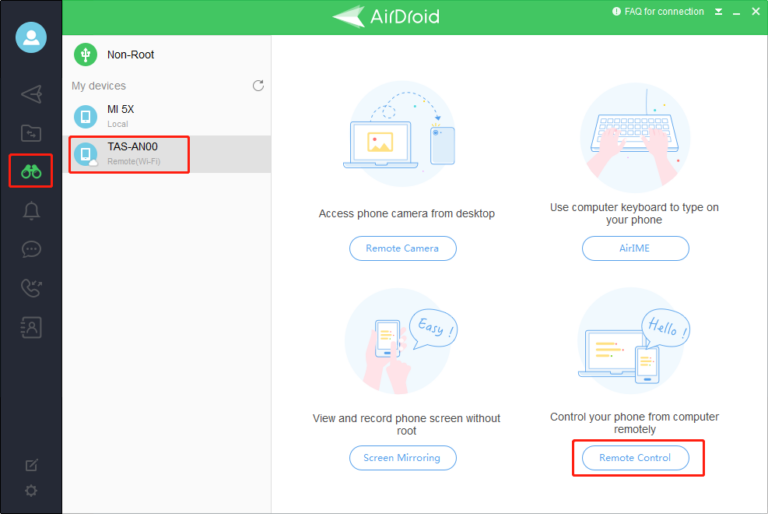 Select your Android device from the list and hit "Remote Control" to establish the connection.
Step 5.The program will display the Android's screen on your PC that you can control with mouse and keyboard.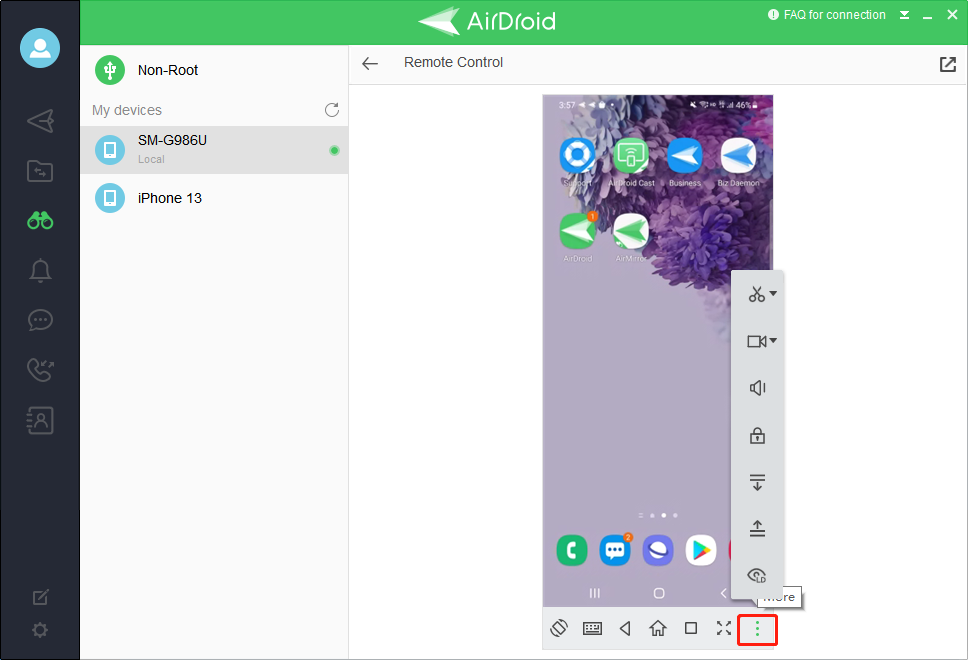 Final Words: Which Tool You Should Use
This article has walked you through a detailed on how to use TeamViewer to access Android mobile from a PC remotely. Additionally, we discussed its pros and cons and concluded why this software is a go-to choice for most users.
But as far as our recommendation goes, AirDroid is the best and most efficient app to control an Android phone remotely.
The below table will further make it clear which of the two apps you should install.
| Tools | Ease of Use | Speed | Price | Ratings |
| --- | --- | --- | --- | --- |
| AirDroid | Very easy | Fast and secure | $3.99 per month | 4.9/5 |
| TeamViewer Quick Support | Difficult for beginners | Fast speed, disconnects quite often | $50.90 per month | 4.3/5 |
FAQs
Can I connect to Android from a PC with TeamViewer?
The answer is Yes. TeamViewer on Android phone empowers you to connect any Android device to a PC and manage it using mouse and keyboard.
Is TeamViewer for Android free?
A lot many users ask if thee can free download TeamViewer Android. Unfortunately, the app is not free and you have to pay a staggering $50.90 per month to access all its features.
How do I get a TeamViewer ID?
TeamViewer QuickSupport automatically generates a User ID when you signup. Using this permanent ID, you can connect any two devices remotely. With that, you also get the feature of TeamViewer file transfer Android to Android.
Is there TeamViewer Host App for iOS?
Yes, TeamViewer is compatible with iOS devices. You can download it from the App Store.
Does TeamViewer log file transfers?
TeamViewer allows users to transfer files between two connected devices. However, the process is slow and quite time-consuming – particularly while transferring large files.
Was This Page Helpful?