How to Use Android Phone as Webcam?
If you're a student, you might need a webcam for attending your classes or a virtual event. For other individuals as well, a webcam has become a necessary gadget. With the remote working more in trend, you will need a webcam to attend office meetings every now and then.
The flip side of this need is advancements in Android phones with high-quality cameras and video results. Therefore, in this article, we will tell you about Android webcams. Let's explore how to use an Android phone as a webcam and which apps you can rely on.
Why Do You Need to Turn Your Phone to Webcam?
Laptops often come with an in-built webcam above the LCD. However, the quality of the cameras is not as good. Besides, many PC setups do not have a built-in webcam. Therefore, it becomes a necessity in that case. If you go for a webcam, a good webcam can cost hundreds of dollars.
Therefore, you can go for an alternative method instead of wasting and bounding your money on a webcam that will be used occasionally. You can save money by using your Android phone as a webcam. Besides, you can use the high-quality camera of Android for better picture quality during video calls. You can use an Android phone as a webcam USB as well as wirelessly.
AirDroid is a mobile management tool that provides several solutions to its client. AirDroid Personal is not limited to remote camera access of your Android or Apple phone, but it allows remote access to your phone, file sharing, notification management, screen mirroring, etc.
2 Ways to Use Android Phone as Webcam
There are two ways for Android to be used as a webcam: USB and wireless. We will discuss each of them and how to use an Android phone as a webcam.
USB
The first method to use an old Android phone as a webcam is via USB. Whether you have the latest phone or the old one, USB debugging can turn your phone camera into a webcam of a PC/laptop. The method of turning the USB debugging mode varies from device to device. The method for Samsung will be different from MI, Oppo, Apple, etc. Therefore, you must know how to debug USB.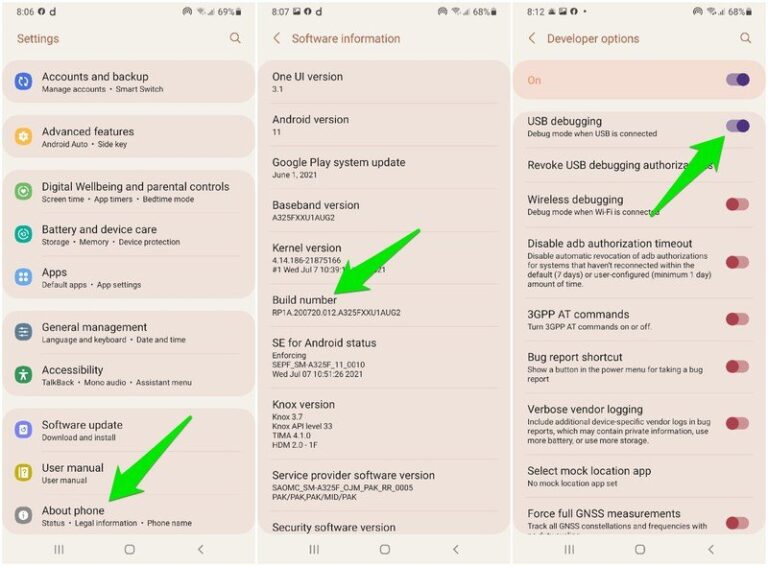 USB debugging is usually available in the developer options of your phone. For Samsung users, follow these steps: Settings >About phone> Software Information > 7 taps on Build Number. Now you will be able to see the developer option in settings. Click on the mode and turn it off. Once you have turned on the USB debugging mode, the next step is connecting your phone to your PC/laptop via USB. However, you will require a webcam app to turn on your phone's camera on your PC. We will discuss the best Android webcam viewer apps for you to use.
Wireless
The second method is the wireless method of using an Android phone as a webcam. You will require a webcam application on your Android to set up the wireless connection between the two devices(computer and Android). We won't go into details about how the wireless connection is set up because there is a more important debate on the best Android webcam apps to get started.
Best Android Webcam Apps
Here are the best Android webcam apps you can install and use Android as a webcam.
Droidcam
Droidcam is one of the most popular applications for Android webcams. You can go for a USB connection or wireless connection of your Android with a PC to turn your own phone camera into a webcam. Whether you want to attend a conference call on Skype using your phone camera through PC or stream a live video on YouTube, DroidCam can be your go-to solution.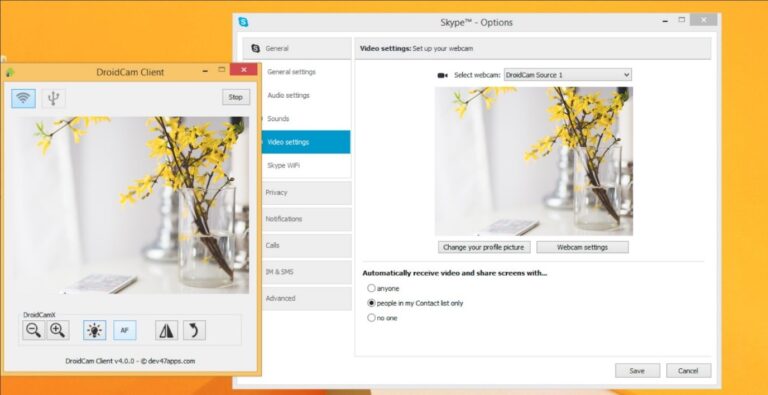 The main highlights of DroidCam are as follows:
Use your phone's camera and microphone as a webcam on a PC
Chat option using DroidCam
Free Software
DroidCam can run in the background while you keep using your phone
Connectivity with USB as well as wireless connection
Hotspot connection in the absence of WiFi
Some of the features of the paid version include:
HD mode of video
More camera controls
Brightness, contrast, volume adjustment, etc.
Auto-mute phone calls to avoid distractions
Advertisement free
Pros and Cons
Pros
The safety and security of your data remain intact
USB connection and hotspot connectivity
The Pro version has higher controls and features
Available for Windows and Linux
Cons
Separate installation of two apps on Android as well as PC
The user interface looks outdated and not updated regularly
The free version has limited features
EpocCam
EpocCam is also an Android webcam app, but it cannot be installed to use an Android phone as a USB webcam. It can work with Windows, Linux, Mac, and other operating systems to provide you with an HD camera alternative to your nominal PC webcam. There is a one-time cost to purchase a license of EpocCam worth $6.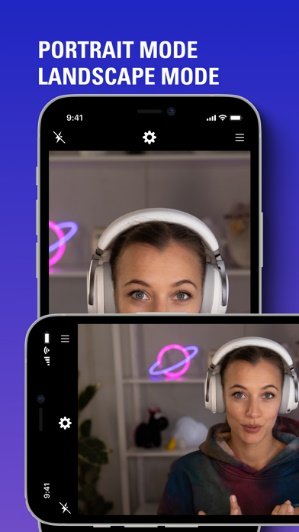 The main features of EpocCam are as follows:
Integrated Snapchat lenses and gesture-controlled lenses for video chats and live streams
Blur background, chroma key, etc., to transform video backgrounds
You can also create your digital avatar, change your hair color, etc.
Multicam setup allows you to get a complete setup for video conferencing, virtual lectures, YouTube videos, etc.
Wireless sharing of your camera footage to a PC over WiFi
Pros and Cons
Pros
Compatible with famous apps like Skype, Google, Hangouts, Facebook, etc.
Affordable to purchase
The video quality is great
Easy setup process
Cons
Only available for iPhones
You cannot change the settings in the viewing software
App crashes can be annoying, and intervening
IP Webcam
IP Webcam is also a popular option for smartphone users who are interested in using Android as a webcam. The wireless application setup helps you stream your camera footage to your computer over WiFi. The application is often viewed as one of the best Android webcam applications. You can go for the free version or pro version of the app as per your requirements.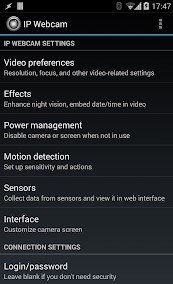 The main features of the IP Webcam are as follows:
Wireless connection of Android with PC
Two-way audio recording and support in various formats
Multiple Viewing points
You can stream video within a WiFi network without internet access
IP Webcam can be integrated with surveillance software and security monitors
Pros and Cons
Pros
Easy setup and connection with your PC
No additional app or USB debugging enables required
The free version is a decent edition of the software
Cons
The app user interface is outdated and boring
No USB connection support is available
Tips for Using Android Phone as Webcam on PC
When you're using an Android phone as a webcam on a PC, make sure to follow these tips:
You should close any videoconferencing application while installing a webcam client to your desktop or laptop. Always restart or relaunch the application for quick setup and connection.
For Android webcam USB, always enable developer options and USB debugging on your Android phone.
The process often takes a lot of battery. Therefore, make sure that your Android phone is plugged into a power source when using Android as a webcam.
Best Way to Remote Access Android Camera
We have discussed three different Android and iPhone applications that can be installed for using Android as a webcam. However, each of them has its own limitations. Now we are going to talk about AirDroid, an all-in-one solution for Android and macOS users, and AirDroid Remote Support, an all-around remote support tool.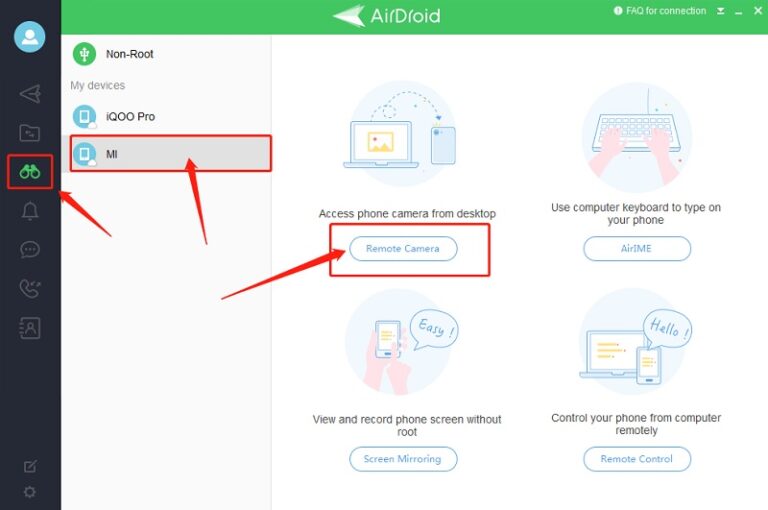 Additionally, the AirDroid Remote Support app can also remotely access your Android camera, which provides immediate and efficient remote assistance solutions to elders, relatives, and friends. And you can directly see the remote device screen in real-time.
| Features | AirDroid Personal | AirDroid Remote Support |
| --- | --- | --- |
| Compatibility | Win, Mac, Android, iOS, Web | Android, iOS |
| iOS Remote Support | No | Yes |
| Unattended Access | Yes | No |
| Screen Mirroring | Yes | Yes |
| Camera Permission | Turn on the camera remotely without knowing | Need supportee's permission to turn on camera |
| Tutorial Gesture | No | Yes |
| Easy to Use | Need an AirDroid account | No need to register |
| Price | $3.99/month | $2.49/month |
| Free trial | Free under local network access | 10 minutes for free per day |
There are other features of AirDroid are as follows:
You can capture photos from your phone in real-time
Mirror your phone camera to your PC screen during video conferencing, calls, etc.
One-way audio availability
Remote screenshots and screen recording
Access to camera flashlight, switching front or rear camera, camera rotation, etc.
It can be used as a security and surveillance camera
Access from any device
Final Words
We have shared different Android applications and macOS software that will let you connect your Android phone with a PC/laptop wirelessly or through USB and use Android as a Camera. Among all the software, AirDroid Personal is the best software giving you remote camera features and many other options like screen mirroring, screenshots, recording, file transfer, remote access to the phone, etc.
FAQs
Can I connect my phone camera to my laptop?
Yes, you can easily connect your phone camera to your laptop wirelessly or over a USB connection. Go for any tool we have shared above and connect your phone's camera to the laptop. You will need webcam applications on your Android and enable USB debugging in your Android's Developer options.
Droidcam can't connect?
You can try restarting your WiFi router, restarting the app, disabling VPN, or reinstalling the application. If nothing seems to be working, switching to a smoother option like AirDroid Personal is an intelligent decision.
Can I use an Android phone as a webcam without the app?
You can use an Android phone as a webcam without the app by using the screen-sharing feature of your phone. However, it won't work in most cases when videoconferencing. You can rely on the browser option of Droidcam, but it still needs the isntallation of the app on your Android phone.
Can I use my phone as a webcam for ob?
You can use your phone as a webcam for OB by using the DroidCam OBS app plus plugin. It will let you have high-quality audio and video like a regular camera source.
How to use the fake webcam on Android?
You can use different fake webcam apps on Android. Connect it to your PC and make your Android camera a fake webcam.
Was This Page Helpful?