MDM Software: 5 Best Options for Secure Device Management in 2023
From various statistics, it can be analyzed that mobile device usage in the corporate sector is prevalent. Instead of using traditional computers, smartphones, and wearable gadgets have massively increased.
It has directly influenced the working of organizations by enabling employees to work from anywhere and at any time. But it is also mandatory to control all enterprise devices for efficient use.
MDM software is the ultimate solution for enterprises to continuously track their electronic devices' usage and security to enhance productivity and ensure device security. Additionally, it allows enterprises to customize their security and management policies to improve enterprise device management.
Part 1. What is MDM?
Mobile Device Management (MDM) is a technology that enables organizations to secure and manage mobile devices used for business purposes, preventing data breaches and misuse by employees or unauthorized parties. It also helps prevent the loss or theft of company information stored on mobile devices.
Part 2. Discover the benefits MDM software can bring to your business
Mobile device management software brings many benefits for the corporate sector to overcome the challenges and manage these corporate-owned devices.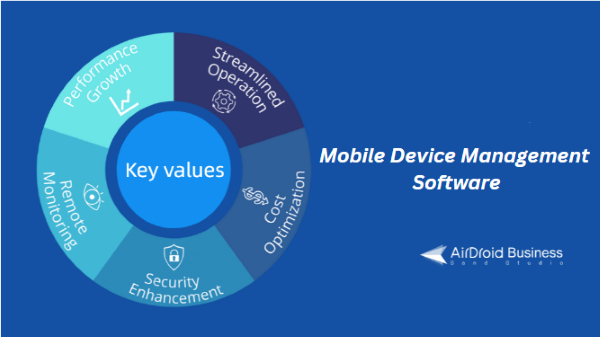 Simplify the management process for mobile devices
An MDM solution provides a centralized location for monitoring all enterprise-owned devices. A single dashboard is enough to manage the organization's devices completely.
It also allows organizations to access those devices and control them remotely. Many instant operations can be done remotely, like file sharing, copying, pasting, deleting files, configuring devices, and app updating.
With an MDM solution, you can track the delivery location and update the delivery status accordingly. You can also update every device on time to regularize the work and avoid interruptions
Boost productivity and efficiency
An MDM solution helps enterprises restrict device usage to only apps that are relevant to work. Enterprises can block access to unnecessary websites and applications.
Similarly, enterprises can also limit access to data and information on devices. It will improve security and restrain malicious websites and applications from attacking their devices.
For example, an educational institute can only allow students to access educational websites and apps while blocking access to other websites like dating apps and social media platforms.
Improve security and compliance
MDM solution creates a strong shield around the devices by enforcing various security policies, ensuring only authorized access.
It also helps organizations customize the devices to comply with company standards. For example, financial businesses use two-way authentication and strong password policies to secure devices from unauthorized access.
Part 3. 5 Best MDM Software Solutions in 2023
Top 1. AirDroid Business
AirDroid Business is an MDM solution with comprehensive features to optimize the workload of all sizes of companies.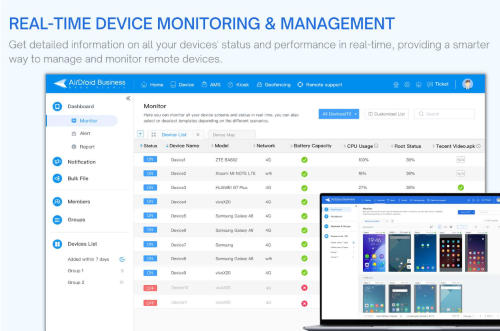 Key Features of AirDroid Business
Device Management: It provides a single console for managing and controlling all the enrolled Android devices in your company.
Monitoring and controlling: Enterprises can remotely monitor all activities performed on their corporate devices to maintain security controls. You can do so remotely if you need to perform certain actions on unattended devices. It allows remote camera access, takes screenshots, shares/deletes files, etc.
Remote Troubleshooting & Maintenance: Businesses can access their device screens and controls to monitor and fix the errors causing work hurdles remotely while supporting a team. You can also manage and schedule regular maintenance and updates for all your corporate devices after office hours for uninterrupted and productive work.
App Management: You can customize various security options for your organization to restrict unnecessary device usage. Block unnecessary built-in apps and the installation of new apps on the devices. You can also apply kiosk mode to your corporate devices to allow only a single app or a few apps to operate. You may also use the app allow list feature to select a list of apps that can run on these devices.
Member Management: It allows you to customize individuals and groups within your organization to distribute controls. Customization helps you establish user accounts, designate roles and permissions, and control access to particular devices or applications. Additionally, you can create user groups and implement policies or restrictions for distinct groups.
Top 2. Kandji
Kandji is a durable and intuitive Apple device management and security tool that offers holistic security controls and automation features for controlling Apple devices. If you're searching for an MDM tool designed specifically for Apple devices, Kandji is an excellent option.
It provides various options to customize the security policies according to business requirements.
It provides real-time alerts and reports for all corporate Apple devices to overcome end-point threats. Kandji scans and detects vulnerabilities in the organization's network, including its devices, to secure data.
Top 3. Scalefusion
Scalefusion is a robust mobile devices management software that helps enterprises to simplify device management and security. It helps you control all mobile, laptops, tablets and IoT devices linked with your business.
It simplifies the device enrollment procedure by remotely controlling and installing all the apps, and the end-user can directly start using the device for working. From the Scalefusion dashboard, you can easily control auto-patch updates.
Top 4. Hexnode
Hexnode is a device management software providing intelligent automation, enterprise-ready integrations, and end-point management to regularize routine tasks. It provides containers to organize corporate and personal data separately.
The geofencing and location-tracking features allow you to track companies' devices and provide them with remote solutions. It also ensures that confidential data is always accessed only by authorized users.
Top 5. Miradore
It is a comprehensive device management solution for Android, iOS, and Windows devices that you can start within minutes. It is easy to configure and trusted by over 10,000 companies.
Miradore offers an automated feature that helps you save much time on manual work while increasing the accuracy of automatic results.
You can add various business policies to configure corporate devices instantly and protect official data by encrypting the files and using screen lock and strong password policies.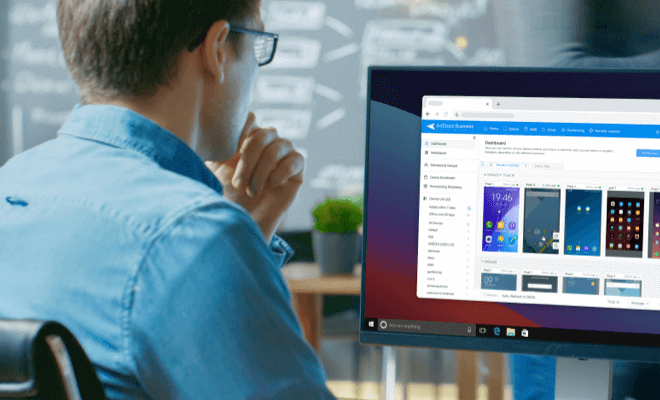 Guide
MDM Buyer's Guide
Everything you need to know, from solution comparison, top core features, checklist,and ROI justification to help you at every step.
Download
Part 4. Select MDM software based on your company's policies
COPE and CYOD
COPE (corporate-owned, personally enabled devices) refers to the devices issued by the companies for official use but also allowed for personal usage.
CYOD (choose your own device) refers to the system in which employees are allowed to choose any device with free consent from the options given by companies.
These terminologies are widely used in well-off and ambitious organizations to provide a healthy working environment for their employees.
Moreover, AirDroid Business is the best MDM software for COPE and CYOD devices. It is because it helps enterprises maintain a balance between official and personal data with app management and security features. It helps enterprises monitor and control official activities while respecting the privacy of end users.
COBO
COBO (Corporate-Owned, Business Only) is a special category of rigid enterprises that don't want their employees to waste time on useless things other than their official work.
Mobile device management solution provides a kiosk mode that enables enterprises to set all their corporate devices to specific apps. At the same time, AirDroid Business kiosk mode offers a single or multi-app mode to select several applications that can operate on those devices. In kiosk mode, device settings are also limited to blocking data sharing.
BYOD
BYOD (Bring Your Own Devices) refers to organizations where employees can bring devices and use them for official purposes. The main reason for this could be the low budgets of the companies.
Hexnode is an MDM solution that helps create a wall between official and personal data so that employees can easily manage their personal and official data.
With remote monitoring and control, devices are continuously monitored, keeping the end user's privacy undisturbed. It also helps remotely remove the container's data if unauthorized users spot the device.
Part 5. Common Deployment and Enrollment Methods of MDM Software
4.1 Deployment Methods
On-premise
The on-premises deployment method involves installing and hosting the MDM software on the organization's servers and infrastructure. This method of deployment demands the management and maintenance of software and infrastructure by IT personnel. It would be expensive and time-consuming.
Cloud-based
In this method, the MDM provider hosts the MDM software in the cloud, and organizations access the software via the Internet. Cloud-based deployment is less expensive and requires fewer IT professionals to administer and maintain software. Additionally, this deployment method is more scalable and adaptable than on-premise deployment.
4.2 Enrollment Methods
Android Enterprise: Enter the AFW# setup on the welcome page, and then use the camera to scan the code and enroll the device instantly.
Deployment Code: A code is generated on the admin console. Enter that code on the device to enroll it.
Auto-Enroll Package: This method is perfect if there are bulk devices to enroll in; install the auto-enroll package on your Android devices. Once it is installed, the device will be enrolled automatically.
Device Owner: Enrollment can be done using a QR code or a USB cable. First, factory reset the device and tap on the welcome page six times. Then open the camera and scan the code from the admin's dashboard.
Part 6. Practical examples of MDM software solutions
Logistics & Transportation
Logistic companies can track the location of their devices using MDM software. They can set restrictions to keep drivers engaged and optimize delivery routes by watching location history. With MDM, they can reduce downtime and improve the customer experience by remotely supporting them.
Financial Institutions
MDM solution gives businesses everything they need to secure their devices and make successful transactions. They can regularly update and scan the devices to get alerts and provide them with solutions to manage issues.
It enables insurance companies to manage their claims processing, monitor customer data, and enhance customer service.
Education
MDM solutions enable educational institutes to manage student devices, monitor their activities, and enforce security policies.
They also help schools manage online learning platforms, monitor student progress, and facilitate communication among instructors, students, and parents. By limiting access to websites and applications, student devices are made purpose-built.
Part 7. Bottom Line
MDM solution is a basic need in industries where digital devices are used. They play a significant role in enhancing the productivity and efficiency of businesses. They also simplify the management process and improve security.
Various MDM software are available in the market, each with different specifications and usage capabilities.
Different businesses should select MDM solutions that suit their needs best. Businesses in COPE, CYOD, COBO, and BYOD should know which MDM solution can provide them with the best services.
Was This Page Helpful?