What's the Difference between Attended and Unattended Remote Access?
For modern day corporate entities, the ability to protect confidential data, facilitate remote working practices, and maintain a consistent level of operational efficiency is vital to their onward success. True, in a digital age, there's never been a greater need to swiftly resolve issues, regardless of the location of an individual, piece of equipment or device. Furthermore, the requirement to safely and securely access workplace materials whilst working remotely has only been further enhanced by the onset of a global pandemic.
Therefore, the utilisation of remote access solutions, which serve to help address all of the challenges listed above, has become an essential method for businesses operating across a range of sectors and industries.
However, when considering remote access solutions, first, you should need to know is whether you require attended remote access, unattended remote access solution, or both. Here, we will compare both solutions to help you to decide which one is better to choose. Besides, best software is listed as well.
Part 1: Unattended Remote Access
What Is Unattended Remote Access?
Unattended remote access is a feature providing by software, which means that to access a device remotely via network when no one is around. It is ideal for handling IT infrastructure, remote software installations, accessing files, and resolving non-urgent problems.
IT technicians are the main users and apply unattended remote access software to troubleshoot devices, such as desktop, smartphones, and other IoT devices. With the tool, they can connect to the customer's device even when the customer is not there to perform maintenance or scheduled tasks with the customer.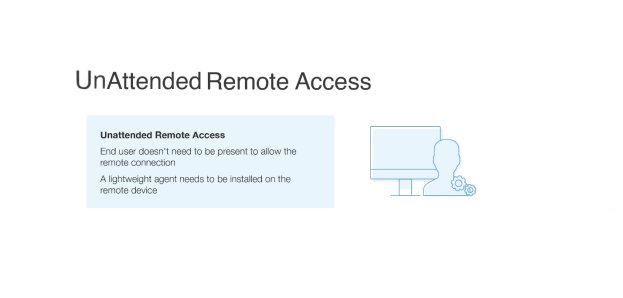 Features of Unattended Remote Access Software
Quite simply, unattended remote access software allows businesses to take full control of their device populations, by facilitating:
IT administrators to remotely resolve device malfunctions from a remote location, without requiring input from end-users.
Around-the-clock resolution. As the device user does not need to be in attendance whilst fixes are ongoing, and the fact that companies can utilise unattended remote access systems at any time, solutions can be delivered outside core operating hours.
Tailor-made security profiles, integrated onto devices automatically from activation. These security systems are fit to tackle contemporary threats to business networks, which are increasingly sophisticated and changeable in nature.
The streamlining of business operations, so that less manpower, equipment, and training is required, saving company time, effort and resource.

Advantages and Disadvantages of Unattended Remote Accesse

The ability to remotely access a system isn't only for companies that need remote IT support. Remote access can overcome conventional barriers such as time zones and even location. Unattended remote support enables you to perform all business tasks safely and from a distance.

As alluded to already, there are multiple benefits for companies who opt to incorporate unattended remote access into their respective operating model.

1Keeps businesses secure

The greatest risk to any business is an unauthorised actor accessing sensitive corporate data, regardless of whether that entity exists inside or outside the company. Two-factor authentication controls ensure employees are only able to gain visibility on information relevant to their job role or status, whilst robust security defence mechanisms protect companies from external infiltration.

Prior to any resolution work taking place, IT admins must enter a bespoke signature key in order to gain access to the device and commence a remote session. This not only acts as a validation tool to ensure the technical team member is permitted to conduct works, but by extension protects this connection from any undesirable actors.

2IoT support

The concept of IoT, otherwise referred to as the 'Internet of Things' has become an increasingly important consideration for modern enterprises, who rely on complex, inter-connected systems to drive their operations. Unattended remote access can provide multi-faceted resolutions which are compatible with any OS or software programme, and push these remotely onto servers and devices.

3Supports flexible workforce

Increasingly, employees expect to be able to perform all work-related activities from home. Therefore, it's essential that companies find a way to provide access required files and information, without compromising security policies or undermining productivity rates. Furthermore, having the capability to offer support on a 24/7 basis allows workers to strategically request assistance dependent on personal working hours, helping to keep devices online when there needed most.

4Adjustable to company requirements

Regardless of scale, size, or operational capacity of a business, this software can adapt its support features accordingly. Indeed, whether a small, local company with a modest customer base, or a vast conglomerate with various clients and services, unattended remote access provides total adaptability in its deployment.

5Reduce costs base

A leaner operating model will always result in less expenditure. Businesses who have the capability to deliver remote fixes can make savings on a number of cost lines:

Staffing - Fewer 'on-site' technical colleagues are required as the overwhelmingly number of issues can be remotely addressed.
Transportation - As there are far fewer technicians attending customer premises', there is less need for/usage of company vehicles.
Training - A smaller workforce, equipped with semi-automated resolution software, results in a diminishing requirement to upskill staff.

There may be some disadvantages to consider:

Internet connectivity is one of the most important aspects for both attended and unattended remote access. Without a fast and reliable internet connection, technicians cannot access anything remotely.

While using the internet, confidentiality is also an important aspect. The concept of ​​giving anyone automatic access to the company system seems crazy. All employees who use these tools should follow the company security policies. Every security breach is not only harmful from an individual user's point of view, but organization-wide data breaches are not only expensive but can also be harmful.

Part 2: Attended Remote Access

What is Attended Remote Access?

Attended remote access, usually refers to attended remote support, is a service to give instant guidance for device user. Sometimes it is associated with help desk support.

For instance, when a customer needs support right away, maybe using service or app but something went wrong, he may call the support line. The support team will be able to connect to the device and contact with the customer through text or voice calling by using attended remote access software.

Pros and Cons of Attended Remote Access

Attended remote access allows technicians to deal with customers who demand immediate change. It means that it is a great way to solve sudden problems without waiting for someone in person to investigate the causes or provide certain information. It is one of the most notable benefits.

Less intrusive is also an advantage to attending remote access. There are customers who don't like to see technicians, and there are also customers who technicians don't like to see. In fact, most customers appreciate it when their technology is restored to full functionality without the technician being intrusive.

As for cons, network and security can be problems in attended remote access as well. Besides, for there will be a person arround during the accessing, control issues and disputes might happen.

Part 3: Difference between Attended and Unattended Remote Access

Although unattended remote platforms offer a more comprehensive technical proposition than attended remote software facilitates, this doesn't necessarily mean that businesses need always opt for the former rather than the latter. A company should decide the level of technical support it requires dependent on its own needs and requirements, taking into account its operation, functionality, infrastructure, and activity environment.

Here's an outline of their key differences:

Attended Remote Access
Unattended Remote Access
What?
IT admins able to remotely tap into a device, without the requiring use of a specific agent or dashboard to facilitate this endeavour. End-user must be in attendance to approve technician access, and potentially support delivery of resolution.
IT admins able to remotely access a device positioned in any location, from any location, at any time. No requirement for end-user to be in attendance, either to initially enable access, or take any further action.
How?
In instances where attended remote access support is provided, an application will need to be downloaded prior to delivering remote sessions. This platform will produce either an entry code or authentication process to establish the validity of the IT admin attempting to fix the issue. The end-user must be present throughout the entirety of the remote session.
Unattended remote access relies on a pre-installed agent, whose features are utilized by IT teams via the use of a centralized dashboard, pushed out onto appropriately provisioned devices, mobilized to receive unattended updates/support from the point of initial activation.
Why?

Attended remote access solutions allow businesses to:

Enhance productivity levels.
Provide a more comprehensive service proposition to colleagues, clients and customers. In turn increasing the opportunity to drive profits and increase engagement/satisfaction levels.
Improve compliance levels towards relevant regulatory guidelines and legislation.
educe device downtimes.

Unattended remote access solutions allow businesses to:

Enhance productivity levels.
Provide a more comprehensive service proposition to colleagues, clients and customers. In turn increasing the opportunity to drive profits and increase engagement/satisfaction levels.
Improve compliancy towards relevant regulatory guidelines and legislation.
Reduce the risk of human errors impacting operational efficiency.
Preside over robust security systems, tailored to their specific environment and competent in adapting to an evolving security risk agenda.
Address the requirements of remote, flexible workforces.
Streamline operation to reduce costs associated with resource, transportation, and staff training.

Who?

IT support;
Help desks;
Customer service.

SaaS providers;
Internal IT support teams;
Distance learning.

Part 4: Best Recommended Unattended Remote Access Software

Clearly, given the hugely positive impact that unattended remote access capability can bring to stakeholders operating in various private and public sector environments, selecting an agent that fully meets the needs of a company is an incredibly important endeavour.

AirDroid Remote Support for Business

The company has launched its remote access support services in 2011 and available for devices running Android OS and iOS.

All of the features, tools, and support mechanisms referenced throughout this article can be unleashed by Airdroid's unattended remote access solution.

1 Speed-up task turnaround times

Having complete transparency on device activity via Real-time Screen Sharing and current functionality allows IT admins to swiftly identify the nature of an issue. Resolutions can then be administered remotely, without requiring a technician to be in physical attendance. Clearly, this reduces the length of time needed to implement the 'fix', and serves to deliver a better level of customer service.

2 Remote access control

During the help session, the support team is able to take over the operations on the connected device. It's helpful to improve efficiency.

3 Real-time verbal support

For employees or customers, there's nothing more frustrating than going back and forth with support teams via e-mail, describing the characteristics of a problem on a several occasions and awaiting what seems to be an eternity for an appropriate solution. AirDroid allows businesses to facilitate remote sessions between IT admins, colleagues and customers at any hour, enabling problems to be discussed and more importantly resolutions to be found at a time convenient to the end-user.

4 Tether AirDroid's unattended remote access software onto existing service desk and OS arrangements

AirDroid recently releases Unattended Mode which is a feature to help remote manage and maintain device and therefore enhance operational efficiency without needing to re-calibrate their whole IT infrastructure.

Note :

Black Screen Mode (patent claimed by AirDroid) is a feature to keep privacy when IT teams resolving device issues. When Black Screen Mode is activated, a darkened screen display will be effective. The feature is best for companies with a large number of unattended equipment, such as

self-service kiosks

and digital signage.

Part 5: Application of Unattended Remote Access

Which industries can unattended remote access provide solutions for? In truth, regardless of a company's key area of focus, or the conditions in which they operate, unattended remote access platforms can leverage any of their considerable assets to support business functionality and capability.

1 Work from home (WFH)

Working from home is now a customary practice implemented by companies in order to drive colleague satisfaction, reduce building costs, and even enhance productivity levels. Therefore, embracing a tool that can track, monitor, and secure corporate devices remotely, and replicate a level of access available in traditional workplace environments, is of huge benefit to businesses, and, by extension, their employees.

2 Kiosks and IoT devices

The capability to limit the volume, or indeed nature, of accessible information is key. Whether a kiosk setting is positioned as a single-use framework, designed to curtail the activity of an individual device holder, or a 'multiple' skin, where a similar restrictive action is applied at a departmental or group level, this feature enables businesses to ensure sensitive data is only accessed by relevant, authorised colleagues.

As previously explained, the 'Internet of Things' is an unmistakable characteristic embedded in the DNA of most contemporary industries. Although this level of interconnectivity can enhance performance and ensure otherwise conflicting systems are compatible with one another, for the very same reason, it can also serve to pre-empt the complete shutdown of operations in one fell swoop. Therefore, having access to a dashboard that can identify, isolate, and push-out fixes to address intricate system issues with accuracy and assurance, is critical.

Medical facilities, professionals, and support teams use unattended remote access software in an extensive number of ways. Indeed, it's myriad suite of features are used to:

Enhance the quality of the patient journey, from initial admission, all the way through to aftercare services and beyond. Secure portals are created for patients to check their medication plan, book and change appointments, and submit general enquiries, reducing the number of site visits required and therefore reducing the pressure on administration and healthcare teams alike.
Improve communication levels between staff members.
Display digital guidance on large-format TVs, supporting patients and visitors to locate specific departments and gain an awareness of available products and services, whilst allowing hospitals to share important updates.
Hold a controlled bank of patient records, securely storing medication histories, previous conditions, and progress reports. This enables medical professionals to efficiently and conveniently make informed decisions on future treatments.

3 Financial Sector

Given the perilous nature of financial environments, whereby a successful cyber-attack could lead to huge monetary losses in a matter of moments, the ability to develop highly-intelligent, self-evolving, and self-intuitive security profiles is absolutely essential – unattended remote access dashboards are able to cultivate and impose these security settings across a whole device population.

3 Retail

As a continually increasing number of consumers opt to shop online as opposed to visiting bricks-and-mortar stores, the need to safely and securely store customer details becomes more acute. Indeed, not only do retail payment systems need to cope with far more data, but they also need to be resistant to infiltration from outside actors, eager to access information that could reap extremely lucrative rewards.

Whether printing tickets, pricing merchandise, or maintaining stock files, POS equipment is vital to a retailer's everyday operational activity. As these tasks often need to be performed remotely, and are therefore reliant on tools which are completely mobile in nature, it seems logical that issues can be addressed without requiring user or technical support team attendance. Clearly, unattended remote access enables retailers to lean on remote support mechanisms, and therefore engender resolutions for kit that may be spread across different locations in-store, or indeed across the wider company estate.

Conclusion

In an age where companies are increasingly reliant on their IT infrastructure, with quality of service and level of output dependent on systems performance, the requirement for businesses to integrate an unattended remote access agent into their respective operations is urgent.

Furthermore, embracing this software affords businesses the opportunity to grow like never before. Slicker solutions to customer IT issues, reduced operational costs as a consequence of providing support remotely as opposed to 'in attendance', stronger security defences built to address specific threats to in-house systems and devices, a reduction in the number of human errors by resolving issues digitally rather than 'physically', and addressing the needs and requirements of modern-day workforces, who demand full accessibility to materials around-the-clock in locations outside the office, are just some of the major advantages offered by unattended remote access agents.

For businesses keen to tap into all the benefits listed above and more, we would encourage them to check-out AirDroid's unattended remote access proposition, which comes equipped with a number of pioneering methods to improve not only the user experience, but also the level of service extended to the recipient's customer base.

Unattended remote access is no longer be classed as simply a useful tool to help manage a corporate device fleet – it now should be considered an essential mechanism to be used in the fight to preserve a business' efficiency, productivity, and, perhaps most importantly, resistance to cyber-attacks.
FAQs
Is unattended remote access better than attended remote access?
In a nutshell, yes. Unattended remote access gives businesses far more control over their respective device fleets, and ensures they can gain full transparency on all device activity. Whether it's delivering speedier resolutions to IT issues, scaling down business infrastructure to maximise profitability, or improving adherence to compliance standards and legislation, unattended remote access affords companies the opportunity to enhance the customer experience, and drive colleague satisfaction levels.
What is unattended support?
Unattended support is the action of providing remote assistance to any device, whereby the supporting technician can identify faults and take corrective action without having to be in physical attendance in order to deliver their resolution.
Can you use chrome remote desktop to facilitate unattended access?
Yes – once a device has been provisioned accordingly, and is receptive to activities conducted through the Chrome Remote Desktop unattended access platform, IT admins have the capability to perform remote support sessions. This is achieved via selecting the appropriate device from the central dashboard, and entering the specific PIN number that was created during set-up.
Was This Page Helpful?