5 Walkie Talkie App without Internet to Use Offline
How Does a Walkie Talkie App Work without the Internet?
Generally, the walkie-talkie apps these days replicate the traditional walkie-talkies and provide users with the facility to communicate. Some examples of these apps include Zello, Voxer, Marco Polo, and more. These applications use VoIP (Voice-Over-IP) technology that helps in the transmission of messages in real time.
Mainly, the users connect their devices to the apps using a stable internet connection. The function of communication occurs due to the push-to-talk feature. It allows users to broadcast their voice messages instantly to the individual receiver or a group.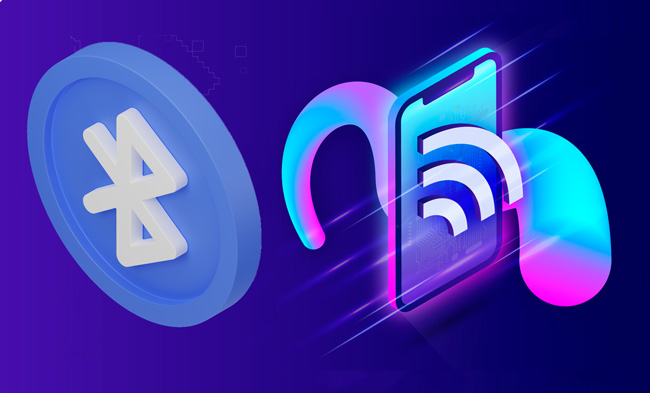 But when you want to use your phone as a walkie-talkie without the internet, some technologies work for making better connections. They are:
Bluetooth:
The first technology that is popularly known and used is Bluetooth. It allows the devices to get connected for communication. Often, the range that it covers is about a 30-foot radius. The speed it usually utilizes to run is 2.4 GHz, and it quickly links smartphones, speakers, headphones, and other IoT devices effortlessly.
Moreover, different versions of Bluetooth are available in the market, such as Bluetooth 4.0, 5.0, etc. They consist of increased data transmission rates and ranges. It is also helpful to know that Bluetooth device pairing is simple and mainly involves discoverability and then a pairing request for establishing a secure connection.
Wi-Fi Direct:
Wi-Fi Direct is another technology that works for the no internet walkie-talkie apps. It helps devices make direct connections and does not use any standard wireless access point. Like regular Wi-Fi, it also uses the radio spectrum of 2.4 GHz or 5 GHz. So, it has faster data transmission speed than Bluetooth.
While making the connection, the devices connect to an existing Wi-Fi network and establish a second Wi-Fi direct connection. It provides networking flexibility. Besides, it also ensures secure connections by enabling device connection and pairing using protocols like WPS.
5 Best Walkie Talkie Apps without Internet
1Briar
Many Briar app users consider it as the best walkie talkie app without the internet. It is a messaging app that was specifically developed to help activists, journalists, and people who want a secure way of communication. It offers excellent peer-to-peer encrypted messaging and forums. One thing worth noticing about this app is that it does not depend on the central server like traditional messaging apps. It means the messages are synchronized directly between the devices of the users.
OS: Android, Windows, macOS, desktop Linux: support for Linux mobile OS in beta.
No-internet Environment Feature: Offline mode
Best Use: Journalists, activists, and users who need safe and easy communication.
Limited Range: 10 to 20 meter range
Pricing: Free
2Walkie Talkie Offline
Walkie talkie offline is a completely no Wi-Fi walkie talkie app. It is a communication app that works seamlessly without the mobile data hassle. It converts your Android smartphones easily into functional walkie talkies. However, it also has an integration of a talkie push-to-talk feature that provides the option of free calls to your friends or family. Besides, its data safety is also commendable for any user in any region.
OS: Android
No-internet Environment Feature: Offline mode
Best Use: Friends and family
Pricing: Free
3Two Way : Walkie Talkie
Two Way Walkie Talkie app without the internet is another option that anyone can use with any number of users to communicate in a fast manner. It offers no sign-up that relieves you from entering your personal information. Besides, you can use it as a traditional walkie talkie, where you choose a channel number or location and use a map to talk to anyone.
OS: Android, iOS
No-internet Environment Feature: Offline Mode
Best Use: Co-workers, friends, family, and others
Pricing: Free
4Signal Offline Messenger
Signal Offline Messenger is another offline messaging app that offers effective communication without requiring the internet or a local network. You can use it for one-to-one communication or a conversation in a group. The messages that are shared using this app are entirely secured. It is a Wi-Fi peer-to-peer technology-based app that helps in smooth communication between Android devices.
OS: Android
No-internet Environment Feature: Wi-Fi Direct
Best Use: Cruise ship, wildlife safari, foreign family trip, more.
Limited Range: Up to 100 meters
Pricing: Free
5Talkie - Wi-Fi Calling
Last but not least, Talkie - Wi-Fi Calling is an Android walkie talkie app without internet that you can use. It was previously called Wi-Fi Talkie. You can organize your communication easily between the devices at Wi-Fi signal distances without needing an internet connection or a cellular network.
OS: Android
No-internet Environment Feature: Wi-Fi
Best Use: Friends, family, and others
Limited Range: Up to 50 meters (indoors) and 150 meters (outdoors).
Pricing: Free
What Do People Use Walkie Talkie Apps For?
FIELD WORK & TEAM COMMUNICATION
Walkie talkie apps without the internet are widely used in field work and for team communication. It helps in real-time and better collaborations between team members of industries like construction, security, and logistics.
EVENT COORDINATION
The walkie-talkie apps are essential tools for seamless communication between event organizers, workers, and security officers during events like concerts or festivals. The users can use their phone as a walkie talkie without the internet, while this app allows them to convey instructions properly.
OUTDOOR ACTIVITIES
These are also useful for group communication during outdoor activities such as hiking and camping. They provide a reliable way to stay connected and allow users to communicate within their group, assuring safety, exchanging instructions, and responding effectively.
EMERGENCY
In an emergency, walkie-talkie apps can be used as a backup communication tool in locations with limited network coverage. They help individuals in critical circumstances to communicate quickly.
Using a walkie talkie app without the internet can be helpful. However, its management is also necessary for a better experience. A solution like AirDroid Business can be beneficial for managing the apps.
AirDroid Business is a complete Android device management and app control solution developed to help businesses automate and improve mobile device management. It provides a set of tools for centrally managing, monitoring and securing Android devices. It has some commendable features, and some are mentioned below:
AirDroid Business - Android Device & App Management
Device Groups Management: It provides simplified device grouping, which simplifies the administration of devices while enhancing control and customization.
App Management & Update: AirDroid Business allows centralized app deployment and upgrades. It provides effective distribution and maintenance of critical apps.
Keep Bluetooth Enable: Its "Keep Bluetooth Enable" function assures continuous Bluetooth connectivity for uninterrupted device communication and peripheral interaction.
Configure Wi-Fi: Administrators can use AirDroid Business to remotely configure Wi-Fi settings on many devices, allowing for fast and secure network setup or modifications.

Kiosk Mode: Kiosk Mode on AirDroid Business limits devices to specific apps. It turns them into dedicated, purpose-driven terminals appropriate for public or business environments.

Location Tracking: The location tracking function of AirDroid Business delivers real-time location analytics to monitor and track devices.
Common Questions
What are the limitations of using a walkie-talkie app?
Walkie-talkie apps provide rapid communication but also have some limitations. The first one can be seen as the inaccessibility of network strength in remote locations. Besides, if there is an unencrypted transmission, it will generate concerns about privacy. Also, the app's usage relies on the device's battery, which can be drained over extended use. Last but not least, signal interference can also affect communication.
What is the typical limited range of walkie-talkie apps?
In ideal conditions, walkie-talkie applications generally have a range of 1 to 3 miles. However, this range can vary due to various factors such as obstacles, interference, and the app's design. Environmental barriers such as buildings, hills, and dense foliage can also restrict the effective range to a few hundred feet. While some premium applications advertise expanded ranges in practical use, the performance frequently varies.
What are some communication apps for non-internet environments?
Various communication no internet walkie talkie apps are available these days for non-internet environments. Some are listed below that might help you:
Zello: A popular app that allows instant voice communication using Wi-Fi or cellular networks.
Voxer: A free walkie-talkie smartphone app that enables real-time communication by combining voice, text, photo, and location sharing.
Two Way: It enables offline voice messaging and runs over Wi-Fi directly without the internet.
TiKL: It allows instant communication using the voice of text and turns your smartphone into a PTT real-time walkie-talkie.
FireChat: A proprietary mobile app that enables the smartphone to share messages using Bluetooth, Wi-Fi, or Apple's Multipeer without the internet.
Was This Page Helpful?