Kiosk Solutions to Improve and Grow Your Business
Every industry is converting to a digital globe where things are getting computerized, and living standards are increasing with the advancement of technology and the latest trends in the market.
Marketing trends have influenced a lot, and there is massive competition between the competitors in every business. Kiosks are tools that are beneficial for the company and provide comfort to the customers.
For enterprises, Kiosks help in managing things smoothly with less cost. Although it seems very easy, there are a lot of things you need to know that are directly related to the growth of your business. We will also discuss some Kiosk solutions for the problems I.T industry generally faces.
1 Understanding Kiosk Technology
In the past, companies were limited to a specific area where people could access it, but now you can grow your business anywhere in the world. The Kiosk is a technology that is very popular in every field of business. It is essential to understand its nature before adding Kiosks to your business.
What is Kiosk Technology?
Kiosk technology is a combination of hardware and software-based machines. Install software that makes the hardware devices limited in use and purpose-built. Every business has Kiosk but different interfaces and functions depending upon the company's needs.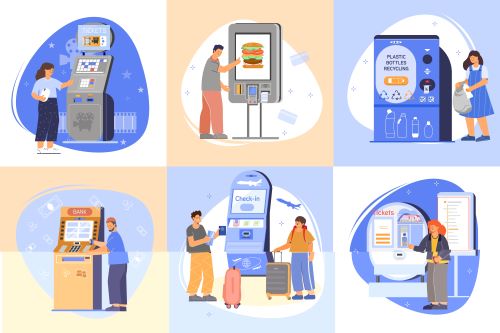 Self-Service Kiosks Growth Trends
Self-service Kiosks have globally influenced every industry. Its acceptance and implementation are increasing day by day. From various research, we evaluate that self-service Kiosks will adopt more in the future and influence the market to cover almost every field.
The current situation of Kiosks in the markets shows an expected growth ratio of 5.45 percent from 2021 to 2028. It serves customers to pay their utility bills, perform transactions, and buy tickets easily without wasting time.
Kiosks are trending because it minimizes the time for a task. A physical person can perform a task in five minutes can be done within a minute using self-service Kiosks.
2 Kiosk Solution to Improve and Grow Your Business
1. Retail Kiosk
A retail business includes a small business selling a few quantities of products to the customers just like we go outside in markets and buy some clothes, glasses, food items, groceries, etc. From retail shops, you can buy even one product for use.
When we visit a market or a shopping mall, there is a large number of retail shops selling their products. It costs them a lot to buy a shop or get in at some rent. Nowadays rents are also too high in big shopping malls. Then you have to hire a large number of staff members to deal with every single customer as no one wants to wait when they are at the store.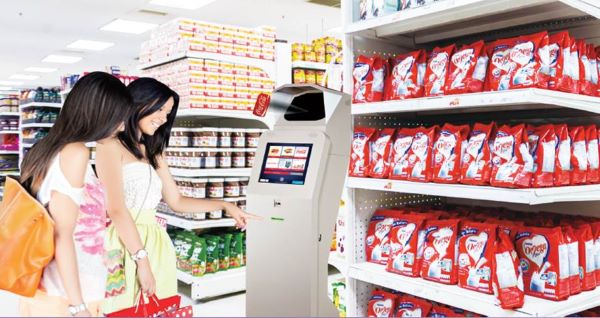 Solution for Retail Business
Retail Kiosk is a real-time solution for retail businesses. Retail Kiosks include a machine with software installed. These machines can be installed anywhere and cost comparatively lower rents in shopping malls and other buildings.
Kiosk machines can be permanently fixed or also removed when required. You can also use the display of machines for the advertisement of your products or the company. It is also the fastest way to serve more customers in less time. Your cost for hiring staff is also minimized with the help of a retail Kiosk.
2. Healthcare Kiosk
Healthcare is the most crucial industry in our society as it is directly concerned with the life of people. So, it is very important to make it as smooth and facilitating to the people as you can. Normal healthcare providers construct their hospitals with a massive amount of money and they hire different staff.
One person is hired to give appointments to the people for the doctor. It could be done by phone call or physically visiting the hospital. Mostly there is more than one doctor in a hospital serving patients with a specific disease. The unavailability of doctors is a serious concern for patients in emergencies.
Benefits of Healthcare Kiosk
Healthcare Kiosks serve patients in different ways depending upon the type of Kiosks' features. Tele-health Kiosks are the best way to provide instant solutions to patients and it also helps in managing the crowd of people in hospitals. All the normal issues can be resolved using the tele-health Kiosks.
More advanced Kiosks in healthcare also facilitate people with some tests. Healthcare Kiosks provide a well-mannered system for everyone including the doctor and patients. It also reduces the amount of cost spent on staff.
3. Kiosk for Returns
We all would have faced situations when we have to return something that we have bought from any retail shop. Have you ever observed a change in the behavior of the shopkeeper while returning the products? Yes, their behavior is different from the time you bought the things.
There are two basic reasons behind it. The first one is that in a busy shop the shopkeeper has many other people who are buying the things and they are focused on dealing with the new customers.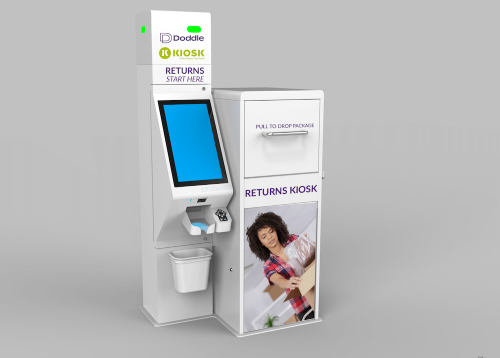 They will always ask you to wait and deal with you in their free time. This behavior is annoying to the customer. Secondly, they are not willing to pay you back the money and it takes a lot of time to deal with them.
Benefits of Kiosks for Returns
Kiosks for returns are an excellent way to manage returns in any retail shop. With this method, a customer does not need to wait for the shopkeeper. Every product has a barcode that is scanned and a return slip is generated. With the help of Kiosks of returns, the shopkeeper can manage a large crowd of customers within no time and there will be no interruption while returning things.
4. Transportation Industries and Self-service Kiosks
The transportation industry is also very busy as people move to different places for their work and other personal reasons. Public transportation is the cheapest way to move on vehicles instead of using your vehicles as the fuel prices are too high. There is a lot of mismanagement in getting tickets and a lot of issues with prices. So, a proper system is required for smooth working.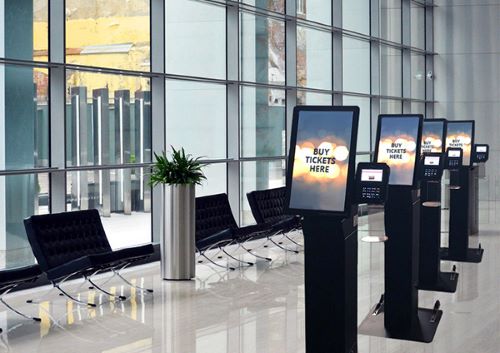 Benefits of transportation and Self-serving Kiosks

A transportation Kiosk is helping customers a way that passengers can book their tickets for trains, buses, or even flights with these transportation queues. Yeah! This more advanced form of the Kiosk is benefiting to a greater extent in transportation.
Now, you don't need to wait for your turn. Just go to the transportation Kiosk, and choose the ticket. The time and the fare are already mentioned on the Kiosk display.
Moreover, vending machines are installed at various public platforms to buy refreshments without waiting in the queue. In this way, prices are also controlled and no shopkeeper can charge extra money.
5. Self-servicing Banking Kiosks
Banks are considered the busiest place anywhere as they have to deal with every kind of transaction. It includes salaries, large businesses, and even international payments. We often found a huge crowd in banks standing in queues for their turn.
Even sometimes people fight when they are in hurry and have to wait. On the other side, more staff is also required for the system. There must be an automated system to manage the tasks smoothly and divert the crowd.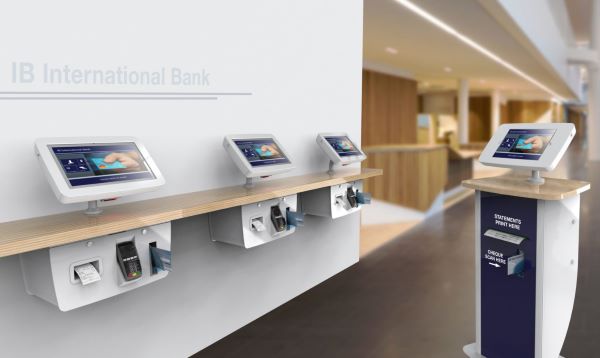 Benefits of Self-Serving Banking Kiosks
Self-serving banking Kiosks help perform daily transactions. ATMs are the best examples that have reduced the workload of bank employees. Instead of standing in line for paying utility bills, and sending or withdrawing payments from the cash counter, people now use ATMs and perform transactions within a minute.
A lot of time is saved daily. Similarly, when we enter the bank, we use Kiosk to generate a ticket and sit comfortably on a chair. When the number is called out we go to the counter and ask for the query.
3 What are the Features of Kiosk Software?
1. Remote Support
The technical team of any I.T. Company can use the Kiosk software to remotely access the self-service Kiosk and support them with their issues. It saves time to reach every Kiosk's position and handle problems. Using Kiosk, the technical team can remotely access the devices and resolves the issues.
2. Lockdown App and Website Usage(Disable non-business usage)
In Kiosk mode, you can lock down various apps and websites on the devices so that the employees or customers are only authorized to use the devices for official purposes. You can lock down all the social media websites and applications on the devices like Facebook or WhatsApp. Lockdown, all the unnecessary apps and websites on the Kiosk's devices, and let them focus on their targets.
3. Customize Brand
Kiosk software is best for customizing brands with their interface. It is a good approach for the advertisement of any company. Restaurants, coffee shops, etc., use their own designed interface with their logos to make them more attractive to customers. You can also customize your devices' notification center to give your customers a unique service.
4. Configure System Setting
You can perform all the necessary functions using the Kiosk. It helps you set the system volume, Wi-Fi network, hotspot, and mobile data. You can also customize all other system settings of the devices using the Kiosk interface.
5. Single-app Mode & Multi-app Mode
Kiosk software enables you to restrict the unofficial usage of apps on the devices and restrict the specific application. You can set single-app mode or multi-app mode on the devices.
You would have observed the order takers having a device in their hand, and they come to a table to get the order. Their devices are in Kiosk mode and have a specific interface to place the order only. They are limited to the restaurant App only to place the order. You can also restrict them to more than one app if they are also helpful in your business.
6. Report & Workflows
Kiosk software helps you manage tasks smoothly without any trouble. You can add specific situations in the software and get alerts in that situations. For example, battery low, data usage complete, SIM card alerts, and many more.
Workflow helps you automatically handle some cases, saves time, and is also helpful for those unaware of handling it. The system will automatically detect a particular issue and resolve it. For example, a specific interface is opened again when a device is shut down and turned on.
Kiosk software provides you with reports of various things that help you know the usage of devices and maintain business records. It may include the data usage on the devices, account records of the employees, and their history.
4 The Different Platforms Kiosk Solutions in the Market
As we have already discussed, much effort is required to manage the Kiosk, so it is better to use software that provides you Kiosk mode with a more straightforward way to manage the tasks. Let's discuss some software you can use depending on the different platforms.
Android Kiosk Software- AirDroid Business
AirDroid Business is one of the best Android MDM software. It converts your Android devices into Kiosks that can perform all the basic and some unique features of Kiosk devices. With AirDroid Business Kiosk mode, you can use the single-app mode, multi-app mode and Kiosk web browser to restrict the devices to some specific web pages that are related to your work.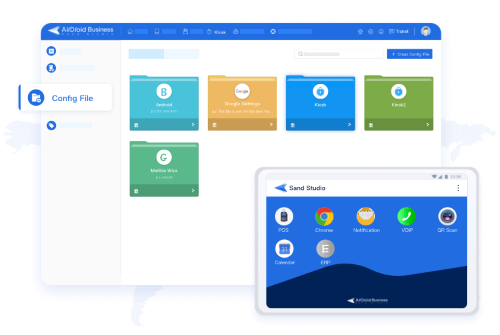 You can also keep track of your Android devices anytime you want if you are using AirDroid Business software. You can also set geo-fencing and get alerts when the devices are in a restricted area. Moreover, there are various methods for the enrollment of devices. For security reasons, you can get screenshots of the device and view the camera to see what is going around.
Essential features of AirDroid Business
Other than the Kiosk mode, AirDroid Business also supports some excellent features such as app management, remote IT support, file management, and location tracking features.
App Management:
It is one of the best features of AirDroid Business in which you can customize and create your own private App Store. You can also edit the information on your Apps. Set a schedule for the update of the apps after office time to save the working hours of your employees.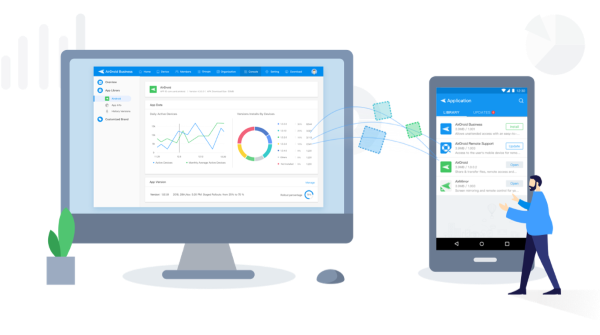 With the App management feature, you can also enable force installation so that the unattended devices also get the latest version of Apps. If you want to customize the App with your company name and logo, AirDroid Business also provides you with this service.
Remote Control:
There are a lot of functions you can perform on unattended devices remotely. These functions include remote typing, adjusting the volume, real-time voice calls, lock screen, rebooting the device, control, and rotating the device screen.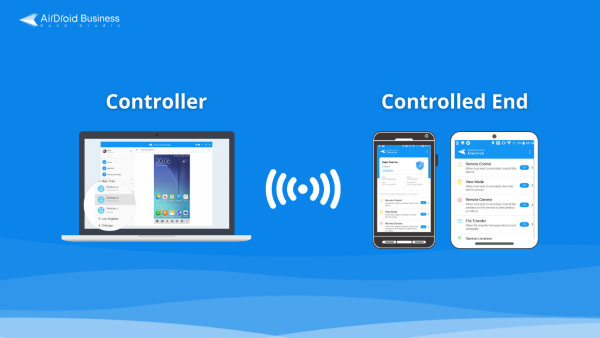 File Management:
AirDroid Business provides a systematic way to manage your files and keep them safe from external sharing. You can also allow two-way file sharing if needed.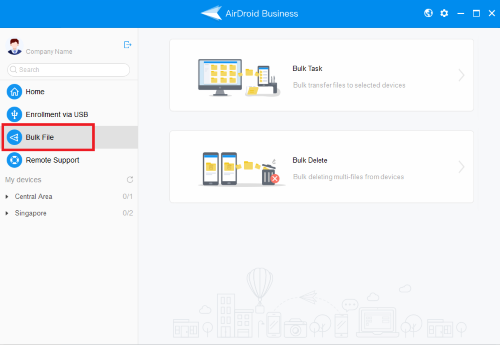 iOS Kiosk Software - Scalefusion
Scalefusion is one of the best choices as it is intuitive and easy to use. It provides the best management for your devices with very flexible pricing. In this case, pricing does not matter because investing in software saves many other costs and helps you grow your business multiple times. You can use it for day-to-day operations of your daily tasks. Scalefusion is available for fourteen days without cost, and no credit card is required.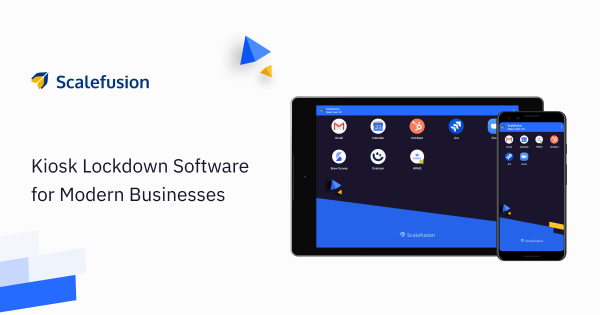 Important features of Scalefusion
Scalefusion provides remote support and device management. You can use its location tracking feature to check the current location of your target iOS devices. Remote commands, conditional email access, application management, and workflows are the essential features of Scalefusion that make it adaptable to most reputed I.T. companies.
Windows Kiosk Software - Hexnode
The world's most famous companies, like Macdonald, Volvo, Merck, Hilton, etc., utilize the Hexnode. Hexnode provides all those features that a standard Kiosk software must provide, including the remote control feature, multiple lockdown modes, web-based Kiosk lockdown, etc. Try its fourteen days free trial to enjoy its amazing features, and if perfect for you, you can buy its premium package.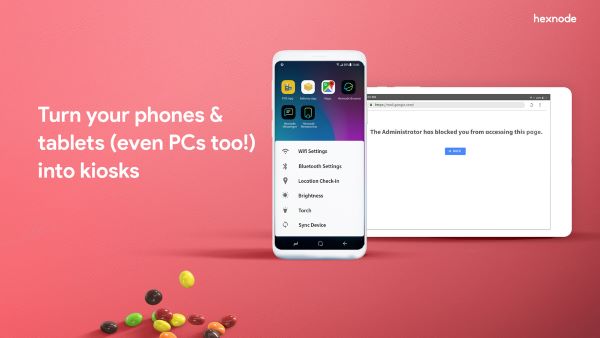 Important Features of Hexnode
It enables all the I.T.-related companies to lead to a secure and well-managed system to effectively provide their services to customers and get a positive response. It ultimately leads to the growth of their business. Geo-fencing, user provisioning, messenger, web filtering, remote control, reports, and integrations are all the best features that Hexnode provides.
5 Can Someone Bypass Kiosk Lockdown Software?
No, Kiosk lockdown software is a secure and permanent method on which large businesses rely. So, there is no way to bypass the Kiosk Lockdown software. Another critical factor is the software you use for the Kiosk lockdown. Software security is also a factor that shows if anyone can bypass the Kiosk.
The only way to exit Kiosk mode is to enter the passwords, and the passcodes are managed by the administrator.
6 Closing
In this article, we discussed what Kiosk technology is and what parameters make a business more profitable. In this technological world, self-service Kiosk has created space in every industry as it is a reliable and well-managed way to deal with customers and generate more profit in less time.
There are various problems users face while using Kiosks. That's why we have discussed some common issues with Kiosks in different industries and their solutions so that you can manage things accordingly. We have gone through AirDroid Business as one of the best Kiosk software for Android devices.
INFOGRAPHIC

Was This Page Helpful?