AnyDesk Unattended Access: All You Need to Know
Do you want to get access to a remote device even when no one is attending to the device? How can you give access to your computer to the remote support team even when you are not present physically?
AnyDesk is a popular remote access tool through which users connect devices remotely. AnyDesk unattended access is designed to access another unattended device remotely and instantly.
We will understand how AnyDesk unattended remote access works and how you can make the best use of the feature.
Part 1. What is AnyDesk Unattended Access? How Does It Work?
AnyDesk Unattended Access is a secure method of getting access to a remote device without the need for a person attending the remote device. This means you can take control of the remote device without anyone nearby to establish the connection between the devices.
In order to use AnyDesk Unattended Access, you need to set up a password on the remote device is required. The security settings are where this is done. Only after entering this password in a dialog box can you gain access to the remote device. You asked for a session, and now the window is visible.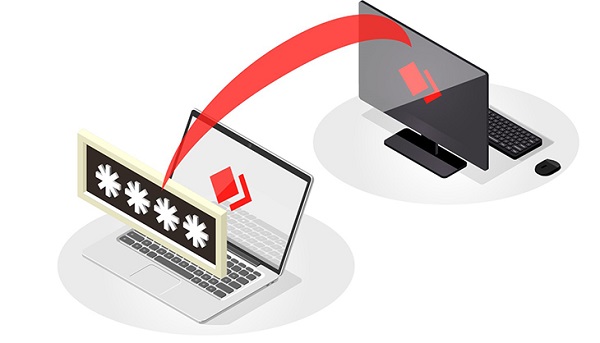 Part 2. What is the Use of AnyDesk Unattended Access?
IT Support:
If you provide remote support service, you can provide support to your customers instantly without their presence in front of their devices. This is useful when there are security issues that need to be resolved immediately. Similarly, you can troubleshoot any problem on your customer's device as per your availability. The customer does not have to be bothered about managing time to attend to his device.
Maintain devices remotely:
Sometimes, it's difficult to maintain every outdoor device one by one onsite. However, with unattended access, employees can easily access these devices, and they can control and maintain these devices remotely without going onsite.
Work on office computer from home/anywhere:
With AnyDesk Unattended Access, employees can feel comfortable in their own place, and having freedom can promote productivity and creativity, which in turn boosts worker morale over time.
Additionally, with the option of teleworking, employees may access crucial information and resources while on business or sales travels, ensuring they have everything they need to succeed wherever they are.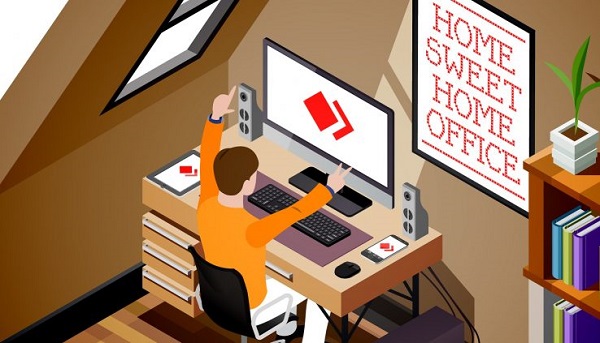 Part 3. Is There a Way to Access Unattended Android Devices?
When it comes to accessing unattended computers, AnyDesk is a great choice. But when you need to access unattended Android devices, AirDroid Business and AirDroid Remote Support are the best choice. You can remotely access unattended Android devices from your computer or mobile device.
What is AirDroid Business?
AirDroid Business is a popular tool that provides a complete remote device management solution. The tool allows connecting to unattended devices remotely and controlling the connected devices as per requirements. You can remotely access unattended Android devices with rooted or without rooting devices.
Advantages of AirDroid Business to Access Unattended Android Device
Here are all the features of AirDroid Business that make it the best tool to access unattended Android devices.
1Remote Access & Control Unattended Device
You can get access to unattended Android devices and get complete control over devices. This is advantageous for businesses having digital signage, POS terminals, and kiosks. This is because there is no need to send technicians and workers to maintain, support, and manage content. You can transfer files between the connected devices, delete unnecessary files, and get system logs for analysis.
2Monitor & Alert Unattended Devices
AirDroid Business provides you with a dedicated dashboard to monitor all the connected remote devices. The dashboard is where you get to check the device health, device screen, as well as camera screen. You can perform critical operations such as reboot, reset, lock, and much more. Besides, you can set alerts on customized trigger points and create automated workflows for unattended operations.
3Manage Device Apps
You can manage to roll out app updates and installation of apps on the remote device. There are several customization options available to manage remote device apps to fit your requirements.
AirDroid Business support Android Enterprises (AE), which indicates that you can manage your business apps from Google Play.
4Limit Device Access
You can limit access to apps, settings, and websites on the remote device. This is useful when you have POS terminals and kiosks. This will enhance security and make the remote device tailored for specific purposes.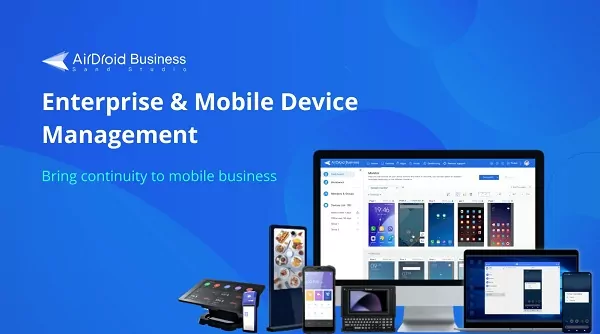 Part 4. How Unattended Access Improves Business?
In today's world, working remotely has become a common practice. Remote access becomes a necessity when working remotely. But unattended remote access offers the flexibility to perform any remote controlling activity at any time. This is highly useful for businesses that offer remote support service, troubleshoot device issues, provides technological security service and much more.
1Work from Anywhere
Working from home or anywhere in the world has become feasible due to remote access. But unattended access has made it more convenient. Workers can access unattended office computers at any time for any file or data on demand. Similarly, team leads and project managers can supervise the team members' work in progress without any intervention. They can also provide support and troubleshoot any issue so that there is no downtime in work.
2Support Unattended Devices
Upgrading the firmware of the connected devices when they are idle is possible through unattended access. For example, you have digital signage over different locations, and you need to update the software of the devices. You can easily do that at midnight when no one is watching the advertisement. In fact, you can upgrade the security patches on unattended devices. There is no need to visit the devices physically and spend on travel expenses.
3Make IT Support More Easier
Technical support can be provided easily to unattended devices at any time. This includes software updates, routine maintenance, troubleshooting issues, and much more. Such support can be provided when the device is not actively used, and therefore, there will be no downtime.
4Enhance Business Security
Due to the increase in hacking and data theft, business security is an important aspect. If your business involves POS devices, unattended remote access can be highly useful in providing secured payment service as well as data security solutions. Besides, timely security patches can be infused to tighten security and cover up loopholes.
5Scale to Fit Business
Unattended access services are applicable to all professions, enabling companies of all sizes to communicate with clients, partners, or coworkers throughout the world. Even when people are far apart, everyone can collaborate and communicate simply thanks to technology.
Part 5. Which Industries Can Benefit from Unattended Access?
We have already specified that unattended remote access service is essential for several industries across the globe. Here are the industries that can benefit from unattended access services the most.
1 Retail
Wherever there are kiosks and point-of-sale devices, unattended remote access service becomes a necessity. In today's retail industries, point-of-sale systems are common and managers can remotely access the devices to fulfill their purposes. For example, he can access the files and check out sales data remotely whenever the stores are closed, and no one is attending to the devices.
2 IT Service & Support
The unattended remote access service is primarily designed for the IT service and support industry. Support teams need to access the systems of their clients and customers on demand to fix any issue even when their customers are not present in front of their systems. Besides, regular maintenance and software updates can be performed through unattended remote access services without bothering the clients and customers.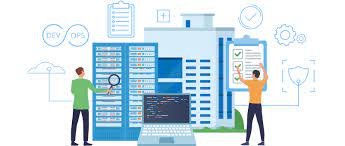 3 Work from Home
When you are working from your home, you need to get access to the computers in your office for uploading and downloading files and data. Through unattended remote access, you can access your office computer anytime without anyone's presence. Similarly, your project manager and team leader can access your computer in your absence to supervise your work progress. This caters not only to the IT industry but also to the financial, healthcare, and education industry.
4 Digital Signage & Multimedia
If you are into digital signage where multimedia and advertisement are displayed on a remote screen, you will need an unattended remote access service. This is because you may have to troubleshoot any technical issue, fix security issues, update software and firmware and even change multimedia files remotely. There is no need for any person to physically visit the remote devices for content management and support and maintenance.
Part 6. Extra Tips about AnyDesk Unattended Access
Now we are going to focus on how AnyDesk allow unattended access option. Furthermore, there are many who reported that AnyDesk unattended access service is not working for them. We will provide you with the solution to fix AnyDesk unattended access not working.
1How to Setup & Remove AnyDesk Unattended Access?
Here are the steps to set up AnyDesk unattended access so that you can access an unattended remote device from your device.
Download and install AnyDesk on both devices from the official AnyDesk website.

Open AnyDesk on the remote computer. Click on the three-dash icon located in the top-right corner. From the menu, click on the Settings option.

Go to the Security option from the left panel. Thereafter, click on the Unlock Security Settings button.

Turn on "Enable Unattended Access" option under Unattended Access section. Click on the Set Password for unattended access button.

You have to set a password and confirm the password for the unattended access. Under Permission Profile, make sure Unattended Access is selected. Finally, click on Apply button.

On your computer, run AnyDesk and type the remote address of the remote device. You will be asked to enter the password which has been set on the remote device for unattended access. You should turn on "Log in automatically from now on" option. This means from now on, you can get remote access to unattended remote devices instantly without any password authentication.
Here are the steps to remove AnyDesk unattended access and revoke all permissions.
Open AnyDesk and go to Settings by clicking on the three-dash icon.

Go to the Security option from the left panel.

Under Unattended Access, click on the Clear All Tokens button to remove all permission.

Turn off Enable Unattended Access option so that the service is disabled.
2How to Fix AnyDesk Unattended Access Not Working?
There are several reasons why AnyDesk unattended access is not working on your computer. Here are the steps to need to follow.
Check if the internet connection is available on your device as well as the remote device. Similarly, check if AnyDesk is running on both computers.

Make sure AnyDesk unattended access is turned on the remote computer. It could be that the person could have cleared all tokens or changed the password for unattended remote access. You need to ask for the new password in case it has been modified.

If the remote computer has any antivirus software installed recently, establishing connection remotely could be an issue. Similarly, if the person has set the firewall to strict settings, the connection will be denied. The antivirus needs to be disabled temporarily, and the firewall settings should be reverted.

If your computer is blacklisted on the remote device, unattended access will not be working. Similarly, if the person has not enabled permissions for remote control such as using keyboard and mouse, transferring files, unattended access may work, but your intended purpose will not be fruitful. Ask the person to enable them from the Security tab.
Conclusion
We have answered your question "How does AnyDesk unattended remote access work?" We have also stated how you can set it up to access unattended remote devices. AnyDesk unattended remote access is definitely the best tool for connection between two computers. But if you want to connect to unattended Android devices from your other devices, we recommend AirDroid Business for its diverse and secure remote access features.
Part 8. Infographic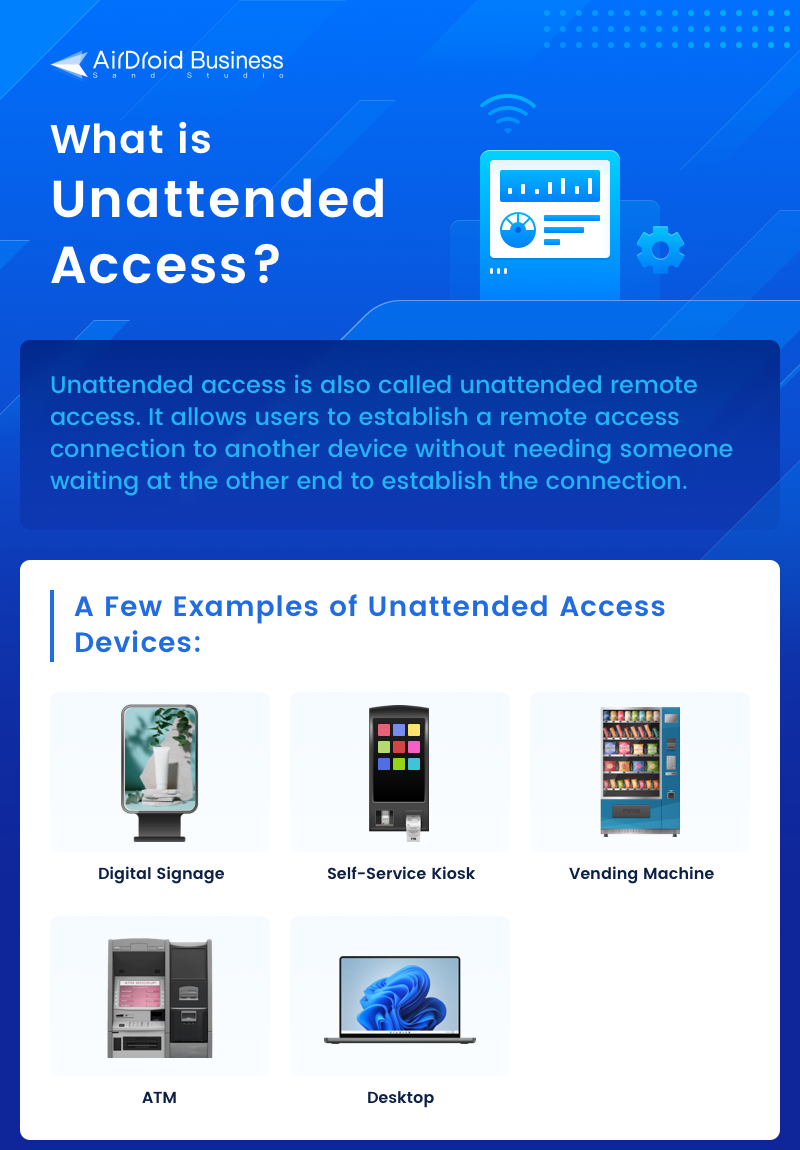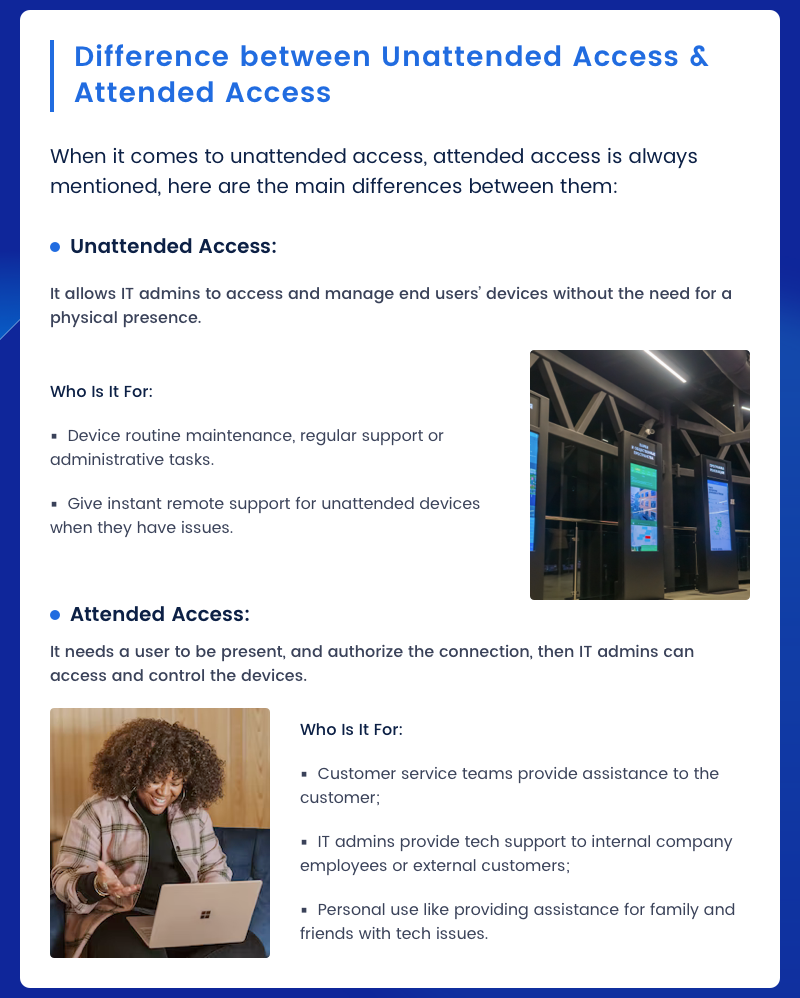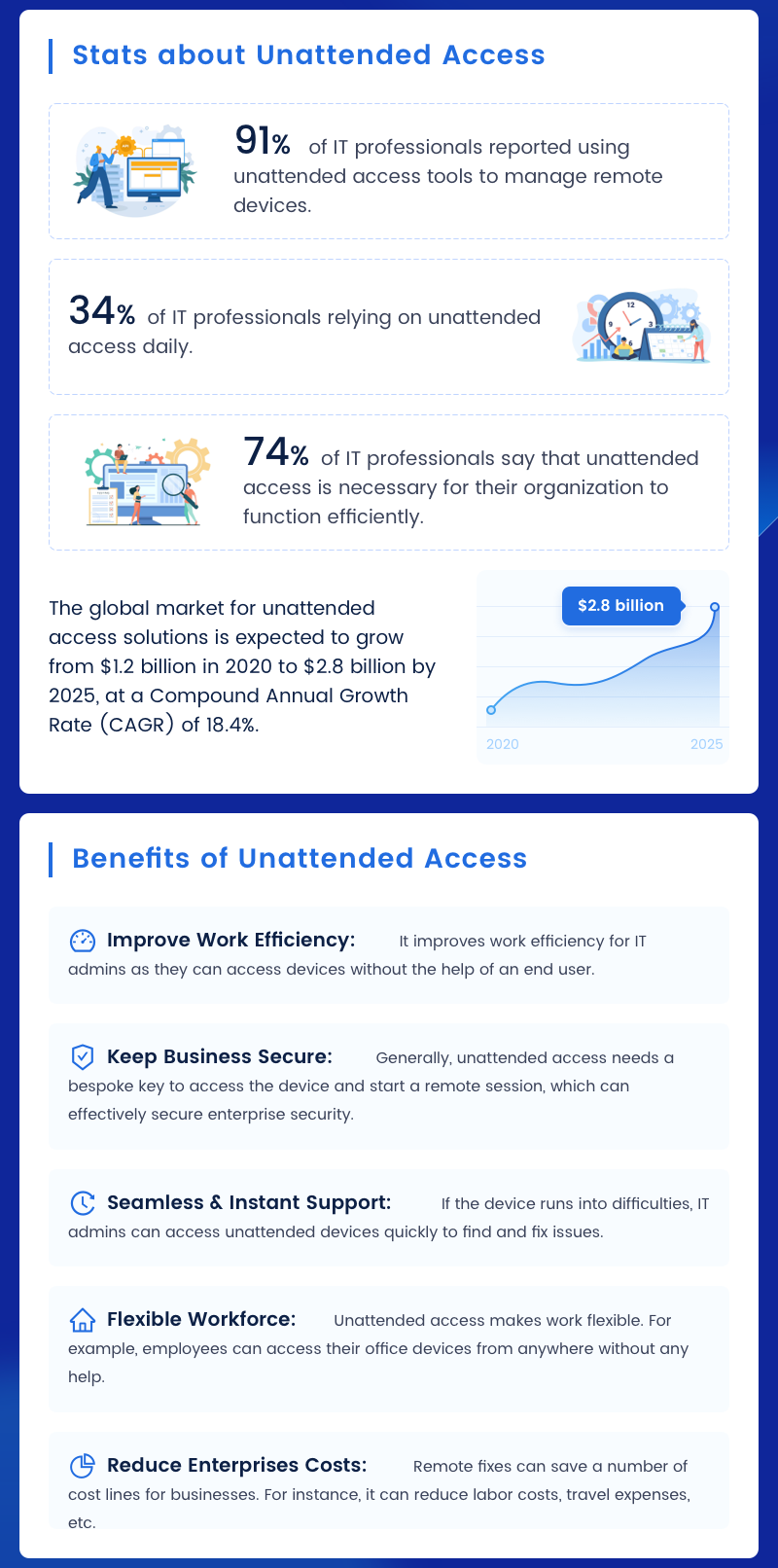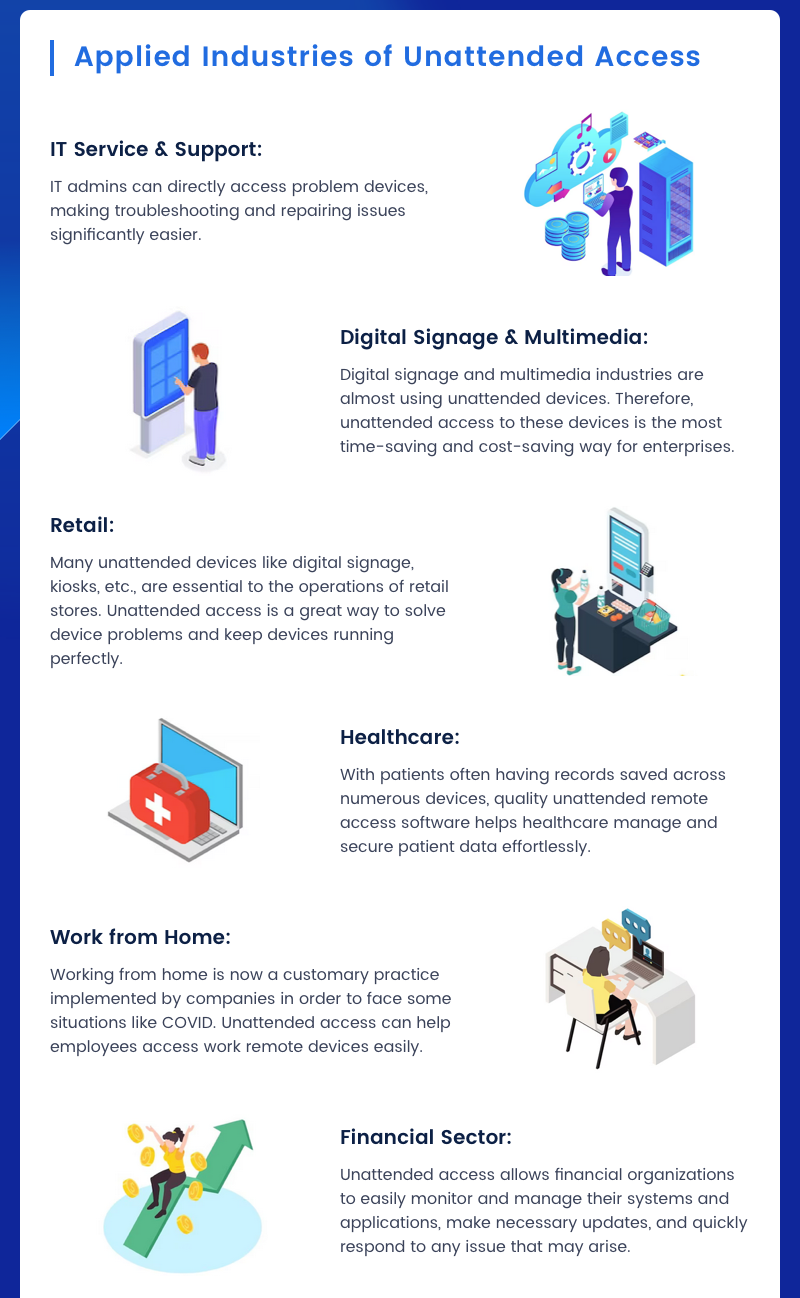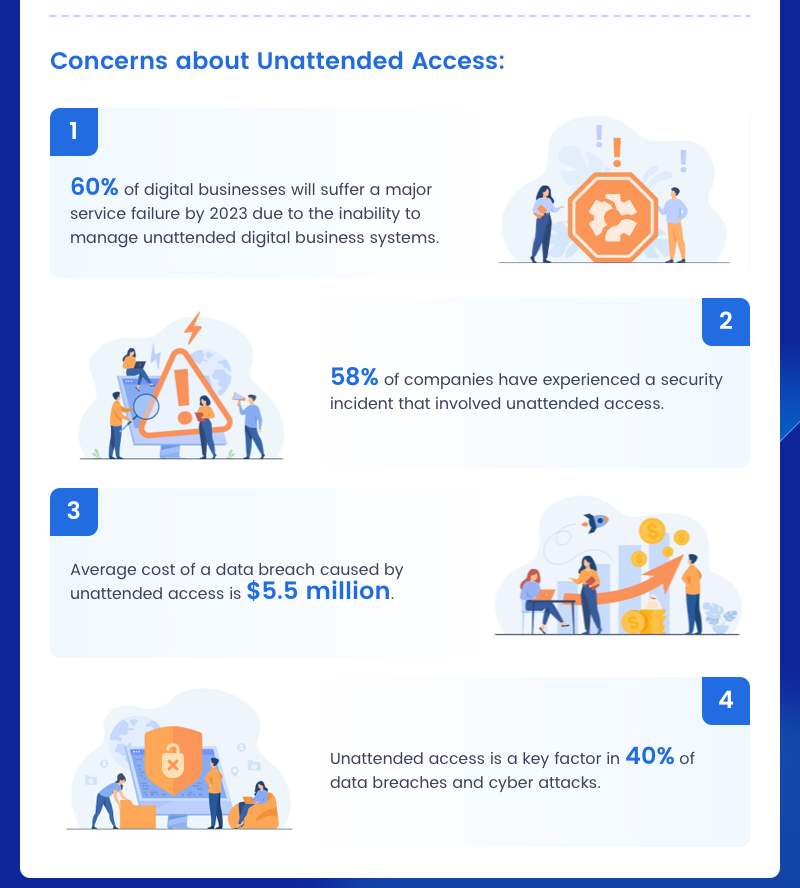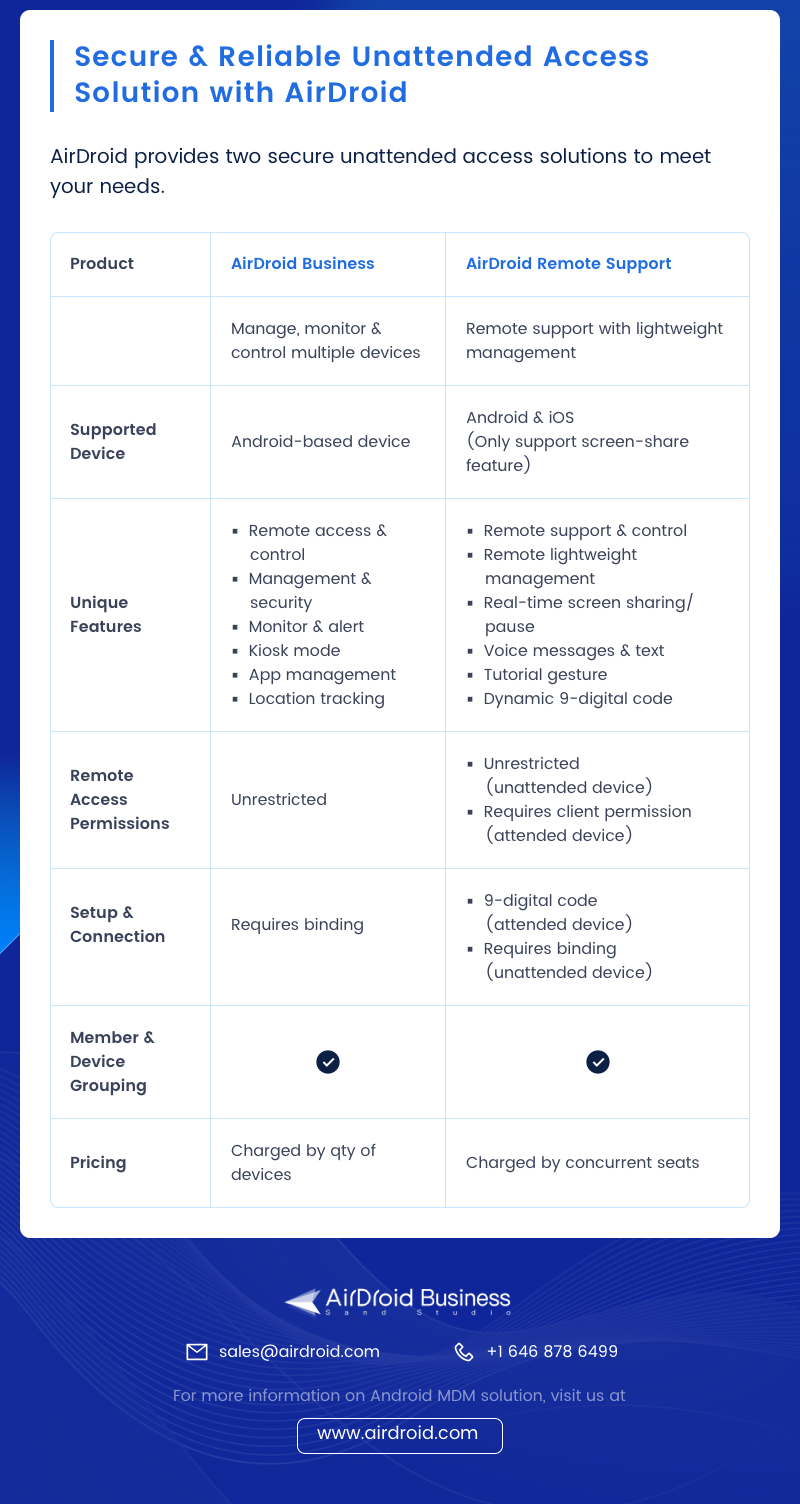 FAQs about AnyDesk Unattended Access
What's the difference between full access and unattended access in AnyDesk?
When you set full access profile, the person getting remote access to your computer will have full control over your device. When you set unattended access profile in AnyDesk, the person connecting to your computer will have limited control based on the access settings you have configured.
Can AnyDesk unattended access be set in Ubuntu?
Yes, AnyDesk unattended access can be set in Ubuntu as AnyDesk is compatible with Linux. The steps can similar as we have already illustrated. You have to go to Settings> Security> turn on Enable unattended access and set the desired password.
How to connect to AnyDesk PC without permission?
You have to turn on unattended access option on the remote AnyDesk PC and get the password set for unattended access. Then you need to connect to AnyDesk PC with the password and turn on 'log in automatically from now on'. Thereafter, you can connect to that AnyDesk PC without permission.
How long can AnyDesk be used for free?
The free version of AnyDesk can be used for lifetime but the features are very limited. There are several pricing plans available to suit your requirements and budget. But there is no time limitation on free plan from AnyDesk.
Was This Page Helpful?