Enable geofencing on Android devices for accurate location monitoring
As technology advances, geofencing applications are being used more often. A few years ago, using an app to monitor the location was practically impossible. Today, MDM Geofencing has become an essential part of the company. With the use of this security feature, You may create boundaries, commonly known as geofences, around the territory you want to set using the Geofence app.
When a device enters or leaves a geofence, your app receives a notice. Geofence is very useful especially if you want to safeguard the sensitive assets of the company.
1 What Is Android Geofencing Used for?
You may think of Geofence as a virtual fence since it creates a virtual boundary around a real geographic location. The space may be as large as a metropolis or as little as a single structure. It can take several forms. It could be rounded for simple use scenarios.
MDM makes it possible to conduct effective asset management. Asset and inventory location may be tracked using sensors and geofencing. In order to meet the demand, the stock may then be restocked with fresh inventory, and orders can be filled and supplied where they are needed.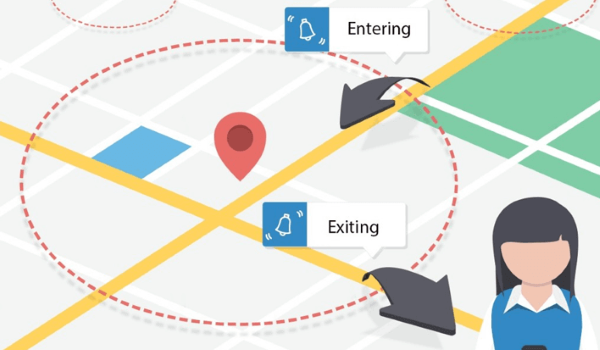 When working with sensitive information, it is critical to restrict user access to certain data. Administrators can limit what information staff members can access based on their location by using geofencing. Every time unwanted access to devices occurs, you'll be alerted, giving you the information you need to strengthen the security of key company data and make educated decisions.
2 Discovering the Benefits of Android Geofencing
Android Geofencing comes with numerous benefits and can help companies by raising security, and control over assets. However, this is not all, let's now explore the benefits of Android Geofencing up close.
1. Monitor the Movement of Android Devices
It is difficult to track the location of the company's vehicles or the employee when they are not in one area and typically work outside the building. However, Android Geofencing makes control and movement monitoring possible.
With the use of the geofence app Android, you can create a virtual fence at a specific location. In addition to that, you can also track the movement of an Android device and see when it enters and leaves the geofenced location. The radius can be easily adjusted and assigned to the specific facility.
2. Location-based Control & Increase Security
IT administrators may already update all location information concurrently with a single mouse click, despite the fact that the devices are dispersed around the office. Android device tracking is a difficult undertaking because businesses typically deploy hundreds or even thousands of unattended devices.
Managers or IT administrators may immediately spot unusual actions such as devices veering from the planned course with the help of the Geofence app Android. Therefore, to prevent company data from being viewed unlawfully, the IT manager may react right away by sending notifications to the remote device or initiating an action to remotely lock the device.
To protect user privacy, disable GPS tracking on employee-owned devices when they are out of the office. This is a guarantee of increased security.
3. Asset Management
With the rise of mobile devices, employees may now readily access any necessary corporate data while using their phone or tablet off-site. For safety measurements, businesses need a way to limit access to corporate resources based on the device's location. This is possible with Android Geofencing.
3 Geofencing Creates Digital Boundary for Business Devices
Administrators can set up a virtual fence using geofencing around a company's facilities. Tracking devices as they enter or exit the fence is possible with the use of Android Geofencing.
Transportation & Logistics (Fleet Management)
To alert the dispatcher when a vehicle is nearing a loading/unloading region, this field employs a geofence. Establishing a geofence around a certain shipping route will alert the dispatcher immediately if a delivery vehicle deviates from the planned path, which will assist to simplify corporate operations.
Communication Industry
It is crucial for suppliers of cellular modules and communication industry solutions to make sure that mobile equipment remains in control rooms so that the environment and communication security may be monitored. This is why the Android Geofence can be extremely helpful and useful in the communication industry.
Recovery Center (Mental Health/Alcohol/Drugs Rehab Treatment)
Another important use of Android Geofence is in the recovery centers. Centers for alcohol, mental health, or drug rehab therapy will definitely need geofencing features. Since it creates digital boundaries, this tool will help the facilities to make sure the patients are within the boundaries of secured geofencing locations.
Digital Signage Kiosks
When the Digital Signage Kiosks are located outdoors, the risk of theft or breaking is high. Another use of Android Geofencing is to assign it to the Digital Signage Kiosks to increase safety. Android Geofencing will make sure that your kiosk is kept in the normal environment and therefore, theft is avoided.
4 AirDroid Business MDM Geofencing
One of the greatest Geofencing Android example tools is AirDroid Business MDM. It enables users to safeguard and manage their privately owned or company-issued Android devices. Geofencing with AirDroid MDM provides numerous advantages, including simplicity, adaptability, and convenience.
The geofencing profile may be set up for each of your employees. Additionally, with the AirDroid Business MDM Geofencing, you can build a virtual perimeter around a physical site, such as a corporate office, warehouse, or retail space.
Keep Full Visibility of your Mobile Assets and Personnel
When the target device enters/exits the fence, an alert can be triggered and send notification emails. You can set the following workflow to auto-execute actions such as locking the device, factory reset, switching to another Kiosk configuration file, etc.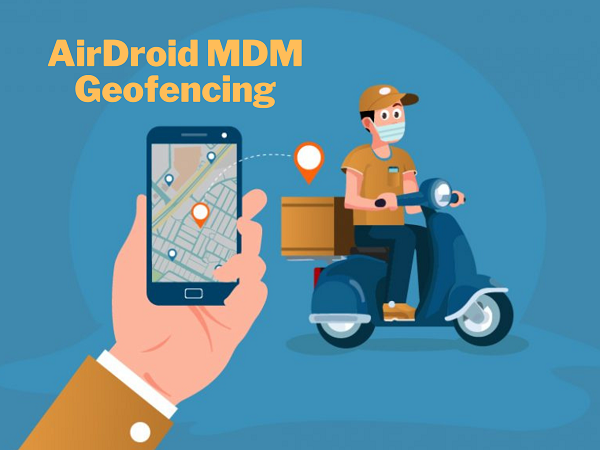 Operation managers may monitor all of the unattended Android devices on a map and maintain tabs on daily delivery performance with the use of a central dashboard. Therefore, the AirDroid Business MDM Geofencing makes sure that the company has full visibility of the personnel and assets in real-time.
How to Implement Geofencing on Android Devices?
By using AirDrdoid MDM Business Geofencing, IT specialists or operational managers may make sure that company-owned devices are limited to specified geographic locations. Such as set up device compliance rules, construct digital location-based barriers, and take appropriate action when the rule is breached. Moreover, geofencing alerts are also available, you can create a workflow to receive a push notification when managed devices enter/exit the geofencing range.
To implement Geofencing on Android Devices, follow these steps:
Step 1: Go to Device Management on the MDM server (mgt). When you select Fence Repository, a list of previously constructed geofences will appear. If you have not yet constructed the geofence, click the "New Geofence" block.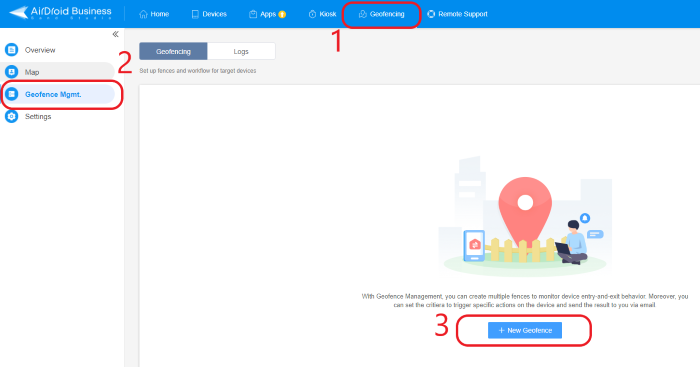 Step 2: Enter the place's longitude and latitude, drag the fence there, or type a keyword in the location field.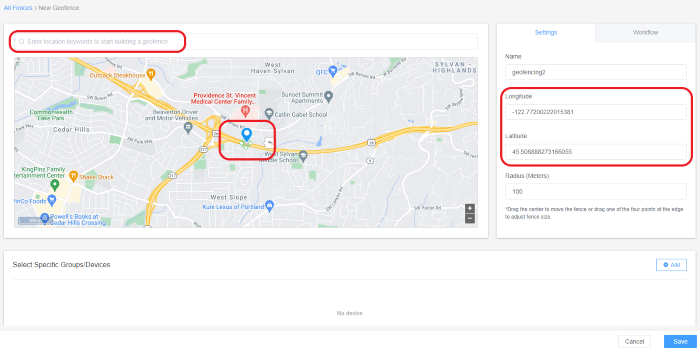 Step 3: Choose the preferred radius of your new Geofence and choose the name for it.
Step 4: Tap on the button "+Add", which is located in the lower right corner of the screen, and then tap on "Save".
5 Issues Will Happen When Losing Track of Enterprise Devices
Generally, not having the exact location of the enterprise device can cause major problems. Not knowing your device's whereabouts in real time might have an influence on customer satisfaction when you receive complaints from customers due to shipment or delivery delays.
The capacity to increase information security is one of geofencing's expanding applications. So, when the enterprise devices are not tracked, the information and assets security is at the risk. Without geofencing, control over access to digital assets and protection is dramatically decreased.
When a user's location is not confirmed, an additional degree of user verification is not provided and therefore, the administrator will not be able to limit the access.
In healthcare organizations and recovery centers, without Geofencing, the monitoring of the patient's activities would not be able. Therefore, if it happened that the patient went out of the geofence zone, the security actions will not be triggered.
6 3 Transition Types of Geofencing
Depending on the transition type, the geofence may or may not be activated when a user enters or exits it. There are three major transition types of Geofencing- Enter, Dwelling, and Exit.
Enter- This shows that the user has stepped within the geofence.
Dwelling- Shows that the user is present for the specified amount of time inside the geofence.
Exit- This demonstrates that the user has left the geofence.
7 What Is the Difference between GPS and Geofencing?
Either the global positioning system (GPS) or radio frequency identification (RFID) is used by the geofencing function of software to set geographic boundaries. By using GPS to determine the customer's location and when they are a certain distance from the business, geofencing gives the possibility to identify customers.
GPS functions great outside but not as effectively indoors since it relies on satellites. Additionally, if there are no satellites nearby or if the signal to the satellite is blocked by clouds or other obstructions, it may not be trustworthy. As a result, if you're travelling through the mountains, your GPS connection may abruptly disappear and then resurface once you're back on the main highway.
So, if the GPS is used to track the location of the device, the geofence not only tracks the location ( with the use of GPS) but also makes it possible to set boundaries and even identify the customers.
8 Does Geofencing Work If Location is Off?
The distinct IP address of your device allows a geo-fence to determine your geographical position even when the location is disabled. You may wonder exactly what is needed in order to establish Geofencing. Well, here are some prerequisites.
Prerequisites
An administrator or developer must first create a virtual border around a given place in GPS or RFID-enabled software before using geofencing.

When working in the Geofence app Android, this may be as easy as drawing a circle 100 feet in diameter around a location on Google Maps.

The apps query the location coordinates in the Android and iOS environments using a location API to determine their position.

Contrary to common belief, however, GPS is not the only technology that may track a user's whereabouts. Location information may or is retrieved from a variety of sources such as Device Networks, Wi-Fi, and Beacons.
9 Bottom Line
Recently, geofencing technology started to be used more frequently. Enhancing performance, boosting security, boosting corporate efficiency, and keeping track of the company's assets and devices are some advantages of geofencing. Every time the system notices unusual occurrences, AirDroid MDM sends you timely notifications. It then takes automatic action to remedy problems quickly, boosting efficiency while lowering maintenance costs. Additionally, geofencing gives relevance and versatility, it is applicable across a variety of sectors and may be customized to meet your unique demands.
Was This Page Helpful?