How to Set up Self-running Kiosk Mode?
Kiosk modes are generally used by large enterprises to digitally transform their businesses. Such as self-service check-ins, collecting customer feedback, and order placement.
Superior to all these benefits of kiosks, a special feature of kiosks is displaying product information and demonstrations with PowerPoint presentations.
A slide show of kiosks presentation is created to display multiple displays, describing the products from different angles. Large organizations like hospitals, educational institutes, and malls use kiosks to help visitors navigate the premises.
1 The self-running kiosk mode in PowerPoint
What is a PowerPoint kiosk?
PowerPoint kiosk is a special feature of Microsoft PowerPoint that enables users to construct presentations for autonomous playback that operate automatically. When a presentation is set to kiosk mode, it begins automatically and loops indefinitely without user intervention. This mode is typically employed when the presentation must be displayed on a screen or kiosk without an operator.
Suitable for unattended slideshows
PowerPoint kiosk is best for unattended slide shows, restricting others from pausing or skipping any part of the presentation on the screen. It is useful for enterprises to present slides in business meetings, showcase product presentations, and display demos.
2 How to create a self-running presentation?
Microsoft 365
Open PowerPoint and create your presentation.

Go to the "Slide Show" tab on the ribbon. Click the "Set Up Slide Show" tab in the "Set Up" group.

In the "Show Type" dialog box, select the "Browsed at a Kiosk (Full Screen)" option.

Select specific slides to display in the slideshow. Customize other settings and features like rehearsal timing, adding narration or sound, and adding animations. Then click "OK".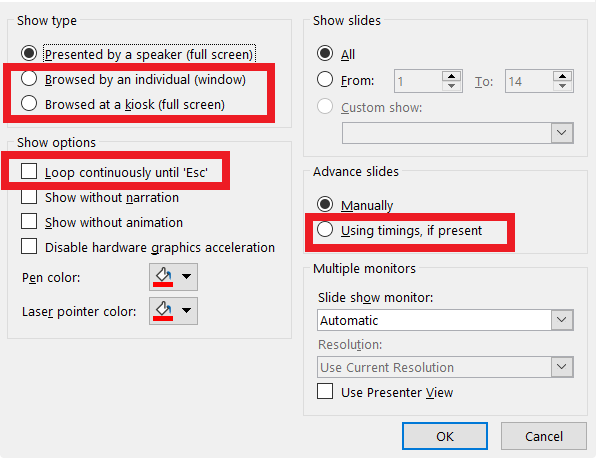 PowerPoint 2007
Create your presentation on PowerPoint 2007, and then from the toolbar, click "Slide Show" to select "Set Up Slide Show".

A new pop-up will appear on the screen. A "Show Type" option will be at the top-left corner. Enable "Browsed at a kiosk (full screen)" to set up a self-running presentation.

Change other settings if required and press the "OK" button.
PowerPoint for MacOS
Create the PowerPoint presentation on Mac and click the "Slide Show" tab. Then click "Set up a Slide Show".

On the newly opened tab, click on "Browsed at a kiosk (full screen)" and then press "OK".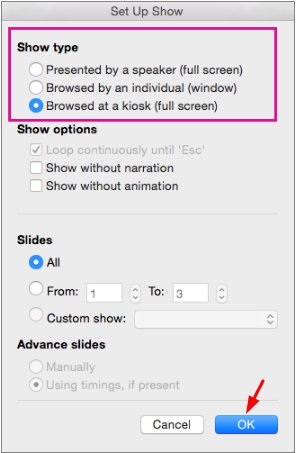 3 Meanings of other show options in PowerPoint
After customizing many features, you can set up a presentation for browsing at a kiosk. A few of the options are described below:
Show without narration
Presenters can display the slides in a meeting without any narration or voiceover that is added to the slides. When this feature is enabled, only the narration is disabled, all other functionalities, like animations, transitions, and slide content, will be displayed normally.
Show without animation
The "show without animation" feature enables the presenters to display the slides without the animations. After enabling this feature, all transitions between slides and animated effects are disabled, and the slides are displayed statically. This feature is used to avoid distractions during a meeting.
Disable hardware graphics acceleration
PowerPoint's "disable hardware graphics acceleration" option disables hardware acceleration for graphics and animations. GPU acceleration in PowerPoint may create system compatibility or performance difficulties. PowerPoint will use software rendering instead of the GPU, which may fix such difficulties.
Keep slides updated
Whenever you choose this option, PowerPoint will automatically update linked or embedded information in slides whenever source files change. When a PowerPoint presentation is launched or refreshed, any changes to a chart connected to an Excel spreadsheet will be reflected.
4 The differences between the "slide show" features in Android and Windows
Although the slideshow feature works on Android and Windows, they differ in functionality, availability, and user experience. PowerPoint for Windows can record presentations, while PowerPoint for Android cannot. Microsoft PowerPoint on PCs enables self-running presentations, while this feature is unavailable on Android. The presenter view only applies to Windows and not to PowerPoint for Android. There are a few similarities between Android and Windows, i.e.,custom slide shows and speaker notes.
5Finding a digital signage solution?
Digital signage kiosks are interactive displays with a combination of digital screens and software to manage the display on the screens. These are typically used in public spaces, retail environments, corporate sectors, and various industries.
Brands and large enterprises use digital kiosks to advertise their products. Businesses display promotions, ads, and discount offers on these kiosks to attract and grab more customers. They are used to guide visitors easily around the premises. They are used for announcements and sharing information with the public.
If you want to manage digital signage kiosks for modern businesses, you must prefer software with remote management capabilities that is easily scalable and flexible.
Digital Signage Kiosk Software - AirDroid Business
AirDroid Business MDM is the best solution for lockdown Android devices into kiosk mode
Customize the interface of your device
Kiosk mode enables customization of your Android devices with various factors. You can customize the main interface of the device, change the app icon size, customize images, and manage settings like "Hide app name", "Display device name", and "Hide title bar".
Lockdown devices into kiosk mode
Many enterprises have their websites and applications. With the help of AirDroid Business, enterprises can limit Android devices to only a single website or application. You can run only one app in single-app kiosk mode, while a few selected apps are in multi-app kiosk mode. A safe web browser with incognito mode is also available in kiosk mode.
How can AirDroid Business benefit you?
AirDroid Business eliminated the need for being on-site by enabling administrators to remotely monitor the signage screen and control it to troubleshoot any issues that occurred.
It helps to turn your Android devices into digital signage kiosks to provide valuable information to customers and boost your sales. It provides a secure advertising environment for enterprises.
Administrators can remotely upload and delete media files from the devices to play them in kiosk mode. You can also create a unique interface on the devices representing your brands and get access to system settings to adjust it.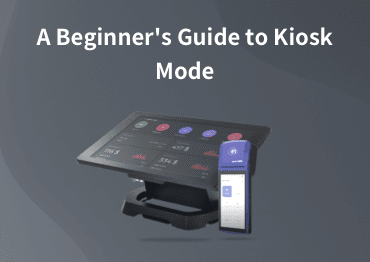 Guide
A Beginner's Guide to Kiosk Mode
Learn how to customize device interface and limit user access to apps, websites, and settings to prevent unnecessary misuse.
Free Download
6 Adaptable digital signage kiosk for diverse industries
The adaptive and versatile nature of digital signage kiosks makes them valuable instruments for disseminating information, enhancing customer experiences, and enhancing operational efficiencies across multiple industries.
Digital signage kiosks can be customized to satisfy the specific requirements of each industry's applications and features.
Retail
Digital signage kiosks in the retail industry display product information, promotions, and advertisements. Kiosks can display discounts, special offers, or loyalty programs to increase customer engagement and sales. Retailers can improve customer experiences by providing touchscreen devices for self-ordering and smooth transactions.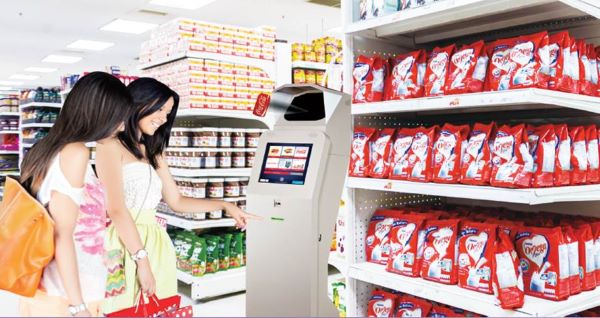 Hospitality
In restaurants and hotels, interactive menus can be displayed on terminals, enabling patrons to peruse food and beverage options, customize orders, and make reservations. Wayfinding devices assist guests in navigating large hotel or resort complexes by directing them to rooms, amenities, and conference venues. By displaying event schedules, guests can be informed of upcoming activities, conferences, and entertainment options.
Healthcare
In healthcare facilities, digital signage kiosks display patient information, wayfinding directions, and health education content. The kiosks' ability to display patient names, appointment schedules, and waiting periods enhances the patient experience overall.
Wayfinding kiosks aid visitors in navigating complex hospital layouts, allowing them to locate specific departments, clinics, or accommodations easily. In addition, kiosks can display health education content, such as information on prevalent diseases, preventative measures, and healthy lifestyle recommendations.
Education
Educational institutions use digital signage kiosks for a variety of purposes. They can display announcements, school news, and event details, informing students, faculty, and visitors. Additionally, kiosks can display class schedules, exam schedules, and campus maps to assist students in locating classrooms and other facilities.
Digital signage kiosks can be strategically located in common areas, cafeterias, and libraries to reach a large audience and distribute vital information. Digital signage kiosks can also be used to provide interactive interfaces for students to conduct web research and improve their knowledge.
7 FAQs about kiosk presentation
What is a kiosk presentation?
A kiosk presentation is an interactive presentation that is used to play slides in presentations uninterruptedly. They are used in offices, public spaces, trade shows, and retail environments.
Is there a kiosk mode in Google Slides?
Google Slides does not have a kiosk mode like Microsoft PowerPoint. Yet, it has a "Present" mode feature to display slides on full screen.
How do I create an interactive kiosk in PowerPoint?
As a FREE user, you can add up to 2 devices to your AirDroid Personal account, which may be either Android or iOS. As a Premium user, you can add up to 3 devices for FREE and pay for any additional 4th to 10th devices. Beyond 10 devices, it's highly recommended that you sign up for AirDroid Business.
Can we make PPT interactive?
Open the slideshow tab in PowerPoint and set up a slide show. Under show type, select "browser at a kiosk (full screen)" and press the "OK" button.
What is another name for a self-running slideshow?
A kiosk display is another name for a self-running slideshow.
8 Further Reading
Self-running kiosk mode in Microsoft PowerPoint plays a significant role in businesses. It also has great importance for personal use. The benefits of self-running kiosks for personal use can be digital picture frames.
You can easily display slideshows at special events in your life. However, in professionalism, the best usage of kiosks is digital signage to display advertisements uninterruptedly. It is also helpful for product demos, presentations, trade shows, and exhibitions.
Thus, kiosks play a vital role in personal improvement and business success. It is not an easy task to manage the kiosk mode uninterruptedly. Most businesses use Android devices, so an MDM solution like AirDroid Business must enable enterprises to manage kiosk mode remotely and unattended.
Was This Page Helpful?