5 Best TeamViewer Alternatives in 2023
5 Best TeamViewer Alternatives
Remote Desktop Software will help you access another computer and use it regardless its location or network. One of the most knows software for this remote access is TeamViewer. However, you surely would like to search for TeamViewer alternatives since it requires a license and has limited functions.
There are other TeamViewer alternatives that enable larger files sharing and a most efficient use of resources. This other options require cheaper licenses or offer a completely free version to help you connect to any other computer.
1 AirDroid Remote Support: Best for Android
AirDroid Remote Support, a customer support solution designed for customer service and IT support, is an efficient tool to remotely control and manage attended and unattended Android devices. With AirDroid Remote Support, technicians and IT professionals can provide remote technical support to users, troubleshoot problems, and perform various tasks on the Android device without physically being present.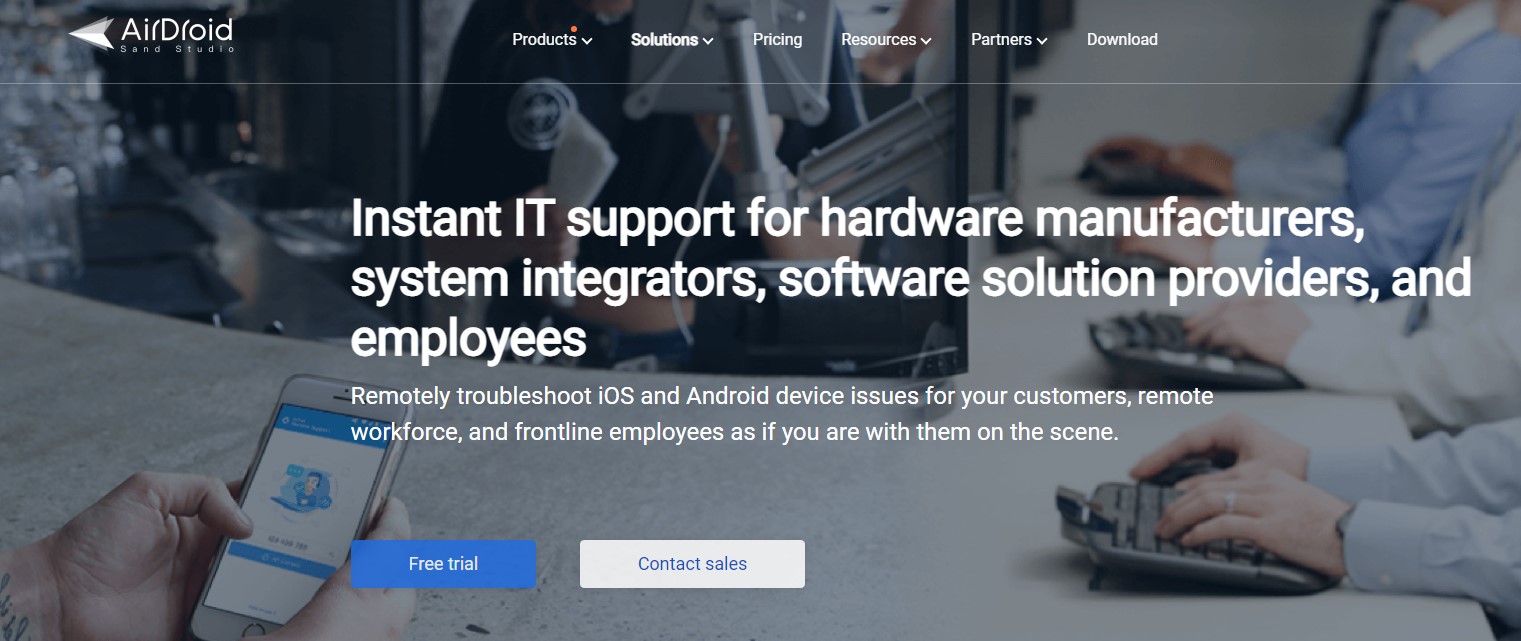 Besides, it has personal version which provides immediate and efficient remote assistance solutions to elderly, relatives, and friends.
Key Features
Remote Unattended Access
AR Camera
Real-time Screen Sharing
Tutorial Gesture
Chat with Voice Message and Text
Black Screen Mode for Remote Control
Voice Call
Pros
Multi-Platform Support
Quick Connection with 9-Digit Code
Device Group Management
User-friendly with millions of users
Cons
The personal version limits 10 minutes per day for free to use
Price
You can gain access to the premium version to enhance your experience. For the Enterprise version, it's only $199 per seat/year.
How to use AirDroid Remote Support
Step 1. Download and install AirDroid Business on the devices you wish to initiate remote support and control.
Step 2. Download and install AirDroid Remote Support on the devices you wish to support and control remotely.
Step 3. Start a remote support or control session after the download. To use screen mirroring or control devices remotely, enter AirDroid Remote Support's 9-digit code on the controller devices.
And now you are free to see remote device screen, guide with the tutorial gesture or remote control, and discuss the problem through voice call or plain texting.
Zoho Assit is a multi-functional remote software tool that can serve as an interesting TeanViewer alternative. It is supported by multiple operating systems, which means that you can gain remote control of almost any device or computer right away.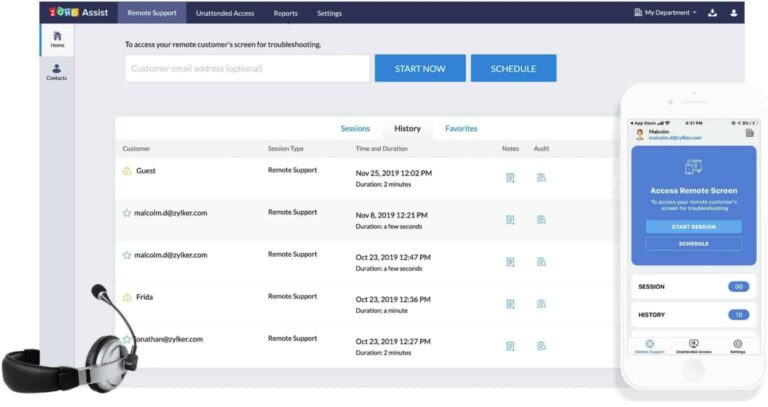 This is one of the preferred tools for assistants and tech advisors when it comes to guide clients. Let's take a closer look at the specifications of this tool:
Features
Multiple tools for support any troubleshooting in the remote device. Such as multi-monitor navigation, file transfer, text chat, quick launch option, and custom shortcuts.
Easy multi-device management with organizing assistant.
Protection of the remote device information with features like anonymization, consent check, notifications and data encryption.
Pros
This tool is one of the best alternatives for remote assistance of clients.
Affordable costs of licenses.
You can keep a recording of all the remote session.
Multi-language support
It supports remote mobile connection.
Cons
Some functions are only compatible with Windows OP. For example, remote print.
You require a Chromebook to stablish Screen Sharing with the remote device.
Price
The license is offered starting from $8. It is worth the inversion if you need a remote desktop tool that is compatible with almost any operating system.
If you need a TeamViewer alternative for a corporation or company, then you should consider Remote PC as an option. This tool is designed to offer affordable licenses to whole teams and enable remote conference tools like remote chat and whiteboard among other amenities.
Once you gain a license, there is no need to make any special installation of any software on a device to gain remote control of it. Here is a detailed list of all the features:
Features
Compatible with any PC operating system, as well as mobile devices like Android and iOS.
Enables drag and drop function to send file across the remote devices
Encrypted connection that ensures the safety of the information.
Remote chat and whiteboard.
Multiple devices remote sessions.
Performance viewer feature.
Pros
Affordable alternative for teams and companies.
Safe with 24/7 client support.
Friendly interface.
Cons
If only offers 7 days free trial.
It does not support notifications mirroring.
It limits the remote functions you can use on mobile devices.
Price
It offers different packages, starting at &59.62 per year plans that enable a remote connection of 10 computers. You can opt for plans that connect up to 100 computers.
If you need a remote tool for Mac and Windows computer, then GoToMyPC is an amazing TeamViewer alternative. This option is designed for business connections and remote work positions.
The reliability and performance of the remote connection is the main focus on this tool. Here is a brief list of all the main features this software assistant can offer:
Features
Business oriented Remote Desktop assistant
Banking grade encryption to keep your files safe.
Excellent speed for files transfers.
Pros
Wireless connection. Also, it does not require any QR code.
High security with multi-factor authentication.
Easy to set up and use.
Multi-devices connection.
Cons
It only works with Windows and Mac operating systems.
Short free trial of only 7 days.
High price considering the limitations.
Price
You can access a Pro license for $33 per month for each computer.
LogMeIn is one of the main TeamViewer alternatives if you need a remote desktop software assistant at a corporative level. One of the main focuses of this assistant is to enable an effective way to share files and exchange data efficiently.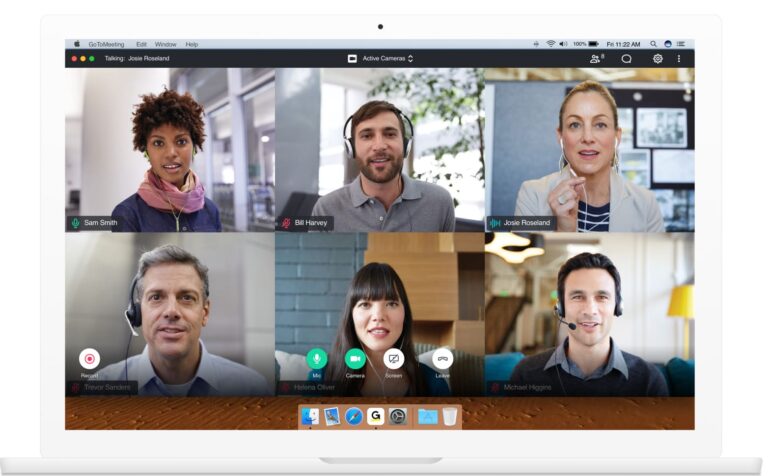 You only require an internet connection to enable a connection among two computers. Here is a list of all the main features you should consider from this assistant:
Features
File transfer among remote devices without any size limit.
Unlimited remote access with remote functions such as remote printing.
Multi-monitor display and screen sharing among devices.
Remote control with security management.
It offers cloud services for up to 1TB file storage.
Pros
The best alternative for file sharing.
High security management with multiple passwords.
Offers customization of password for each remote device.
Cons
No local email client
The price is too high considering the features.
The multi-screen features lacks performance.
It does not support remote mobile connection.
Price
You can get a "Pro license for individuals" for $349.99 per year. It offers access to up to 2 computers.
Final Thoughts
You can use other TeamViewer alternatives that adapt best to your needs. These alternatives can be the solution you need to gain better management of multiple devices. Of course, we recommend not limiting yourself to only using TeamViewer and look for other options that could work better for you.
You need to consider which device you need to use with remote connection. Some assistants are meant for mobile devices connections, while others are meant for corporative groups who need a remote file transfer tools.
There are more programs that can help you gain remote access. However the options mentioned previously are the most versatile and accessible on the market. Hopefully, choosing any of the list should match your expectations. Specially AirDroid Remote Support personal and business versions due to how versatile the platform can be.
FAQs
Are these TeamViewer alternatives safe?
Yes, they are. Some of this alternative software required multiple patches to ensure the safety of the users but there is no need to worry nowadays. The options are verified and will keep your information safe.
Does a Remote Desktop Software require cable connection?
No, you are using an internet connection to gain control over a device. It is a wireless process and should not have any limitation based on the location of the device. As long as both ends have internet connection.
Are these TeamViewer alternatives better?
Each software tool can offer you special features that can suit to your needs. It is reasonable to look for other alternatives that might adapt better to the task you require.
Was This Page Helpful?