2023 Best 8 AnyDesk Alternatives
AnyDesk is considered a pioneer software offering screen sharing and remote desktop sharing solutions. Remote Desktop technology was already popular among most SaaS companies and businesses having remote workers. However, the dependency of teams on remote desktop software increased during a pandemic, and this need creation is permanent. However, we need more agile software as an AnyDesk alternative in 2023 and beyond. We have created a list of 8 software teams and individuals that can use for remote desktop sharing. After a review of the features, pros & cons, you can choose which one is best for you.
Part 1. AnyDesk Overview
What Is AnyDesk?
With over 500 million users, AnyDesk is cloud-based remote desktop software. The company has a vision of making any device accessible at any time and from anywhere. Whether you're an individual user, a small company, or a large corporation, the software can help connect with teams, share files, collaborate on projects, and perform different tasks. AnyDesk can be downloaded on Android, Mac OS, iOS, FreeBSD, Windows, and Linux. The cross-platform support makes it easy for the users to integrate the software for a smoother workflow. You can add more people to your business subscription and only pay for only the members onboard. You will get an UltraVNC AnyDesk alternative in the form of a solution provided by AnyDesk.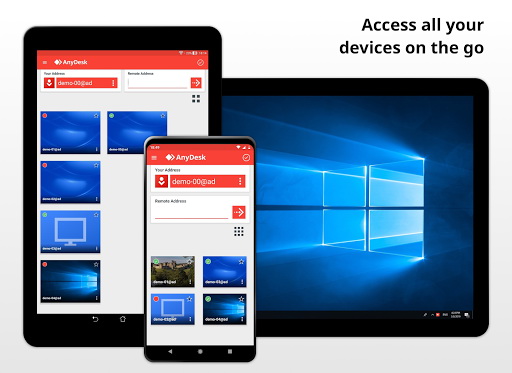 The main features of AnyDesk are as follows:
The low latency of AnyDesk makes it faster and easier to use. You can collaborate with team members, stakeholders, and other professionals via text chat, whiteboard, session invitations, and live sessions.
The access and control on AnyDesk are unrivaled. You can share desktops, remotely control devices, manage files, do remote printing, mobile management, and more.
There are many options for managing administration and customization according to your business model and working requirements.
AnyDesk has many features like White Listing, Two-factor authentication, permission management, etc., to maintain data security.
Review of AnyDesk
After careful review of AnyDesk's features and customer feedback, the pros and cons of AnyDesk are as follow:
Pros
Free for personal use
The small size of the AnyDesk application makes it easy to download and install
It's fast and secure to access a remote screen, almost like the local system
No time restrictions or pop-up timers
You don't have to sign up or give your personal details
The interface is very responsive
Cons
Copy-pasting might not be as smooth as other features
There might be resolution adjustment issues when remotely accessing
For making changes to remote desktop files and systems, you need to install AnyDesk on your device
Part 2. Top Free Alternative to AnyDesk
1AirDroid Remote Support
AirDroid Remote Support is an innovative and effective technical support solution. It assists you in establishing a connection with your partner by providing the most intuitive and easy method of demonstrating your problem and receiving immediate assistance. You can use this App for both personal and business uses.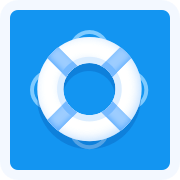 The main features of AirDroid Remote Support are as follow:
Remote access to attended and unattended Android devices and control and support devices remotely.
Real-time screen sharing, identify the source of problems efficiently, quickly and easily.
Send messages, manual guides, or screenshots when voice communication isn't available.
Connect to a device's camera and place 3D markers onto real-life objects to troubleshoot physical equipment.
Provide lightweight management. For example, supporting viewing the status of devices on a list and adding notes and group management for devices; setting different roles and permissions for orderly, hierarchical management within the company.
9-digit dynamic connection code and black screen mode to protect connection security.
2Chrome Remote Desktop
The second free alternative to AnyDesk is Chrome Remote Desktop. We all love Google and Chrome Remote Desktop, a free and open-source remote desktop sharing software. Whether you want to use your remote desktop or share your screen, Chrome Remote Desktop lets you do it.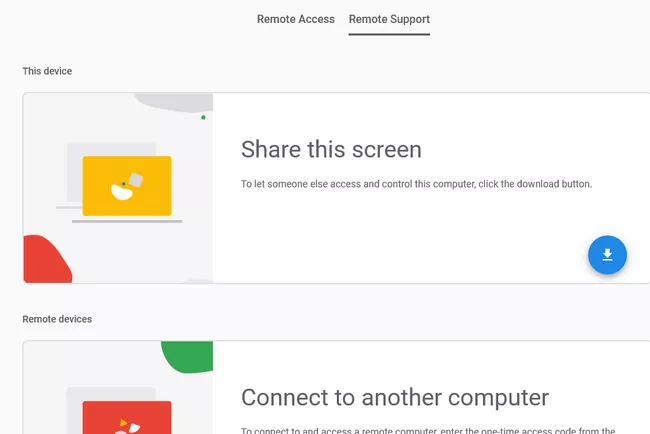 The main features of Chrome Remote Desktop are as follow:
It is very easy to use, and you can simply share files, view your files, remotely control your laptop, computer, etc.
There is no hassle of installing applications on your devices, and it can be done conveniently with Chrome Remote Desktop.
It is a two-in-one software for sharing screens and remote controlling devices.
WebRTC technology makes the transfer and sharing secure and encrypted.
Supported OS: Android, Chrome OS, iOS, Windows
3DWService
Another web-based AnyDesk alternative is DW Service. You can remotely access your devices from the web browser using DW Service. Unlike AnyDesk, you don't have to download the application on the client's device for access. With the help of this web-based application, you can access Linux, Raspberry, Mac, and Windows devices.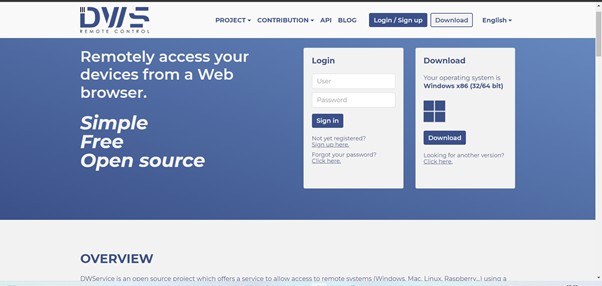 The main features of the web-based AnyDesk alternative are:
Remote access to different devices from anywhere.
The software has applications(special features) that let you interact with the remote devices.
Developers can integrate the DWService capabilities with the help of DWService.
It's a secure method of remotely using devices.
Supported OS: Linux, Mac, Windows, Raspberry
4UltraVNC
UltraVNC is also a remote desktop free software and a great alternative to AnyDesk. You can remotely use your devices, share screens, and transfer file over the internet or LAN. The web-based alternative of AnyDesk is free to use, and it is supported on several devices. However, the UltraVNC is also a tool that is complicated and more focused on the Network and Administrative side of the devices and computers.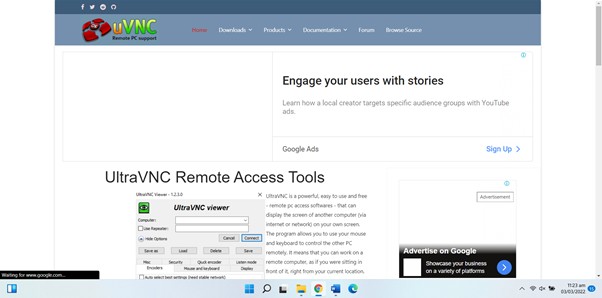 The main features of UltraVNC are as follows:
It helps the network administrators to remotely access computers on a network.
The secure encryption makes the file transfer, sharing, and controlling safe and easy.
There is the option of QuickChat for collaboration with other users on a network.
Using the software, you can also do file transferring from one system to another.
Supported OS: Windows, Linux
5LogMeIn
LogMeIn Pro is also an alternative to AnyDesk and allows remote access to devices for a smooth workflow. It's a great tool for small businesses and individuals to connect to their team members and use the software's collaborative features. It makes LogMeIn Inc an AnyDesk alternative for remote sharing and access.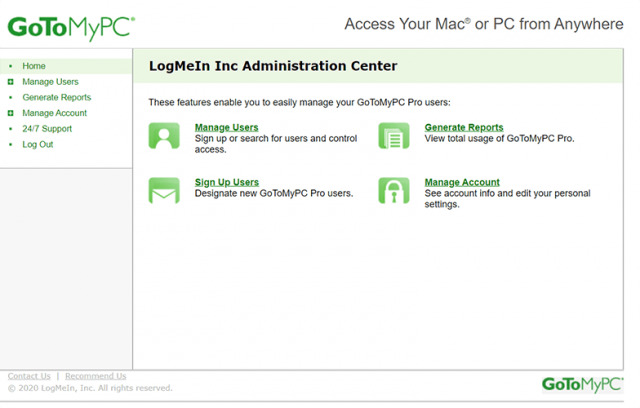 The main features of LogMeIn Pro are:
It's easy to access your files, systems, applications, and devices on the go.
The seamless drag-and-drop feature makes it very easy to do file transfer across devices.
LogMeIn Inc. AnyDesk alternative lets you do remote printing.
The system is fast, and it means unlimited remote access to your computers and systems.
You can also do screen sharing for a more collaborative environment.
Unlimited users can be added
Supported OS: Windows 7 or newer, macOS 10.13 or newer version, Linux
6VNC Connect
Looking for a remote desktop connection and an AnyDesk alternative? VNC Connect lets you have remote access to your computers, laptops, phones, etc. The software is good for large companies who want their teams to remotely collaborate on projects. The users can utilize the organization's resources and get the job done with VNC Connect. The high cost of the VNC connect makes it an unfit software for individual use.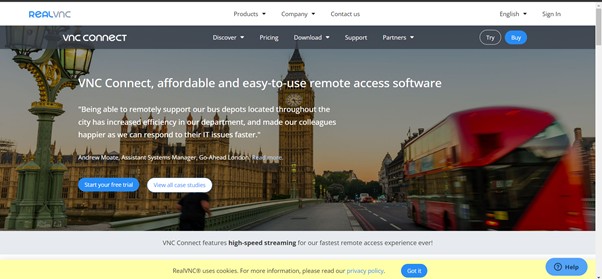 The main features of VNC Connect are:
Remotely control the device through your mouse, keyboard, or touch screen.
You can access the computer regardless of the owner's presence.
Direct and cloud connectivity lets you make faster file transfers.
Remote printing, file transfer, and collaboration over chat.
Multilingual support for more accessibility.
Supported OS: Mac, Window, iOS, Linux, Android, Raspberry Pi
7TeamViewer
TeamViewer, an AnyDesk alternative, is a popular software for remote controlling applications and devices. You can connect the mobile devices to a computer or vice versa. However, TeamViewer is a little complex to understand at the start. Once you understand the working, it's easy to share devices and remotely control them.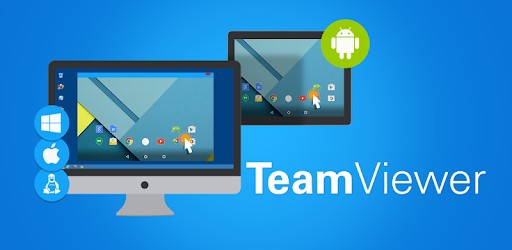 The main features of TeamViewer are as follows:
Using it as a remote desktop allows you to remotely control devices and have secure unattended access.
iOS screen sharing, sharing mobile devices, and cross-platform access make it a great AnyDesk alternative.
Collaborative features that let you do chat, voice/video conferencing, and session recording.
End-to-end security makes collaborating and remote sharing easy and secure.
Supported OS: macOS, Windows, Chrome OS, Android, Linux, iOS.
We have got you covered if you're looking for a free alternative to AnyDesk. Here are some software and applications to help you remotely control the devices.
8Remmina
Remmina is an open-source remote desktop client for system administrators. The software is focused on system administrators who have to access several computers at a time. For Ubuntu, Remmina is a default remote desktop client. However, it is not available on Windows. Clients on Unix-like systems and Linux can use it. It is great as an AnyDesk alternative for Linux.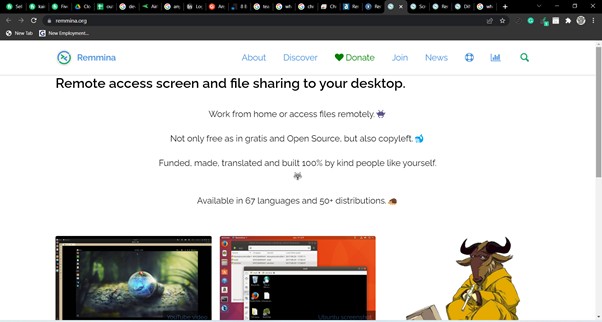 The main features of Remmina are as follow:
It supports RDP, VNC, NX, XDMCP, SSH.
Users can manage the connection profiles for easy access.
You can control the remote desktops with high resolution or fullscreen mode.
The floating toolbar on the full-screen mode makes it easy to perform operations.
Users can directly type the service address to connect to the system.
Supported OS: Raspberry Pi, Ubuntu, Snap, Linux
Feature Comparison
| Features | AirDroid Remote Support | LogMeIn | VNC Connect | TeamViewer | Remmina | Chrome Remote Desktop | DWService | Ultra VNC |
| --- | --- | --- | --- | --- | --- | --- | --- | --- |
| Remote Sharing | ✔️ | ✔️ | ✔️ | ✔️ | ✔️ | ✔️ | ✔️ | ✔️ |
| Free to Use | ✔️ | ❌ | ❌ | ❌ | ✔️ | ✔️ | ✔️ | ✔️ |
| Collaborating Features | ✔️ | ✔️ | ✔️ | ✔️ | | | ✔️ | ✔️ |
| Screen Sharing | ✔️ | ✔️ | ✔️ | ✔️ | ✔️ | ✔️ | ✔️ | ✔️ |
Final Words
We have shared several web-based alternatives to AnyDesk, free AnyDesk alternatives, and best alternatives to AnyDesk. Different software works on varying operating systems and allows different functionalities. However, AirDroid Remote Support has the most features and affordability among all the options. You can do a lot with a single application. The software got you covered, whether it's about screen mirroring or file sharing, remote controlling, or controlling your Apple devices.
FAQs about AnyDesk
Is AnyDesk free to use?
No, AnyDesk is not free to use. If you're using it for personal purposes, it is free up to a certain limit. However, for enterprises and businesses, purchasing a subscription is necessary.
Is AnyDesk safe to use on a PC?
AnyDesk is safe to use on a PC because it offers the highest security standards. They have military-grade encryption that allows clients to securely collaborate, share devices, and share data across teams.
Which is better, AnyDesk or TeamViewer?
When comparing AnyDesk and TeamViewer, the security provided by AnyDesk is not matchable to any other software. However, the performance of both software is excellent. Besides, AnyDesk gives a great user experience and easy navigation. On the TeamViewer, you get a plethora of features some of which are not present in AnyDesk.
How does the Files Transfer work over Anydesk?
When transferring files with AnyDesk, an automatic pop-up asks you to enter the AnyDesk-ID where you want to transfer the file. You send the request, and the remote computer will accept it. Once the connection is established, you can save files to the desired location on the remote device and vice versa.
Does AnyDesk work after uninstalling?
You can also use AnyDesk without installing it. All you need is the icon on your desktop for opening it. Besides, manual acceptance from the remote desktop is necessary to start sharing the devices. And no, after uninstalling the app, you cannot access AnyDesk any longer.
Was This Page Helpful?