Fortify Your Enterprise Devices with Android Knox Security System
Managing a large number of devices can be a complex and time-consuming task for enterprises. Mobile Device Management (MDM) solutions provide a centralized management platform for securing employees' devices.
By implementing an MDM solution, companies can protect sensitive data, enforce security policies, and streamline the management of their devices. It improves overall security, saves time and resources for the IT department, and increases employee efficiency.
Android Knox provides robust and scalable options for large enterprises to manage mobile devices and ensure data security. Let's discuss the features of Knox and its importance for large enterprises.
1 What is Samsung Knox & Why Use It?
Samsung Knox is a security platform for Samsung's Android-powered mobile devices. It provides a comprehensive set of security features for personal and enterprise use. Large enterprises need Knox because it provides high security and protection for their sensitive data on mobile devices.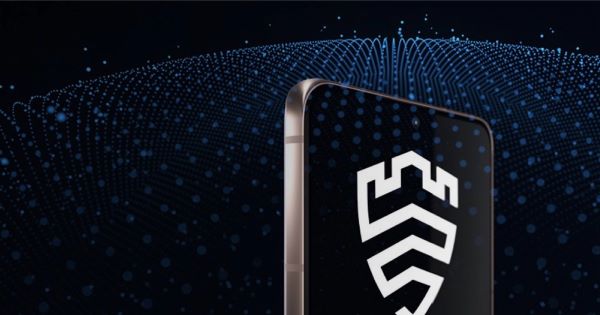 With the increasing demand for mobile devices, organizations must protect confidential information from unauthorized access, theft, and cyber threats. The features of Samsung Knox are managed and operated with the help of an EMM system, making it easy to manage organizational tasks.
Samsung Knox allows large organizations to control devices remotely and dramatically supports the infrastructure. Flexible device management policies can be implemented on the Samsung devices used in an IT company. Large enterprises prefer Samsung Knox because of its seamless hardware-backend security system, data protection, and app isolation.
2 Key Knox Security Features & Benefits
Here are the three most common features and their benefits:
1. App Isolation
This feature enables IT administrators to create a secure, isolated workspace on Samsung devices to run sensitive corporate apps and data.
The isolated workspace is separated from the personal space on the device, providing an additional layer of security to ensure that corporate data remains protected even if the device is lost or stolen.
It also prevents scoundrels from accessing unauthorized data. Knox's options for App isolation are Separated apps, Security enhancements for Android management service and Android enterprise on Samsung devices.
2. Data Protection
Enterprises can protect all kinds of data using Samsung Knox. Here is a list of features that support data protection:
-User Authentication
With Knox security features, the security of devices is doubled by using passwords, pin codes, patterns, and the biometric system to access the devices. User authentication safeguards the device lock screen and the profile authentication. You can also use two-factor authentication for better security.
-Network Data Encryption
Samsung Knox offers the best network encryption features through the most recent VPN technology, including all the advanced VPN features. It offers various modes of VPN, like always-on VPN, on-premise bypass VPN, on-demand VPN, multiple active tunnels, and VPN chaining. The purpose of these modes is to provide customized support and make the network more secure.
-Device Data Encryption
Data encryption by Samsung Knox ensures that the data is encrypted only on the device where it is stored, and only the owner can encrypt it. Sensitive Data Protection and DualDAR Encryption add a higher level of security to the devices used by organizations.
-Device Locking and Tracking
With Samsung Knox, enterprises can set geofencing, location tracking, and automatic device lockdown. These features help track the device and lock it down when needed. They can also remotely factory reset the device when the device is lost or stolen, and there is a risk of data breach from the device.
3. Device Management Services
With the help of cloud services provided by Samsung Knox, enterprises can easily handle the functions of devices. Two primary services include the Knox mobile enrollment and Knox Configuration.
-Mobile Enrollment
Knox Mobile Enrollment is a Samsung Knox security platform component that provides a streamlined and secure way for organizations to enroll and manage many mobile devices. It is a free service that enables enterprises to enroll devices using a web console and saves time automatically. Knox uses the OTA process to enroll the instruments to keep their data secure.
Knox can handle a centralized management portal to administer various operations of large companies smoothly.
-Knox Configure
Samsung Knox Configure is a feature of the Samsung Knox platform that allows organizations to customize and configure their Samsung devices for deployment.
With Knox Configure, IT administrators can customize the device setup experience with new users. The benefits of using Samsung Knox Configure include improved security, easier and more efficient device deployment, and better compliance with security policies and regulations.
3 How to Configure Knox Manage for Android Enterprise Devices?
What is Knox Manage?
Knox Manage is a centralized platform to provide businesses and organizations with a comprehensive suite of management solutions. Its primary goal is to boost security and productivity by managing device features and apps, including connectivity.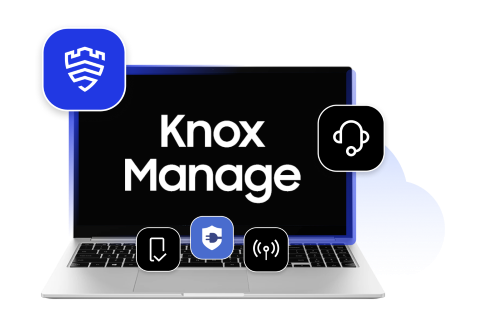 Steps to Set Up Know Manage
Requirements
Create a Samsung Knox Account.
Create a Knox Manage account.
Register your MDM for Android Enterprise.
Following the below steps, you can successfully configure Knox Manage for Android Enterprise devices:
Step 1: Create an organization
From the Knox Manage console, click on the "Organization" tab and "Add." Select the parent organization, enter a unique code and name, and set the Android management type to "Android Enterprise." Click "Save" to create the organization.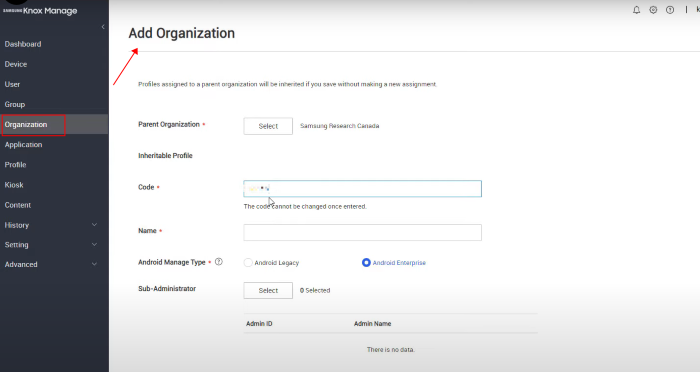 Step 2: Add a user
Click on the "User" tab and then click "Add." Enter the user's ID, password, and contact information, and select the organization. Set the Android manage type to "Follow organization type" and click "Save & Request Enrollment."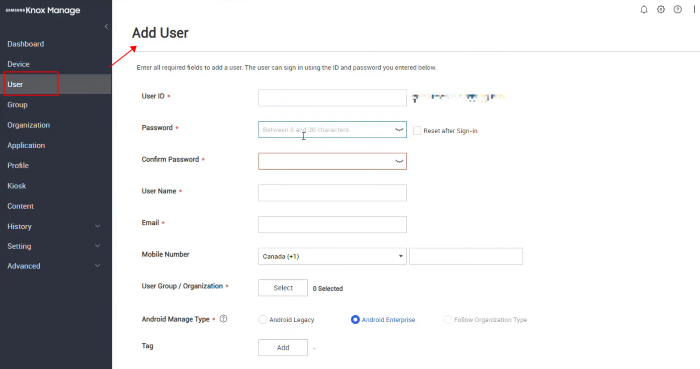 Step 3: Enroll a device
Now enroll the device. Each enrolled device will require Gmail verification. Once the device is enrolled, check the user on the device page to verify successful enrolment.
Step 4: Create a profile with device control policies
Click on the "Profile" tab, then click "Add." Enter a profile name and select the platform. Then click "Save and Set Policy."
Step 5: Set policies
Use the search bar to find the desired policy. Once managed, click "Save and Assign."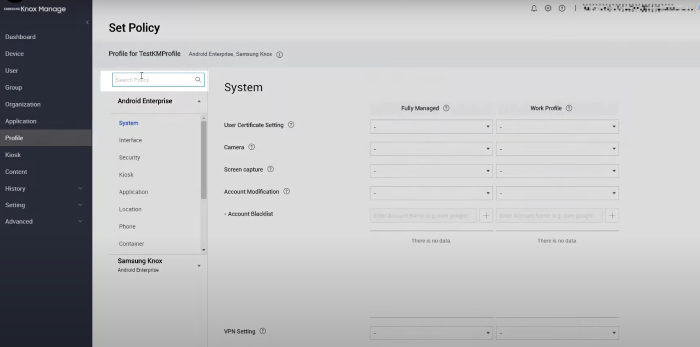 Step 6: Assign and apply
Finally, assign and apply the profile by selecting the group and clicking "Assign and apply." Verify the profile information and policy, then click "Ok" to complete the process.
4 Knox Vault: Great Achievement of Knox
Samsung Knox Vault is a combination of hardware and software that protects your confidential data and keeps them separate from other information in the Samsung device. It is a secure storage solution for sensitive data on Samsung devices. It provides a safe container for sensitive data, such as passwords, cryptographic keys, and tokens, and separates it from the rest of the device.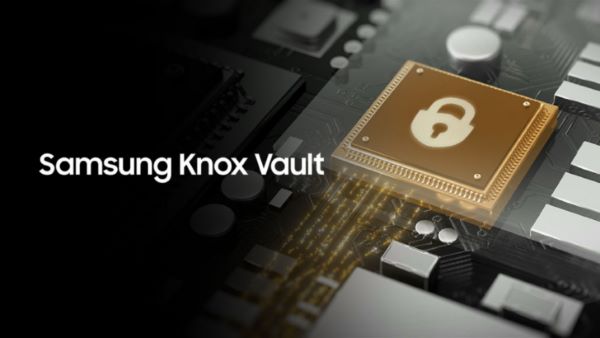 The data stored in Knox Vault is encrypted and can only be accessed by authorized applications. Organizations can use Samsung Vault to store passwords and tokens to avoid unauthorized access. Also, store the SSL and other security certificates in Vault to secure the network connection.
5 Which Android Devices Offer Knox Security?
Samsung security by Knox is available on a range of Samsung Android devices, including:
Samsung Galaxy smartphones and tablets

Samsung Galaxy Note devices

Samsung Galaxy Tab devices

Samsung Chromebooks
Note : It's important to note that the specific Knox security features available on a device may vary based on the device model and the version of the Android operating system.
Limitations of Knox:
It is supported only on Samsung's high-end mobile devices. Hence, Samsung devices with lower costs do not support the Knox features.

The security features of Knox can also affect the speed and performance of Samsung devices. It also demands technical expertise to manage the system in a better way.
6 A Comprehensive MDM Solution to Protect Android Enterprise Devices
Get the best MDM solution to manage Android enterprise devices efficiently to generate positive business outcomes. It can provide comprehensive security for your devices.
AirDroid Business MDM solution provides a centralized platform for managing and securing Android mobile devices used by enterprises:
What Can AirDroid Business Do for You?
1. AirDroid Business provides the Alerts & Workflows feature to secure equipment in real-time.
This feature enables organizations to:
-Customize and receive real-time alerts: Receive alerts in real-time for security incidents, such as device theft or unauthorized access. Customize alerts to match specific security requirements and ensure that the right people are notified in the event of a security incident.
Nearly 20 alerts are available, including cellular data usage, battery status, device online and offline status, insufficient storage, external HDMI connection alert, and insertion or removal of SIM card.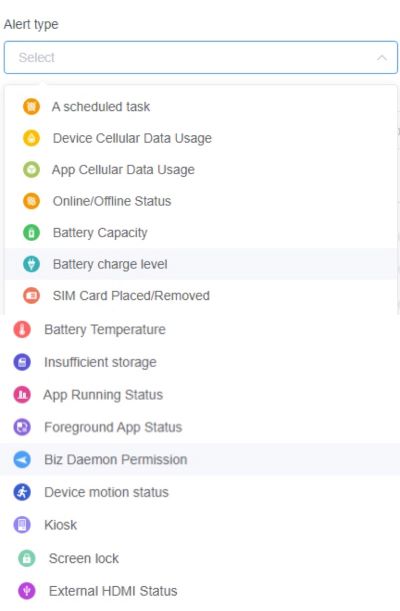 -Automate responses: Streamline workflows for security incidents, allowing administrators to respond quickly and resolve security incidents. Automate responses to security incidents, such as remote wipe, lock, or locate, to minimize the risk of data loss.
Device reboot, switching to the configuration file, factory reset, notifications, and turning the device screen off are some workflows that can be set and operational on various alerts.
This feature can help organizations to respond to security incidents quickly, minimize the risk of data loss, and maintain the security of their equipment in real time.
2. Kiosk Mode - Turn Your Devices into Special Edition:
Kiosk Mode in AirDroid Business allows organizations to turn their devices into special-purpose devices. It is useful for organizations that require specialized devices for specific tasks, such as digital signage, point-of-sale systems, or public access terminals. This feature provides the following capabilities.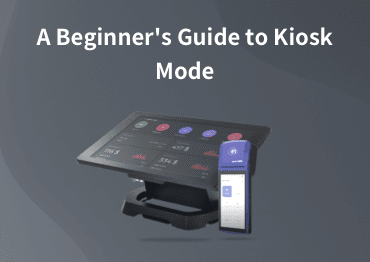 Guide
A Beginner's Guide to Kiosk Mode
Learn how to customize device interface and limit user access to apps, websites, and settings to prevent unnecessary misuse.
Free Download
Lockdown the device to a specific set of apps or functions, restricting access to other parts of the device.
Customize the device to meet specific requirements, including custom branding and settings. Simplifying the user interface for specific tasks makes it easier for users to access the necessary information and functionality.
The kiosk browser is one of the wonderful features of AirDroid Business. It restricts the devices to incognito mode to save users' confidential data. It also enables enterprises to limit official web research on Android devices.

3. Admin Portal - Deploy & Manage Android in Batch

Batch Deployment and centralized Management: Enterprises can deploy multiple devices simultaneously, simplifying the enrollment process and reducing the time and effort required to set up new devices. It also provides a centralized console, giving administrators a single view of all devices and the ability to enforce security policies and manage apps and data.

Reports: It enables the administrators to view reports and analytics on device usage, security incidents, and compliance. Also, the ability to manage users, assign roles and permissions and enforce security policies for individual users.

Note : If you want to know more about AirDroid Business or its features, get in touch with us or start a free trial.

7 Learn More: How to Remove the Samsung Knox Container?

There could be various reasons to remove the Samsung Knox container from Samsung devices.

The compatibility issue is one of the biggest reasons to remove the Samsung Knox container. Some apps and features do not support the Knox container; hence, they can create hurdles to performing tasks.

Knox containers may contain unwanted apps that do nothing but take up space on the device. These unwanted apps also affect the performance of the devices.

Reminding:

Before removing the Knox Container, it is important to carefully consider the benefits and risks involved and determine if the removal of the Knox Container is the best course of action for the organization.

Here are a few points to be considered before removing the container.

First, if you remove the container, all the data, apps, and settings on the device will be lost. So, saving all the enterprise data somewhere else is essential before removing it.
Secondly, if a Samsung Knox container is once removed, a new container cannot add to that device again.

Procedures

Removing the Samsung Knox container is a complex process that requires technical expertise and root access to the device. Here is a general outline for removing the Knox Container:
Open the profile information of the Android that contains the Samsung Knox configuration, and then select the "Assignment tab".

In the "Assignment tab", check the devices for action, and then move to the profile action bar. Click on the three dots, and then choose the delete tab to delete it.
8 Further Reading & FAQs
In conclusion, Samsung Knox provides enhanced security for business in managing their Samsung devices. Its features inlude secure boot, containerization and multi-layered encryption, providing business with the necessary pretection against device and data breaches.
However, Samsung Knox does have some limitations, such as limited compatibility with non-Samsung devices and higher costs associated with advanced features. AirDroid Business offers favourable pricing and high compatibility with the Android platform, making it a great option for enterprises of all sizes. To gain more knowledge about AirDroid, begin a free trial today!
How to Check If Your Android Device Has Knox?
It is very easy to check if your Android device has Knox. Open the Apps and select Settings. Then tap on "About Device" and see if there is Knox Version available.
How Does Samsung Knox Work?
It adds multiple layers of security to the device, both at the hardware and software levels. Key components involved in Knox are container technology, App sandboxing, Encryption, MDM, and hardware-level security.
Can Knox-Protected Devices Be Hacked?
The security of Knox Samsung is not completely hack-proof, and the security of a Knox-protected device also depends on the user's behavior and configuration.
How to Enable Samsung Knox Workspace Support for Google Play?
In the Knox app, go to the "Settings" section, and select "Google Play." Turn on the "Google Play for Knox Workspace" toggle, and then follow the on-screen instructions to sign in to your Google account.
Are All Samsung Devices Secure by Knox?
Not all Samsung devices come with the Samsung Knox security platform installed. Some older or entry-level devices may not have Knox installed. Knox is available on various Samsung devices, including most of the company's Galaxy smartphones and tablets.
Was This Page Helpful?