Nowadays, we live in a world of mobile devices, laptops, desktop, endpoints. With the trend of remote work and the expansion of businesses, how to manage all devices effectively and improve productivity has become a challenge. Besides, how do you ensure the security of your devices and data?
Fortunately, AirDroid Business, one such enterprise-grade MDM solution, is designed to help businesses manage and control Android device fleets effectively and safely, helping you focus on driving business growth.
In this article, we will provide you with an overview of AirDroid Business, including its purpose and the organization of its Admin Console.
1What is AirDroid Business?
AirDroid Business is an all-in-one mobile device management (MDM) solution designed for businesses that need to manage Android devices on a daily basis.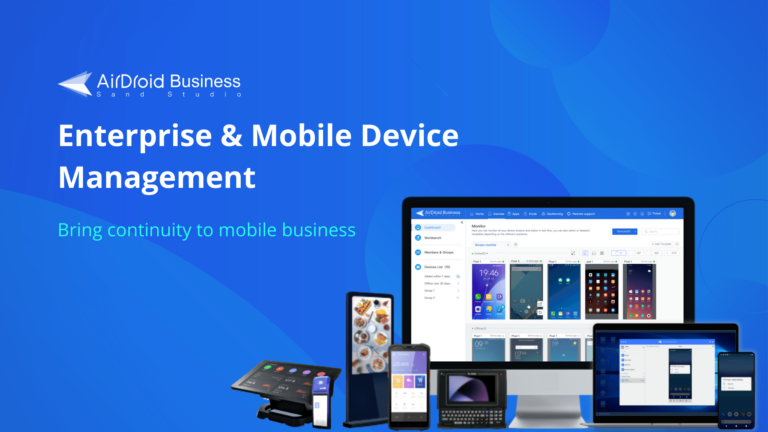 With a focus on remote device management, it enables IT admins to remotely monitor, control, and manage both attended and unattended devices through a centralized dashboard. This allows organizations to stay up-to-date with their devices' status anytime and anywhere. Additionally, the IT admins can identify potential system errors in advance and take measures to shorten troubleshooting time, simplifying equipment management and saving operating costs.
Using AirDroid Business, organizations can make their operations more sustainable and competitive.
2Admin Console
Admin Console is a cloud-based dashboard that enables you to perform various management operations and monitoring tasks on Android devices using AirDroid Business. IT admins view all registered devices from the dashboard and remotely manage all devices.
Now, let's have a glance at the Admin Console.
At the top of the console is the navigation bar, according to which the console is primarily divided into 3 sections.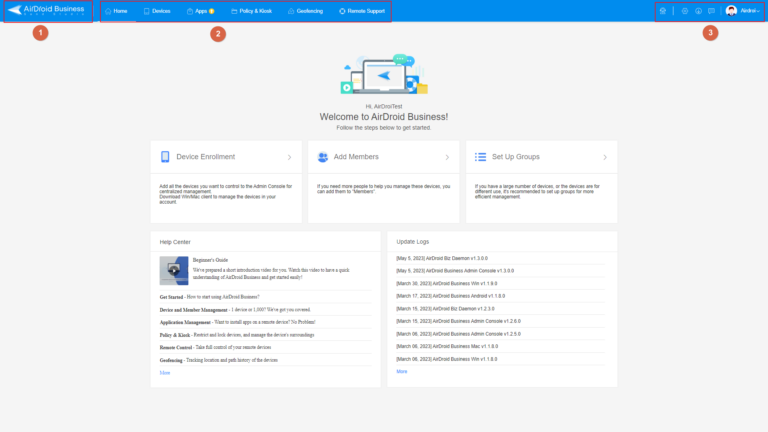 1AirDroid Business logo

By clicking it, you can return to the home page of the Admin Console.
2Function Tabs

When you enter the management console, you will see six tabs at the top of the navigation bar: Home, Device, Apps, Policy & Kiosk, Geofencing, and Remote Support. Each tab represents the different device management tasks that you are allowed to perform.
Home
The home page provides guidance for beginners. It is mainly composed of 3 parts - Android Device Management Shortcuts, Help Center and Update Logs.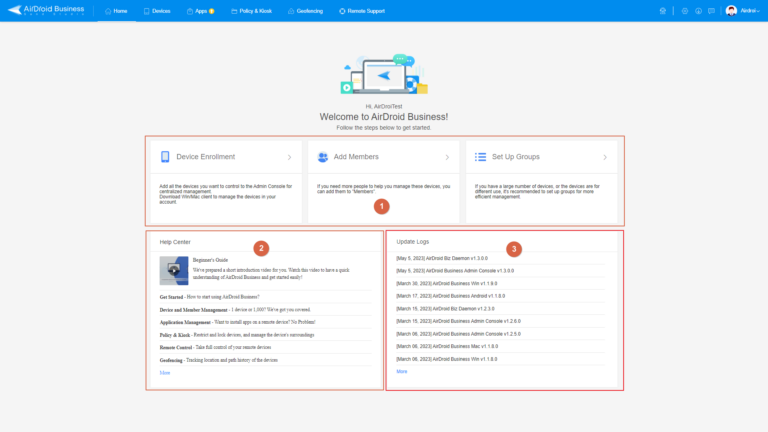 Android Device Management Shortcuts: enable you to easily add devices and manage members.
Help Center: help you quickly access the information you need when encountering issues, eliminating the need to open a separate page and search for the help center from our main page.
Update Logs: inform you of any enhancements or newly added features in AirDroid Business.
Different from the home page, the other 5 function pages are organized into two main sections: the left-side menu for quick access to essential functions, and the main operation area for performing tasks and managing devices.
Devices
From the Devices page, you can remotly manage all devices together from the dashboard, set up alerts & workflow on the workbench, manage members, enroll devices and more.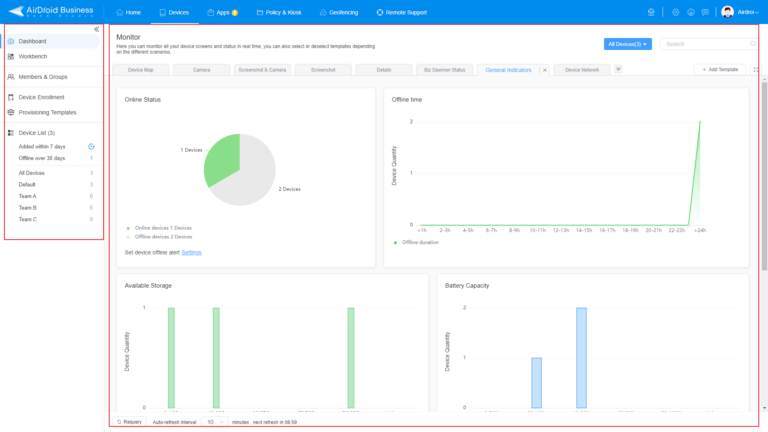 Apps
The Apps Page is specifically designed to assist you in uploading, customizing, and managing your company's apps and Google Play's apps.
Policies & Kiosk
The Policy & Kiosk page provides a comprehensive solution for managing business devices by allowing you to limit the accessibility of apps, websites, and settings.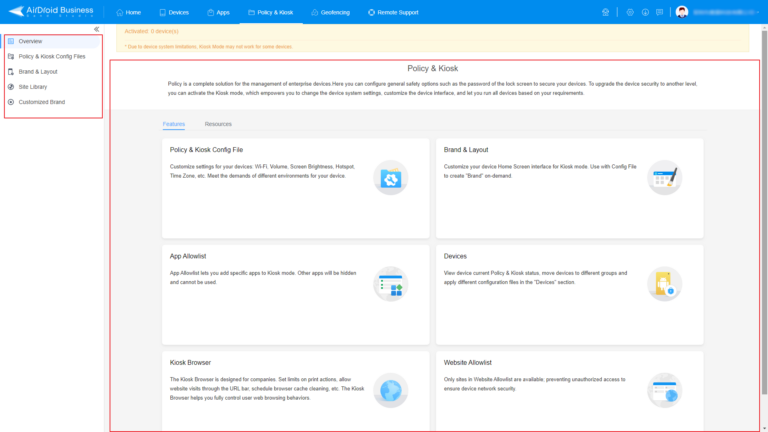 Geofencing
The Geofencing page offers a visual representation of path tracking on maps, along with digital fences for initiating automated actions, and more.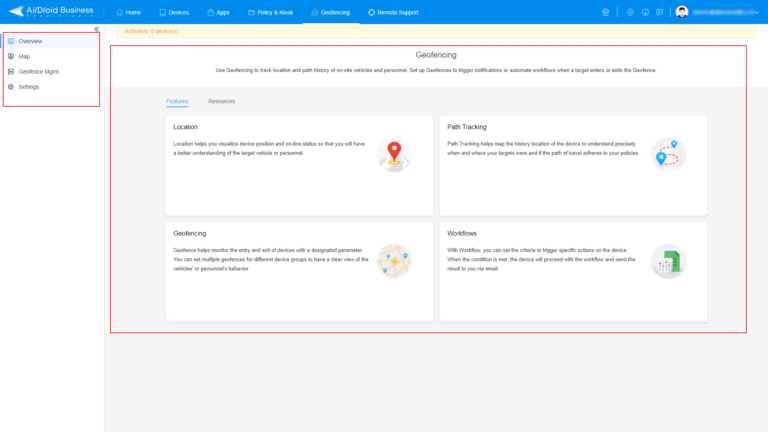 Remote Support
This is a separate product we provide for a business to provide IT support services to their remote employees and clients from a computer or mobile device rather than device management.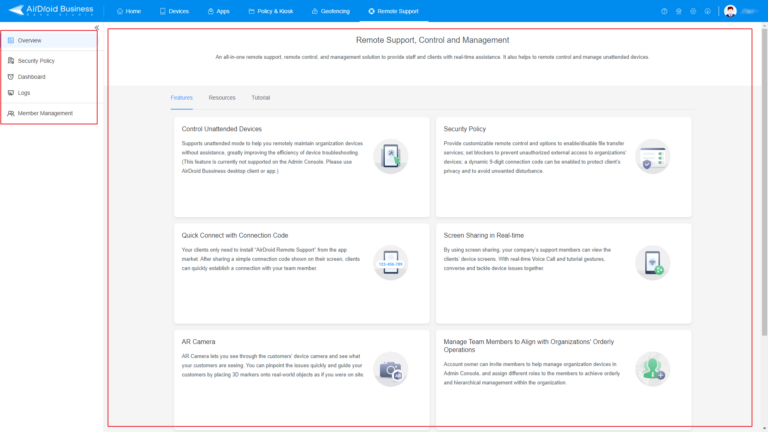 3Account, General Settings, Support

In the upper-right corner, you will see all the general information icons, from left to right are Chatbot Support, Settings, Downloads, Ticket, and Account info.
Chatbot Support: You can follow the guide and leave the information regarding your inquiry, our specialist will answer you as soon as possible.
Settings: You can find the general settings when clicking this icon.
Download: It serves as a download library, allowing you to access all the installation resources for AirDroid Business, including Biz Daemon and the desktop client, by simply clicking this icon.
Ticket: You can submit a request or follow up on a request you sent by clicking the button.
Account info: You can access details such as your account information, payment details, the language settings and more when you hover your mouse on the profile photo.
Congratulations! By reading this article, you should now understand that AirDroid Business is an all-in-one MDM solution designed to assist you in managing devices and members, safeguarding data security, and significantly enhancing your business' sustainability. Simultaneously, you have gained insight into the Admin Console's overall layout and functions, which will undoubtedly benefit your device management endeavors. We highly recommend using AirDroid Business to deploy your devices and embark on a streamlined device management journey.