Top 8 Picks: Best Virtual Meeting Platforms for 2023
As remote working becomes increasingly popular companies are looking for the best way to communicate and collaborate with onsite and offsite employees. As such, the market for virtual meeting platforms has grown rapidly in recent years, offering a variety of features to ensure efficient communication in any environment.
With technological advancements and the increased use of video conferencing platforms, virtual meetings are becoming a staple of modern life. In this article, we'll compare and contrast the best virtual meeting platforms available in 2023 to help you decide which one to use for your business.
Part 1: Comparison of All Virtual Meeting Platforms
In the chart below, we have compared the top 8 virtual meeting platforms. It allows you to quickly analyze the features and make the best choice.
Virtual Meeting Platform
Limit Time for Free Plan
Number of Participants (Free Plan)
Basic Features
Paid Plans
1.Zoom
40 minutes
100
3 editable whiteboards, chats, and channels for collaboration, file sharing, and more.
The Pro plan is priced at $14.99/month/license, or $149.90/year/license.
2. Google Meet
60 minutes
100
Custom and secure business email, recording capabilities, and management controls.
Business Starter is priced at $5.40/user/month.
3. Skype
4 hours
50
Group conferencing, instant messaging, file sharing, screen sharing, and call forwarding.
International Skype-to-Phone plans for $2.99 per month.
4. Microsoft Teams
60 minutes
100
Chat and collaboration features.
Business Basic is priced at $5.00 per user a month
5. Cisco WebEx
50 minutes
100
Fullscreen video with 4 layout options, screen sharing, mobile screen sharing,
chat, notes, raise hand and polling, and more.
Starter Plan is priced at $13.50 per host per month
6. BlueJeans
Unlimited meetings
100
Screen sharing, polling, Q&A, recording, and text chat.
BlueJeans Standard is priced at $9.99 per host per month.
7. GoTo Meeting
40 minutes
3
HD video, screen sharing, web audio, Phone dial-in, and more.
Professional plan is priced at $12 per host per month
8. Slack
Calls will not be available after 29, March 2023
1
10 integrations with other apps like Google Drive, Office 365, and screen sharing.
Pro Plan is priced at $7.25 per month
Part 2: Top 8 Virtual Meeting Platforms

Here are the best virtual meeting platforms for large groups of remote workers that businesses should consider in 2023:
1Zoom
Zoom is a cloud-based, video-conferencing platform that offers users an easy and reliable way to connect with colleagues, family, and friends. It allows users to host secure video meetings, webinars, and audio conferences from their desktop or mobile device.
Key Features:
With screen-sharing capabilities via Zoom's whiteboard feature, users can easily share their entire screen or individual applications with everyone on the call.
It offers breakout rooms that let multiple people work together on a project without needing to be in the same physical location.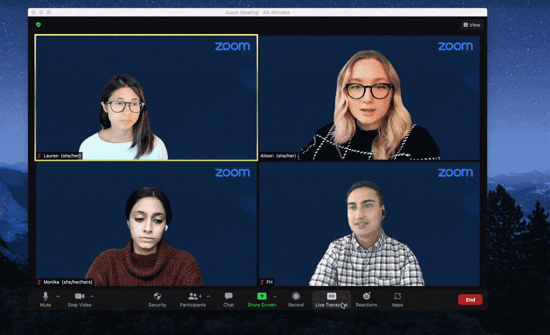 Pros:

It supports various operating systems, including Windows, Mac OS X, and Linux, as well as iOS and Android devices.
It enables users to join meetings with just one click using a link or meeting ID.
2Google Meet

Google Meet is a virtual meeting platform developed by Google that offers users a secure and convenient way to connect with others online. It supports up to 500 participants and allows them to share screens and collaborate in real time.
Key Features:
Users can easily join meetings via links sent through emails or text messages without installing any software or apps.
Google Meet includes powerful tools, such as recording capabilities for paid plans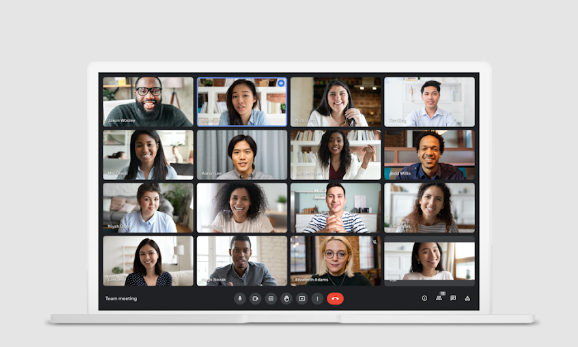 Pros:
It has integration with other Google products such as Gmail and Calendar
3Skype
Skype is a computer software application for voice and video communication over the internet. It allows users to make free or low-cost international calls and send text messages, images, videos, and files.
Key Features:
Skype provides high-quality audio and video calling to up to 100 people simultaneously over various devices and platforms.
It has features like call forwarding, which allows incoming calls from other phone numbers to be answered through Skype.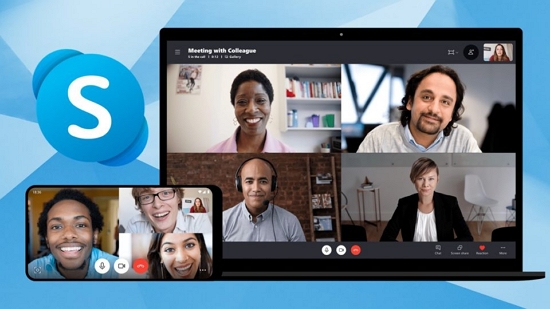 Pros:
Users can easily search for contacts and start chats or video calls once logged in.
It runs on multiple platforms, such as Windows, Mac OSX, Android, iOS, and Linux.
4Microsoft Teams
Microsoft Teams is an online collaboration platform that lets users collaborate and communicate efficiently in real time. It's a hub for teamwork, with different tools and features that enable teams to work together seamlessly.
Key Features:
The native chat feature allows members to converse quickly in private one-on-one or group chats directly within the application.
Team Members can share files through their OneDrive account or upload them directly into a channel in Microsoft Teams.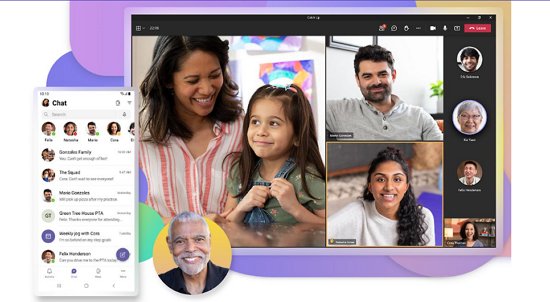 Pros:
It integrates with Office 365 products such as Word, Excel, PowerPoint, and OneNote.
Users can create custom channels for specific topics or projects.
5Cisco WebEx
is also a web-conferencing and collaboration platform that allows users to work together from virtually any location or device. It is an ideal solution for businesses of all sizes, educational institutions, government organizations, and nonprofits.
Key Features:
It provides a range of options for customizing settings and preferences so that users can tailor their experience to suit their individual needs.
The platform also offers its own file storage and sharing solution.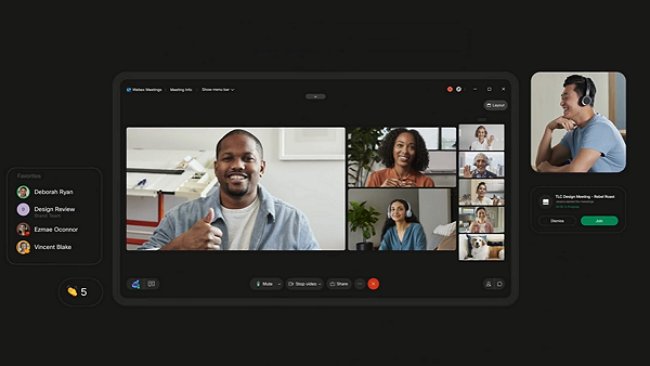 Pros:
It is designed with intuitive navigation, allowing users to easily find their way around the platform.
It can be used by teams of any size, ranging from small meetings with just a few people to larger conferences or webinars with a maximum of 100,000 participants.
6BlueJeans
BlueJeans is an online meeting, webinar, and event platform that provides a simple, reliable, and secure video conferencing experience. It enables users to collaborate in real-time with both audio and video capabilities over any device - from desktop computers to mobile devices.
Key Features:
It includes screen sharing, annotation tools, breakout rooms for small group conversations, file sharing options (including PowerPoint presentations), toll-free calling options, whiteboarding tools, live chat functions, and more.
It has integrated cloud recording functionality, allowing users to review past meetings at any time.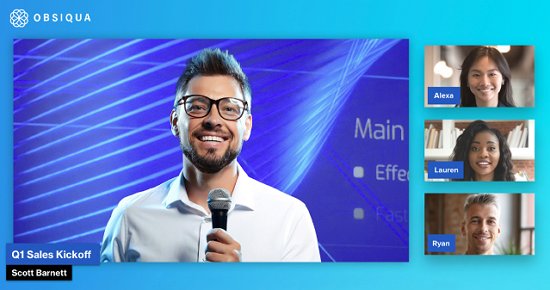 Pros:

It is designed to be highly scalable and can support up to 50,000 participants in one call while providing crystal-clear audio quality.
It requires no software downloads or complex setup processes.
7GoTo Meeting
GoTo Meeting is a web-based video conferencing tool that lets users easily connect with remote employees, colleagues, and clients. It is an effective way of holding virtual meetings or conferences without needing to travel or be present physically.
Key Features:
This platform also comes with various helpful tools, including screen-sharing capabilities, so participants can share their computer screens during virtual meetings.
It has chat support as well as recording capabilities.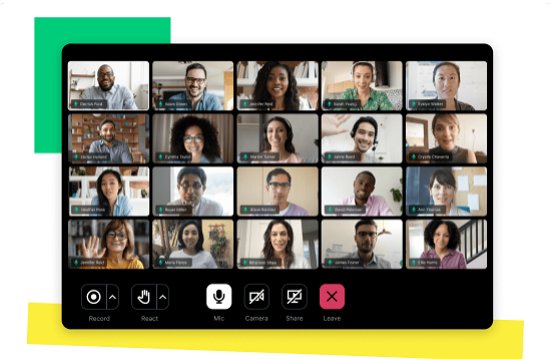 Pros:

It has an advanced encryption technology that keeps all data secure.
It allows for high-definition video streaming.
8Slack
Slackis a cloud-based team collaboration tool designed to make communication and collaboration within organizations more efficient and streamlined. It is an excellent virtual meeting platform for businesses and organizations that must keep their teams connected.
Key Features:
Slack's user interface allows users to access channels where messages can be sent and received in real time.
Slack allows users to easily share files such as documents, images, videos, etc., without any restrictions on size or format.
Pros:

It has 10 integrations with other apps like Google Drive, Office 365, and many more.
It helps teams stay focused, organized, and productive, as they can easily communicate with each other without having to switch between multiple apps or emails.
Part 3: You May Need These Tools in A Virtual Meeting

Aside from the virtual meeting platforms mentioned above, several tools can help make your meetings more effective. These include:
AirDroid Cast

Airdroid Cast is an app that allows you to share your phone screen with the attendees during a remote meeting. It is an excellent tool for when you need to demonstrate visuals, show complex tasks, and present a software demo on your phone to others, as it can be mirrored onto larger screens such as a PC or even another monitor like a TV.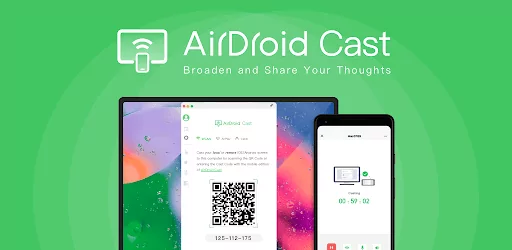 How To Use It?
Here are the basic steps for using AirDroid Cast to mirror your Android device's screen on a TV or other compatible display:
Simply download the Airdroid Cast app from your device's respective app store, or get it from the official downloading page.
Next, connect your both devices. You need to do it via a QR code or inputting the cast code. Once you tap to start casting, you will need to give permission for your device to cast on the computer screen. And clicking 'Enable' on your mobile device to start screen mirroring.

You can also connect them via a USB cable. To do this, click on 'USB' from the available options and then choose your mobile device. Once they are connected, the mirroring will start automatically.

Now your phone's screen will display on your computer. Using the "Share Screen" feature on the virtual meeting platform. The attendees will be able to see the content on your desktop and phone screen at the same time.
AirDroid Cast can help with virtual meetings in several ways:

Screen sharing:

During a virtual meeting, you can use AirDroid Cast to share your phone screen with other participants. This can be useful for presentations, demonstrations, or showing a document or website.
Sharing audio:

This is particularly useful if you're participating in a virtual meeting from a location where you're unable to use a headset or speakerphone.
Taking advantage of a bigger screen:

Mirror your Android device's screen on a larger display for improved visibility. This can be useful for virtual meetings where you need to show detailed information or diagrams to other participants.
Fellow App
Fellow App can be a great tool to help maximize the success of any meeting. It lets you and your colleagues collaborate on the meeting agenda before the one-on-one.
It also allows everyone to be on the same page and know exactly what topics will be covered, how much time will be allocated to each topic, and who should attend the meeting. Having a clear agenda set in advance will be more clarity during the meeting and a more effective use of time.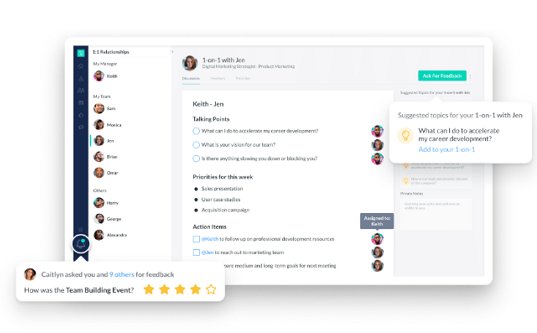 Another benefit of using this App is centralizing all action items from different meetings into one personal to-do list. It makes it easier for everyone involved to keep track of tasks that need to be completed and tasks that have already been completed. It also helps ensure that all action items are followed up promptly, deadlines are met, and tasks are kept intact.
Geekbot
Geekbot automates standups and collects surveys at regular intervals throughout the meeting, meaning that teams are kept up-to-date on everyone's progress without taking extra time away from discussing topics. It helps make sure that tasks are being completed efficiently.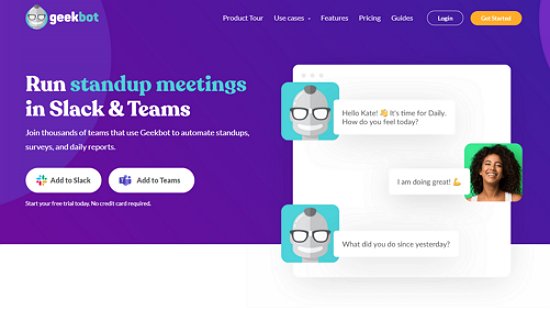 It can also provide helpful insights into team morale and progress, which is especially important in larger groups.
As Geekbot analyzes natural language responses, it can quickly spot when someone is feeling overwhelmed or stressed due to the workload, allowing the team leader to step in and intervene before things get out of hand.
Less Meeting
Its feature is an innovative timer that encourages the team to stay on track and meet their goals. When setting up a meeting, the user can easily set a meeting duration, giving each item on the agenda a time limit.
Once the meeting starts, the timer at the bottom of the agenda will keep everyone in check and remind them of how much time they have left. The timer turns yellow when the meeting runs up to five minutes over its set duration and turns red if it goes beyond this point.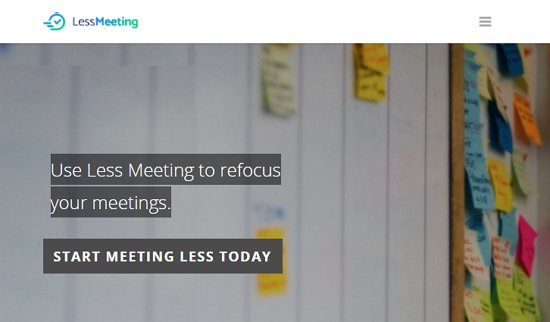 Less Meeting can help teams make better use of their time by setting expectations beforehand regarding how long each item should take, keeping conversations on track, and limiting distractions during meetings.
Part 4: Tips to Find Your Ideal Virtual Platforms for Meetings

If you are looking for the right virtual meeting platform for your meetings, it can be overwhelming trying to determine which one is the best fit. Testing them out beforehand is essential to find the ideal one for your needs.
Considering what features are important to you: video conferencing capabilities, compatibility across operating systems, file sharing accessibility, and meeting schedule.
Plus, think about any features you may need depending on how often you will be using the platform – is it able to handle large-scale meetings? Does it offer tools like live polling or analytics?
Asking yourself such questions and doing some research into reviews for each platform. It will save you time and resources in the long run when choosing an optimal virtual platform for your meetings.
Part 5. Final Take

Virtual meetings have become essential to the business landscape due to their cost-efficiency, flexibility, and convenience. The best virtual meeting platform for a business will depend on the specific needs of that organization. You can use the platforms listed above and other apps such as Airdroid Cast for sharing visuals during the meeting.
These apps can make virtual meetings more efficient and productive for all participants. With the right combination of virtual reality meeting platforms and apps, businesses can find success in hosting online meetings.
Additional FAQs about Virtual Meeting
How can I join a virtual meeting?
Most platforms will provide instructions on how to join the meeting. Generally, you need to log in or register an account and then enter the URL provided by your host.
Are there any specific hardware requirements for joining a virtual meeting?
It depends on the platform you are using. Many virtual meeting platforms, such as Zoom and Microsoft Teams don't require specific hardware and can be used with most computers or laptops. However, some platforms may require certain hardware components, such as a microphone or webcam.
How secure are virtual meetings?
Security of your data should always be taken seriously when it comes to online activities like video conferencing. All reputable platforms will have strict security protocols in place, such as encryption of sensitive information, two-factor authentication, and private accounts that restrict who can join each room.
What do I need to prepare for a virtual meeting?
Set an agenda with clear objectives, create slides or documents that can be shared during the call, and limit distractions from other people or devices in your surroundings. Additionally, it's helpful to test out any new technology or features you may need for the call beforehand so that you are familiar with them.
Was This Page Helpful?