[Newest] How to Share Mobile or PC Screen Remotely?
In this advanced and technological time, everything is getting possible. Sharing your mobile or a PC screen with any other device is a great achievement for our IT developers. Still, many people think it is impossible because they have never experienced it.
The screen-sharing feature has added more fun in spending quality time with friends and family. Parents can now resolve many issues of their kids remotely from their mobile or PC. Similarly, the screen-sharing feature has made office work very easy. In this article, we will discuss some methods to share screen remotely.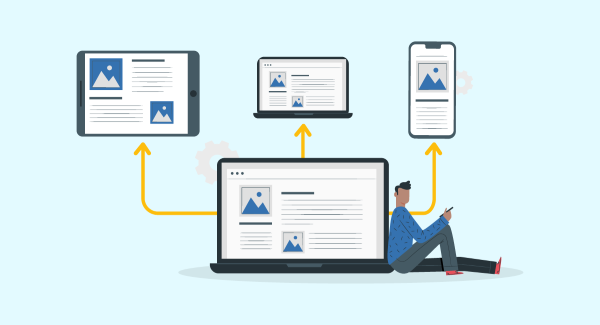 1 How to Share Mobile Phone Screen Remotely by Using AirDroid Cast?
AirDroid Cast is one of the fastest and most user-friendly apps for sharing screens. It provides 3 connection methods: wireless(remote/local network), AirPlay and USB. You can also control your mobile screen on PC.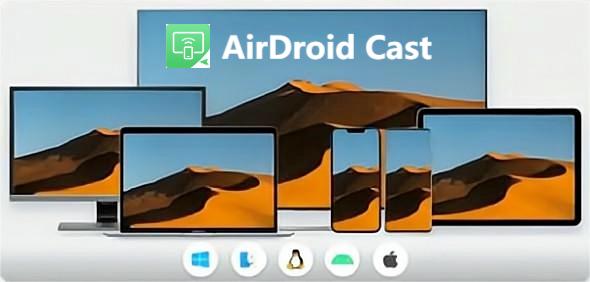 Detailed Steps:
If you want to know how to share screen remotely using AirDroid Cast. Here are a few steps to share an Android mobile screen with a PC remotely:
Step 1: Install AirDroid Cast
Download and install the AirDroid Cast app on your mobile and PC from its official website/Google Play Store/App Store.
Step 2: Select Connection Method
Select the Wireless option from the AirDroid Cast desktop client on your PC to share the screen remotely.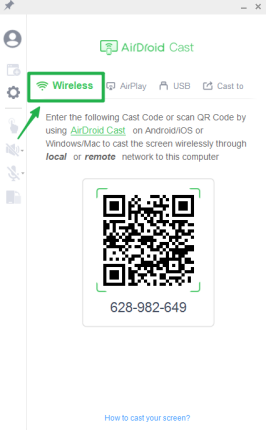 Step 3: Create Connection
Use AirDroid Cast on your mobile phone to scan the QR code or enter the cast code. Then allow access from your computer and mobile. Don't forget to mark 'Trust this device and never ask me again".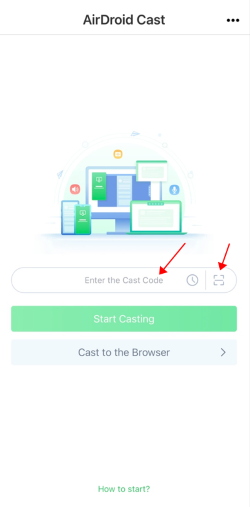 Allow Permission from Mobile
Also, allow permission from your mobile phone by clicking on the "Enable" tab and pressing the "Start Now" button. Your screen will be shared on the PC.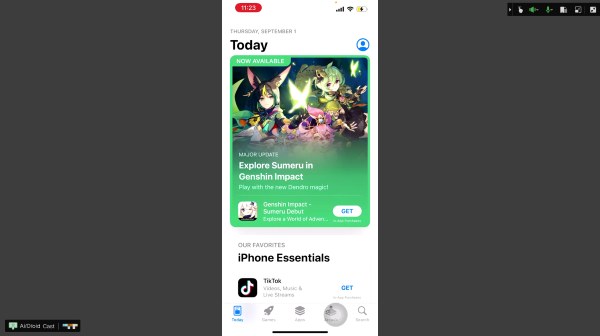 Important features of AirDroid Cast
Two-sided Audio Transmission
Using AirDroid Cast, you can communicate one to one with anyone. It allows two-way audio sharing. This feature helps in online teaching and remote meetings.
Control Feature
AirDroid Cast allows screen sharing as well as screen-controlling features. It means you can now control your mobile or PC from any other device.
Typing Remotely
Using the keyboard of the receiver device, you can type anything on the sender device's screen.
2 How to Share Mobile Phone Screen Remotely by Using ApowerMirror?
ApowerMirror is a friendly app that provides quality display during screen sharing. It not only allows you to share the screen between Android devices, but you can also share the Android screen to a PC or a TV without delay. You can share videos, pictures and other files using ApowerMirror.
Detailed Steps:
The latest feature of ApowerMirror allows us to share screens remotely. Here are detailed steps to share a mobile screen with a PC:
Step 1: Download the App
Download the app on your mobile phone and PC.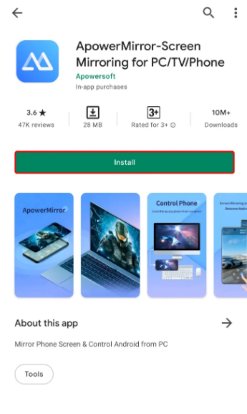 Step 2: AirCast Icon
On the PC, click on "Wireless connection" and choose "AirCast". AirCast allows you to share screens remotely without having the same internet connection between the devices.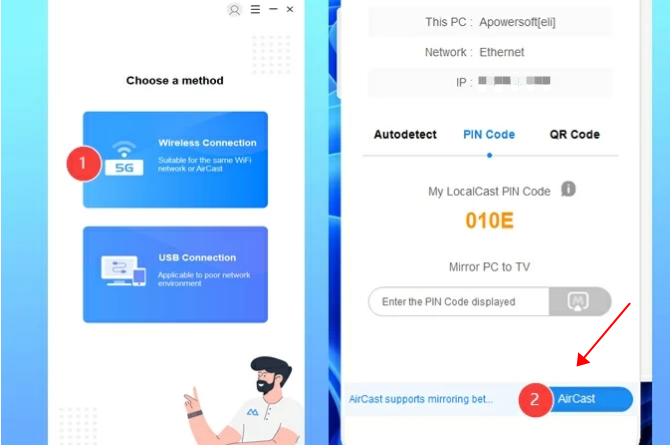 Step 3: Enter Code on the Phone
On your mobile phone, turn the local cast to AirCast and then enter the 12-digit code you will get from the PC. Click the Start Now button to screen share on your PC.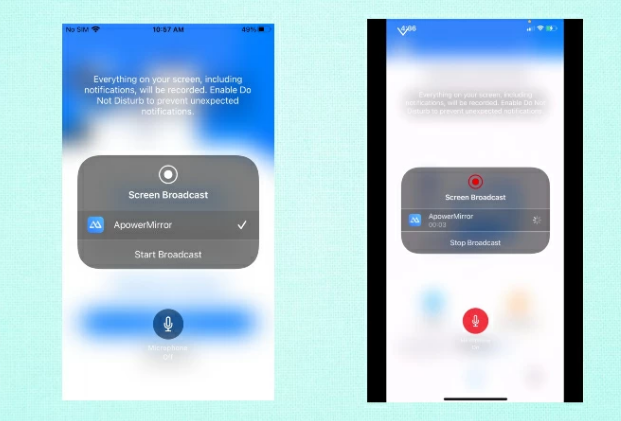 Extra Features:
ApowerMirror also allows you to audio and video screen record and take screenshots using this wonderful app.
3 How to Share PC Screen Remotely via AirDroid Cast?
AirDroid Cast is a cross-platform sharing application. So, you can share screens between Android, iOS, Windows and Mac devices remotely. You can easily share your PC screen remotely on other devices. AirDroid Cast allows five screens to be shared on a single screen simultaneously.
Detailed Steps:
Here are detailed steps to share PC screen on other PC via AirDroid Cast:
Step 1: Download the AirDroid Cast
Download AirDroid Cast on the sender and receiver computers. For remote screen sharing, upgrade to the premium package of AirDroid Cast and log in with your AirDroid Cast account.
Step 2: Forward a Request
Click on the "Cast to" option from the sender device and enter the 9-digit code from the receiver computer.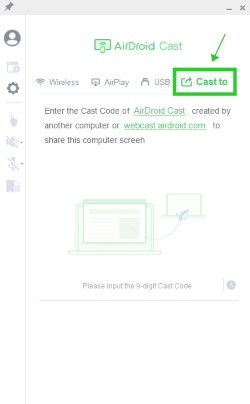 Step 3: Accept the Request on Receiving Computer
Accept the request you get on the receiving computer. Trust this device and click on the 'Allow' button.
Step 4: Start watching
After performing the above steps, you will see your computer screen on the receiver computer.
4 How to Share PC Screen Remotely via AnyDesk Screen?
AnyDesk is one of the most secure apps for remote screen share. It allows you to share screens between devices from Android to iPhone, Windows, Linux or Mac. The remote desktop solution of AnyDesk allows sharing of one computer's screen with the other.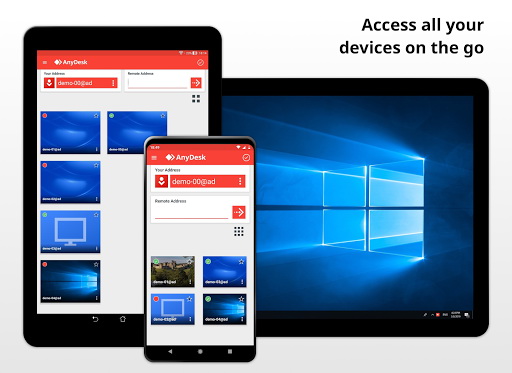 Sharing the screen is completely secure, and there are various options you can disable and provide specific access to anyone on your computer.
Detailed Steps:
Step 1: Download the app
Download the AnyDesk remote desktop app on your computer, and the other computer to give you access. It is free for personal use, and you don't have to sign in.
Step 2: Create a Connection
Every app has its specific ID. You will use this ID to search and get access to any computer you want. Moreover, permission is first granted by the other computer; otherwise, you cannot share the screen.

Step 3: Select the level of Control
Once the request is forward, wait for the other end to accept the request. After accepting, you will be able to access the screen remotely. You can also add restrictions on the control level you want to allow.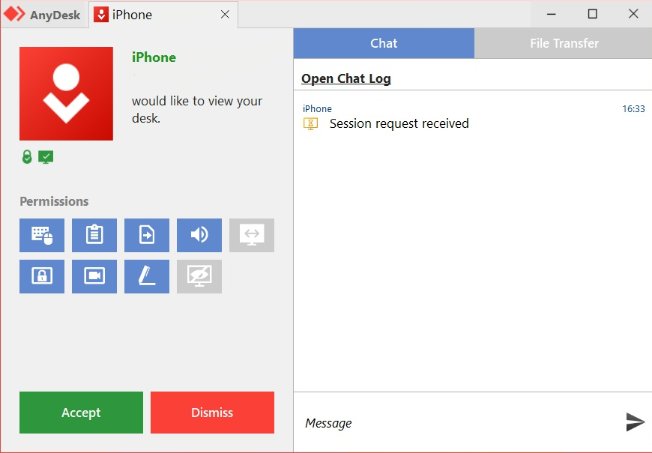 Important features of AnyDesk
Select the Level of Access
The most important feature of AnyDesk is the level of access that you can fix for others on your computer. It enables you only to share the relevant screen that you want to. The other user will not be able to access your whole computer.
Remote Technical Support
The remote support feature of AnyDesk enables the customer service representatives and technical team to handle and resolve others' issues remotely within a few minutes. It is the fastest way to provide technical support to anyone.
Access Files Remotely
You can easily access files from other devices remotely using AnyDesk. It saves a lot of tie and travelling.
5 What Are Some Situations You Need to Use Remote Screen Sharing Software?
There are a lot of situations where you need to share the screen remotely. Here are a few of them:
Remote Meetings
Most people share the screen when they want to explain something in a remote meeting with the help of slides or any other document.
To Resolve Technical Issues
Many mobile companies use the remote screen-sharing feature to guide customers about their issues. They even access your device to change Settings and resolve your problem remotely.
Personal Use
You can use software to remotely access your device and get the important data you missed at home.
6 Screen Sharing Tips for Perfect Remote Meetings
Here are some useful tips to follow for smooth screen sharing while in a remote meeting:
Test screen sharing
Before starting the meeting, have a test call with your friend or colleague and check if there is any issue with the audio, video or other screen-sharing features. It will let you save your time, and your meeting will be fully professional.
Notifications
Notifications keep disturbing you when you are on a call with your team, which will definitely interrupt screen sharing. Turn off the notifications so that no one bothers you when you are in a remote meeting.
Close Useless Tabs
Always keep in mind whenever you have a meeting and have to share the screen remotely, close all extra tabs, files and folders. One reason is that it slows down your system, and the display is also not properly shown.
7 Conclusion
Sharing screens remotely with other devices is a serious concern for many professionals. The technical team is always available in the office to resolve networking issues. Most offices have moved to the latest technologies to provide each employee's technical support. They use different networking protocols and software to access the computers remotely and provide support to them. This article discussed some of the best software to share screens between different devices. AirDroid Cast, ApowerMirror and AnyDesk are the best software providing remote access to other devices.
FAQs
Can I Use AnyDesk for Mobile Screen Sharing?
AnyDesk app is a cross-platform sharing device and is compatible with sharing the screen remotely between various OS. It allows sharing between Android, iOS, Windows, Mac and Linux OS.
Is Google Teams Good for Screen Sharing?
Yes, Google Teams is a good option for sharing your screen. You are enabled to share the screen with maximum number of users. Create a room and add the whole team. Then share your screen in different modes.
Can I Share My Phone Screen with a PC for Free?
Yes, various apps allow you to share your phone screen with your PC for free. You can use AirDroid Cast'sCast's local network for free screen sharing.
Can I Share My Mobile Screen with the TV?
You can share mobile or PC screens on a TV within a few minutes using AirDroid Cast Web. Google Chromecast device is also a medium for sharing the screen with a TV.