10 Best Key Trackers Make Your Life Easy
Say goodbye to the frustration of misplaced keys with a key finder! These useful key trackers drastically reduce the time spent seeking misplaced keys by emitting a loud beep from a tag attached to your key ring. Simply signal the tag with your phone or remote to swiftly locate your keys.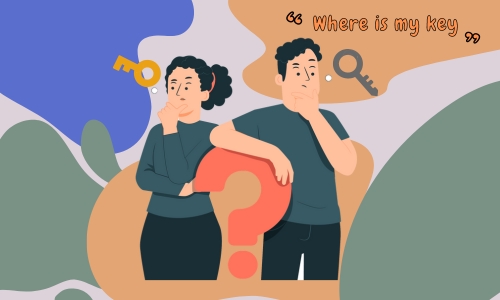 It's an electronic tool to assist in swiftly and simply locating lost house items or automobile keys. The most popular kind of key finder has a base station or remote that remains stationary in the house or office and a key chain that attaches to the keys. Simply press a button on the base station to let the key chain beep loudly when the keys are missing, making it easier to find them.
What You Should Consider before Choosing a Key Finder
Connectivity and Range
Most of the items in our list of the best key finders pair with your phone via Bluetooth. While many trackers, in our experience, only go as far as 100 feet, this often indicates ranges of 200 feet or so. So it depends on the range you'll be needing it.
Alarm Sound
The key finder's decibel value for the alarm sound should be checked. So that you can hear your key finder above any background noise, you'll need a strong, loud signal of at least 80 to 85 decibels.
Monitoring Multiple Items
Many of the companion apps for the devices we've evaluated here allow you to monitor multiple trackers, allowing you to monitor many items at once.
Battery Life
Check the key finder's battery life by entering the model number. Some key trackers offer about a year of battery life, while others say their new key trackers can last up to two years before the batteries need to be replaced. So, you can choose the one that will satisfy you according to your battery life needs.
Connection Technology
Whenever you search for key finders on Amazon or other shopping sites, most of the search results are for trials of Bluetooth connectivity technology. Most search results for key finders on Amazon and other purchasing sites are for trials of Bluetooth connectivity technology. In fact, in addition to Bluetooth technology, other connection technologies, such as GPS technology, wireless RF technology (radio frequency), etc., are utilized in key locators.
10 Selected Key Finders for Your Reference
1 Tile Mate
Price on Amazon: $19.99
Compatible Devices: Abdroid & iOS Smartphones
Connectivity Technology: Bluetooth
Control Method: Tile App
Voice-Assisted Finding: Google, Siri, Alexa
Compared to the Tile Pro, the Tile Mate key tracker is a bit compact, but it has a new, nearly square shape. It is a super-compact complement to the key ring, measuring 1.4 x 1.4 inches with a hole in the corner. It has a Bluetooth range of 250 feet/76 meters and its use of a CR2023 coin cell battery is built-in, greatly extending the life of the gadget - it can run for three years.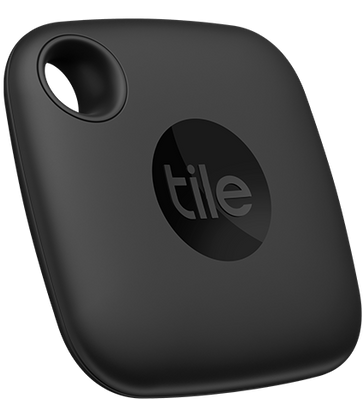 Pros
250-ft/76-m Bluetooth range
Water-resistant
Community Find feature
Support for voice-assisted search
Cons
Non-replaceable battery
Needs a phone with Bluetooth
2 Apple AirTag
Price on Apple Shop: $29.00
Compatible Devices: iOS devices
Connectivity Technology: Bluetooth
Control Method: Find My app
Voice-Assisted Finding: Siri
You should try Apple AirTag if you own an iPhone, particularly one of the more current models. Apple AirTag is lightweight, compact, and portable. This key tracker pairs with your iPhone over Bluetooth to locate misplaced keys or other objects via GPS using the iPhone's built-in Find My app.
Its precision tracking range is about 15 - 30 feet. If the AirTag is out of range, the Find My network will locate it via GPS and provide the proprietor with a general location.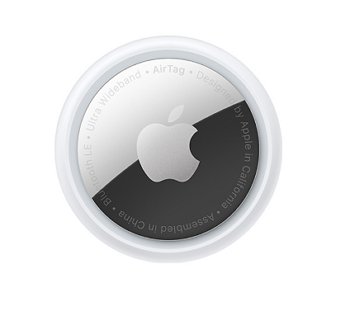 Pros
Replaceable battery
Water resistant
Anti-Stalking feature
GPS location and real-time tracking available
Cons
Only for iOS users
Not provided with key ring
Precision tracking within 15 - 30 feet only
3 Samsung Galaxy SmartTag+
Price on Samsung: $39.99
Compatible Devices: Samsung Galaxy phones
Connectivity Technology: Bluetooth & ultra-wideband
Control Method: SmartThings app
Voice-Assisted Finding: no
In typical Samsung fashion, Samsung had already gotten an edge over its opponent before Apple released the AirTag and its clever precision-finding capability.
With a square shape that protrudes from the center, the Samsung Galaxy SmartTag+ is the enhanced version of the Samsung Galaxy SmartTag. It has a little keychain hole in the corner that makes it simple to connect to your keys. It has an ultra-wideband and Bluetooth connectivity and the Bluetooth range is up to 120m.
It's newly added featured AR finder can help you find your misplaced key or other things within a 15-meter radius via your phone's rear-facing camera. You may choose from 10 different ringtones, and the speaker volume of the Smarttag+ can also be changed. To use this feature, your Samsung Galaxy smartphone must be equipped with Ultra Wide Band (UWB), 2 GB of RAM (or higher), and an Android 11.0 operating system (or higher).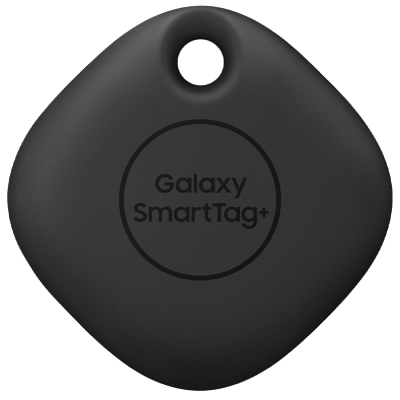 Pros
120-ft Bluetooth range
Replaceable battery
AR finder
Adjustable alert volume and ringtone
Cons
Without GPS
Require higher system
No voice assistant
4 Chipolo ONE
Price on Amazon: $25.00
Compatible Devices: Android & iOS Smartphones
Connectivity Technology: Bluetooth
Control Method: Chipolo app
Voice-Assisted Finding: Google, Siri, Alexa
Within most mid-range Bluetooth key finders, the Chipolo ONE comes with free premium features and various colors. It is round with a small hole at the top center, making it suitable for attaching to a keychain. With a replaceable battery and up to 2-year life, it can help users track their keys or other stuff with a range of up to 200 ft/60m.
Once you connect the key finder to your phone, you can control it using the Chipolo app. This app allows you to view the finder's last location on a map and call it. Additionally, you can use the key finder to locate your misplaced phone, even if it's on silent, as long as it's within Bluetooth range. You can double-press your Chipolo, and your phone will start ringing loudly.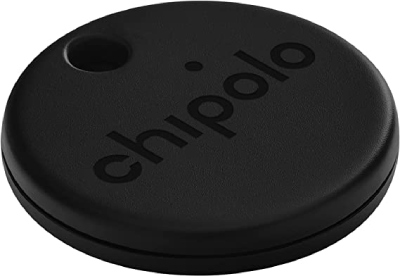 Pros
Replaceable battery
Up to 120db
Find phone feature
Water resistant
Can be a cemara remote
Cons
Can be controled on Chipolp app only
Limited ringtone selection
No anti-stalking feature
5 Cube Tracker
Price on Amazon: $24.95
Compatible Devices: Android & iOS Smartphones
Connectivity Technology: Bluetooth
Control Method: CUBE Tracker App
Voice-Assisted Finding: No
You can find lost objects like keys, wallets, and pets with the aid of Cube Tracker, which is a tiny, lightweight, and portable Bluetooth key finder. Due to its small size, you may easily clip it to your key ring, or pet's collar or attach it to other items. After connecting to the Cube Tracker app, it will display the last known location on a map. In addition, its button can be your phone's camera shutter or a locator to find your phone.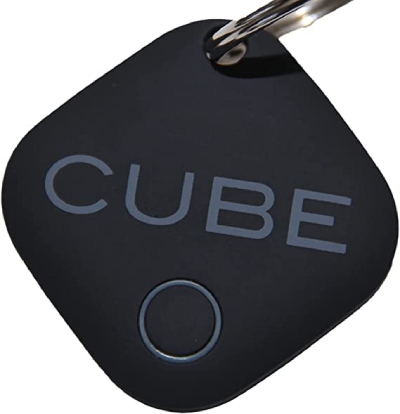 Pros
100 feet distance range
Support battery replacement within one year
The water-resistant and durable casing
Find phone feature
Double as a camera remote
Cons
No real-time location update
6 Nutale Air Key Finder
Price on Amazon: $25.99
Compatible Devices: iOS Smartphones
Connectivity Technology: Bluetooth
Control Method: Nut/Find My app
Voice-Assisted Finding: No
Nutale Air Key Finder is a small and compact Bluetooth tracking device measuring only 1.5x1.5xx0.28 inches that helps you find lost keys, wallets, smartphones, and other items. It has a key ring, so you can easily attach it to your keys or other stuff. It supports one click to find the item, just tap the sound play button on the app, and it will immediately ring a bell to help you quickly find the misplaced keys or other things.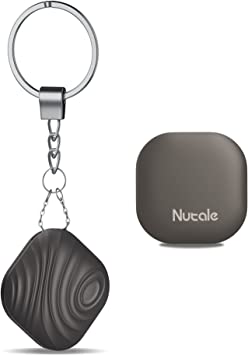 Pros
Water resistant
Replaceable battery
Work with Apple Find My
Life-time technocal support
Cons
Battery can be used for 10 months only
No real-time location update
Only iOS 14.5 or above can connect Nutale Air for iPhone users
7 Cube GPS Tracker
Price on Amazon: $99.95
Compatible Devices: Android & iOS devices
Connectivity Technology: GPS
Control Method: Cube Tracker app
Voice-Assisted Finding: No
When you lose your keys somewhere far away, Cube GPS Tracker can help you locate them remotely and find them right away. As the name suggests, it's a location device that uses Bluetooth, GPS, and cellular networks to track the location of your valuables, such as keys, luggage, backpacks, pets, electronic devices, and more. Despite its weight, it uses a rechargeable battery that lasts up to two weeks and covers a tracking range across the United States.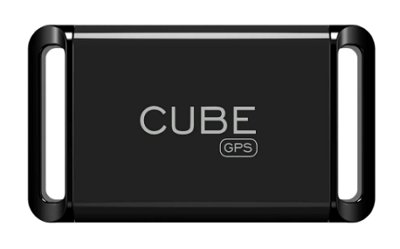 Pros
GPS connectivity technology
Nationwide USA distance range
Waterproof
Rechargeable battery
Cons
Expensive
Subscription required
Heavier than Bluetooth key finders
8 KeySmart Pro
Price on Amazon: $49.99
Compatible Devices: Android & iOS devices
Connectivity Technology: GPS & Bluetooth
Control Method: Tile app
Voice-Assisted Finding: No
The KeySmart Pro is a key organizer and multitool, combining your everyday usage keys with add-ons like scissors, a USB stick, a set of pliers, or even a firestarter. It differs from a standard key finder. With the Tile tracking technology integrated into the KeySmart, you can use the Tile app to ring your keys or see where they are on a map.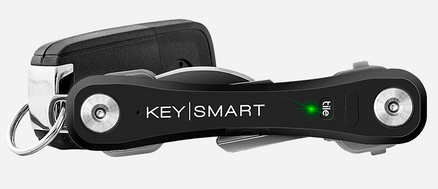 Pros
Multi-tool features
Keeps keys organized
Rechargeable
Cons
Holds limited number of keys
Difficult to add or change keys
9 Ldcx Key Finder
Price on Amazon: $19.98
Compatible Devices: No
Connectivity Technology: Wireless RF
Control Method: Remote control
Voice-Assisted Finding: No
Unlike the key trackers mentioned above, the Ldcx Key Finder is a remote control to help you find your keys. It consists of a transmitter with four receivers and comes with key rings. The user can group the keys with the receivers through the key ring.
When you need to find your keys, just click the corresponding button on the transmitter, and the receiver will sound a bell to facilitate your search. You can easily attach it to your chain or put it in your purse due to its lightweight. And one of the worthy points is that this type of available range of about 75-138 ft (open space) is second only to key trackers equipped with GPS technology.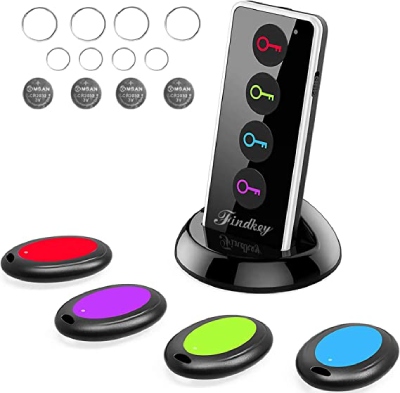 Pros
Affordable
Easy to use
Lightweight
No need for app pairs
Cons
Unable to locate things via Bluetooth
Not waterproof
Untraceable if the remote lost
10 Vodeson Key Finder
Price on Amazon: $14.99
Compatible Devices: No
Connectivity Technology: Wireless RF
Control Method: Remote control
Voice-Assisted Finding: No
The Vodeson Key Finder is user-friendly and doesn't require an app to function. By pressing a button on the transmitter, the corresponding receiver will emit a loud sound and flash. The transmitter is compact enough to fit in a pocket or purse and has two large buttons that correspond to two different receivers. The receivers come with batteries included, but you'll need to provide AAA batteries for the transmitter.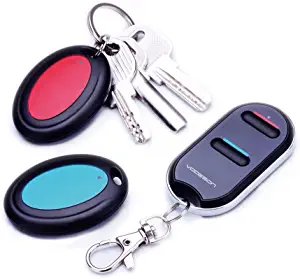 Pros
Up to 100 feet distance range
Up to 80 decibels alert
Fair price
Cons
Battery cover can be removed too easily
Hard to find items if receiver's audio hole is blocked or hidden
What Kind of Key Finder Should You Use
So which type of key finder do I fit? After reading the above passages, I believe you have the answer.
The Bluetooth key finder is suitable for most people; through Bluetooth and cell phones, users can locate their forgotten keys and other products on their cell phones. In addition, some Bluetooth key locators also support you to reverse finding your phone, which is a lifesaver for those who just put down the phone a second ago and can't find it a second later. However, we can not ignore its limitations; the effective distance range is not wide.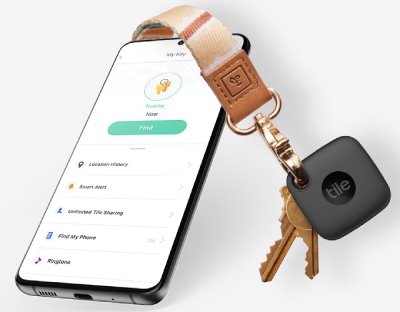 As for the GPS tracker for keys, it is not a problem to help you locate your keys or other tools at a considerable distance. Even if you lost your keys or other items in the park or the mall, with the GPS function, you could check the current location of your keys on your phone. But a slight regret is that GPS key trackers can be more expensive and weigh much more than the average key finder.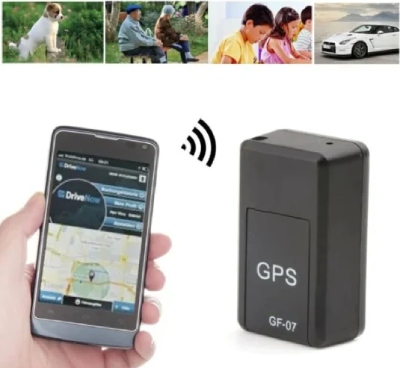 Wireless RF key finders were the first to be introduced to the market. Although this technology is no longer the best choice nowadays with advanced technology, it is still worth a try for older people. If the elderly in your family is struggling with controlling a smartphone, they will be particularly well suited to choose this most basic key finder.
Whenever they forget where they left the keys, just press the remote control, and the receiver hooked up to the keys will sound a high-decibel alarm. At the same time, its effective range is second only to GPS key locators, and the most important thing is that it is inexpensive. Of course, as mentioned earlier, this type of key finder is on the verge of obsolescence, and once the remote control is lost, the receiver is useless.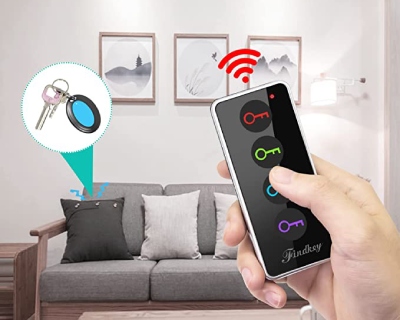 How Does the Key Tracker Work
Bluetooth, GPS, and RF technologies are key trackers' main connectivity options.
Bluetooth Key Finder
Bluetooth Key Finders communicate with your Bluetooth-enabled device (phone or tablet) in order to function. It only functions if the finder is close enough to the lost object. This varies depending on obstacles and the number of Bluetooth devices used but is typically between 30 and 50 feet. Bluetooth key finders produce radio waves and radio signals.
GPS Key Tracker
On the other hand, GPS trackers can locate an object anywhere where GPS signals are present and have an unlimited range.
GPS tracking devices determine the real-time location of an object through connections with at least four separate satellites. The location data is uploaded over GSM cellular signals and shown to the user via an app or program.
Radio Frequency Key Locator
An app, smartphone, or internet connection is not always necessary when using a radio signal to operate a radio frequency key finder. A transmitter, which produces a radio signal, makes setting up and finding your lost item incredibly simple. Your keychain's corresponding sensor will sound an alarm or light up when it does.
Don't Lose Your Keys Again: Simple Habits to Adopt Now
Quite Steps to set up the key locator
Install the corresponding key finder app by downloading it from Google Play or the Apple App Store.
Turn on your phone's Bluetooth and pair your key finder after opening the app.
After that, you may locate your key or other items by using the app.
Check the connection regularly
It is compulsory to check your key locator connection regularly to ensure it is functioning perfectly so that it will come to your aid whenever and wherever you're going to be needing it. Verify the primary connectivity such as the Bluetooth or GPS, update the app and the firmware, test their signals, replace their batteries, finally teT the alarm and locational features.
Strategies for locating misplaced keys
Losing or misplacing your keys can be daunting sometimes. It can make you feel frustrated. Here are some tips that can help you out.
Retrace your steps
Use a key tracker
Ask for help from someone you know have been around with you
Check common places
Use a flashlight
Stay Calm And Patient
Can Key Finders Help People Find Things That Are Lost
Individuals with ADHD or memory issues are prone to misplacing their keys, either children or elderly people. And often lose other items such as their phones and other accessories. The electrical device known as key finders have the ability to locate misplaced keys but are not really designed for cell phone lookout. But, some designed key finders provide features that allow people to ring a paired phone which can be of great help in locating a lost phone around you.
There are several ways you can resolve the problem of losing a phone provided your child loses it anyway. The very first step is to try calling the lost phone to know if anybody can help you pick it up and tell you the location it got lost. You can even lock and wipe your lost phone data if necessary to prevent future problems.
Other tips are asking your family and immediate friend if they have seen it somewhere, looking around carefully to know where the phone could have been dropped due to distractions and finally, retracting your child's step. Alternatively, you can use the AirDroid Phone Locator app to know where the phone is.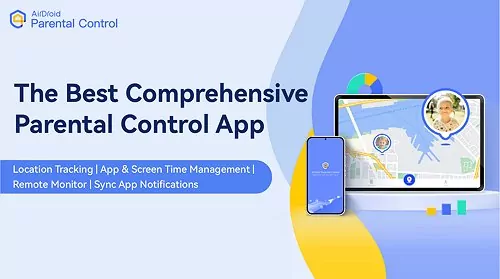 This app must be installed on both the parent's and kids' phones. With it installed on your child's phone, it is perfect for locating and tracking your child's lost or misplaced phone, as parents can track the current location on a map of the lost phone via GPS features. In addition, this app features parental control, like monitoring online activities on their kid's phone, receiving their kid's phone's notifications, setting geofence for their child, etc.
Features
Check the real-time location of the phone
Track and locate the phone anytime anywhere
Check location history
Set geofencing area
Get alert when the phone enter or leave the specific area
Conclusion
So how to find lost keys? Now you must have got the answers. The key finders we recommended above can help locate your missing key, no matter whether the connectivity technology is Bluetooth, GPS, or wireless RF. These tools are useful for locating common items and saves time looking for your keys or other stuff before leaving the house, which can greatly simplify and reduce the trouble in your life.
FAQs about Key Tracker
Can I Put a Tracking Device on My Keys?
Yes, you can put a tracking device on your keys, such as a key finder.
Can I Track Where My Keys Are?
Yes, you can definitely track where your keys are, provided it is connected to a key finder.
What Is the Best Device to Find Keys?
Some of the best devices are the Bluetooth key finder and GPS key tracker.
How Far Do Key Trackers Work?
The range of your key tracker depends on the types of technology adopted.
Can I Use Key Finders on Objects Other than Keys?
Yes. While most of these key finders are made with a key fob design, specifically to be attached to key rings, they can be attached to virtually anything you don't want to lose, whether a wallet or a pet.
How Do I Find My Keys with My Phone?
You may use Bluetooth key finders or GPS key trackers that need to be bound to the app that can be compatible with your smartphone. Then connect a key finder to your key, and every time you misplace your key, simply open the corresponding app and hit the alert button.
Was This Page Helpful?