Top 6 Best Baby Monitors for 2023
Being a mom is one of the world's most challenging responsibilities. Often, moms have to balance cooking and caring for their newborns. Some moms could run between answering work calls and saving their toddlers from injuring themselves. That is why we have brought the best solution in the market to loving and painstaking moms.
Baby monitors help moms attend to other duties while closely monitoring their children. In this article, we will show how to pick the right baby monitor, our six best baby monitors, and how to use your phone as a baby monitor.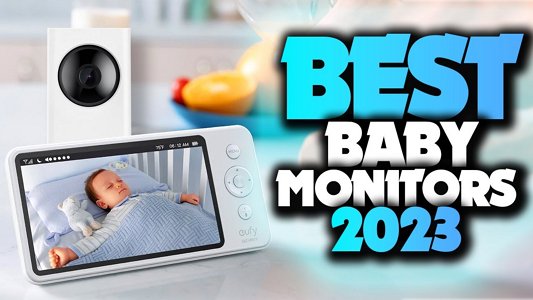 Part 1. How Do We Choose a Baby Monitor?
This section takes you through our considerations for moms to pick the best baby monitors. This guide is helpful if you are shopping for the best baby monitors. However, if you are in a rush to pick one of our verified best baby monitors, you can check out the best baby monitors directly. Now, follow through to check the qualifications for picking the best baby monitors for 2023.
Monitor Type
There are several categories of baby monitors. The price of each monitor is dependent on the quality of the monitor. One of the quality determinants is whether the monitor has a video camera or is audio-only.
Baby monitors with video features cost more. Also, the range of the video camera is another vital feature for picking any type of monitor. The video range could refer to the video quality, room coverage, or transmission distance. (More on these range features will be discussed exhaustively below.) In addition to the ranger, some monitors have pretty cool features for moms to configure their child's experience. For instance, some monitors could allow you to set a lullaby playlist.
Connection
Your baby monitor connection is very important. It is how audio and video content from your baby's room is sent to you wherever you are. Hence, to choose a baby monitor, you want to find out if it has a Wi-Fi or radio connection.
The Wi-Fi models are pricier and more reliable because they have more functionalities and range. Moms must be careful when picking monitors with Wi-Fi connectivity because these options are hackable. Local video monitors, on the other hand, are limited and relatively cheap. You cannot use them with your smartphone or outside the house.
Other Desired Functions
Depending on the mom's needs, they can consider a few more functions when picking their baby monitor.
Night Vision: Dark rooms are the top choice for sleeping. Hence, you want to keep your eyes on your child, even in a dark room. With night vision, baby monitors with video cameras can still show you your child in a dark room. Without giving off light that may disturb the child, this feature is a welcome addition for some parents.
Voice Activation (VOX): Do you fancy Siri or any other voice assistant? If yes, then you may need this function. It helps you activate features on your baby's monitor with a simple voice command. On a 2-Way Audio baby monitor, you can play some music for your child with this feature. If you have a wet hand, you can use VOX to take a screenshot of an exciting moment or turn on night vision.
Multiple Camera Support: Traditional baby monitors have a single camera and a screen. However, you can improve your experience with more than one camera. If your baby is in a large room, a camera might not be sufficient to cover the length and breadth of the room. With multiple camera support, you can get different angles and closeness to your child even from a distance.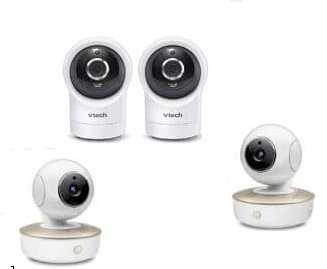 2-Way Audio: While you can get audio feedback of what is happening with your child, your baby monitor can also make your child feel your presence. An added feature for ensuring that you are fulfilling your guardian angel role without running across the house several times is the 2 Way Audio feature. You can use it to sing for your child in the room while you are in the kitchen without necessarily raising your voice. This feature would usually come with a sound system.
Image Sensor: This feature notifies you once there is a change in the room light. It could mean your child has moved or someone has entered the room. If, after a while, there has not been a change in the image or light in the room, a sudden change can trigger the image sensor. It can be programmed to send you a notification, turn on an alarm, or any other security measure.
Motion Sensor: It works similarly to the image sensor. But it reacts to movement. In like manner, moms can set a trigger function they want this sensor to perform.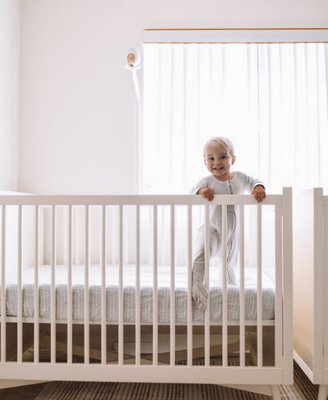 Built-In Light: Lighting is beneficial for camera quality. Hence, a built-in light performs the role of a ring light to ensure that the light is well-focused to see your child.
Tamper Detection: This safety feature helps you prevent security breaches. If you get a baby monitor with this feature, you can easily notice when someone tries to adjust the camera or monitor settings.
Remote Temperature: The remote temperature features works with humidity and temperature sensor. It is a common feature in many monitors because heat or coldness is a good indication of danger. If there is a fire in the room, the sensor will quickly alert you to the increase in heat. And if the change is a winter temperature drop, you can use the remote temperature to adjust the room's temperature degree.
Lullabies: Not all baby monitors can play music, especially lullabies and audio feeds for your kid. While this is a common feature, you need to ensure that it is available on the one you are picking so that you can enjoy the feature.
Other Factors
If moms so wish, they can have additional baby monitor features. These features should also be given thorough consideration when shopping for a monitor.
Maximum Range: As mentioned earlier, the range could refer to video quality, room coverage, or transmission distance. For the sake of this point, we will consider the transmission distance. Local video monitors have standard coverage of about 600 and 1000 ft between a child and their mom. This issue is not there if you are using a Wi-Fi monitor.
Screen Size: Your phone screen size is enough to monitor your child. However, you might like a bigger screen size than that for different reasons. For instance, if you want to hang it in the corner of your workstation, the phone's screen size might be too small to see what your child is doing. Hence, baby monitors have an average screen size of a 5-inch display.
HD Resolution: Another feature that hinders or enhances visibility is your monitor's screen resolution. High-Density resolution gives you the best quality visual display of your camera output. Moms will often find 720p or 1080p resolution when they go shopping. These alternative displays can also serve the function.
Portable: The overall size of the monitor can greatly impact its durability. Portable monitors can easily be maintained and are less likely to be broken if they fall. Larger monitors can fall if not properly installed, and the impact can be very significant.
Waterproof: You want a waterproof monitor as a mom because you want it to be useable in the kitchen and next to the pool. Also, if you have an unsuspecting friend or family member around, your gadget is less likely to be broken if it is waterproof.
Camera Quality: The camera quality of your monitor is an important feature that proves to be very beneficial. For instance, the camera quality might be good enough to pick a reflection or take a motion screenshot.
Wearable Devices: Not all baby monitors have this addition, but they can be helpful. Wearable devices like the band can measure your child's vitals. These vitals, like sleep statistics, breathing, heart rate, etc., are all good additions for caring for your baby.
Battery Life: The durability and longevity of your baby monitor are essential considerations. If it is not durable, you might spend it on it soon. Also, if it does not last very long after a full charge, you may not enjoy it so well.
Part 2. 6 Best Baby Monitors for 2023
| | Infant Optics | VTech DM221 | Nanit Pro | Eufy SpaceView | Miku Pro | Philips Avent |
| --- | --- | --- | --- | --- | --- | --- |
| Highlights | Multiple cameras | Ultra-simple | Helpful bonuses | See 87% more | No extra fees | No interference |
| Rating | 4.7 | 4.6 | 4.7 | 4.1 | 4.0 | 4.4 |
| Price | $200 | $39 | $240 | $170 | $300 | $90 |
| Type | Video | Audio-only | Video | Video | Video | Audio |
| Resolution | HD 720p | N/A | HD 1080p | 720p | HD 1080p | N/A |
| Compatibility | Video monitor | N/A | iOS & Android | iOS & Android | iOS & Android | iOS & Android |
| Mounting | Wall clips | Dual installation | Wall mount | Wall mount | Dual installation | Dual installation |
| Mobile App | Mobile alternative | N/A | User-friendly | Easy-to-use | Issues hotfix | N/A |
| Range | 700 ft | 1,000 ft | Limitless | 460 ft | Limitless | Limitless |
| Screen Size | 5" LCD | N/A | 1.54" | 5" | 5" | N/A |
| Power Source | 7hrs 9 mins | 19 hours | Only plugs in | 13hrs 32 mins | N/A | 18 hours |
| Connectivity | No Wi-Fi | No Wi-Fi | Wi-Fi | No Wi-Fi | Wi-Fi | Wi-Fi |
Infant Optics DXR-8 Pro Video Baby Monitor
This gadget is most prominent for up to four multiple cameras, clearer night vision, and an easy-to-use interface. The screen has details like temperature, time, signal strength, which camera is in use, and battery level. Also, the battery for DXR-8 is rechargeable and replaceable if it starts wearing out. It has a voice reduction feature that helps moms screen out background noises from likely sources like humidifiers or fans. Besides being a four-camera baby monitor, it has optical zoom lenses that let you see what is happening closely.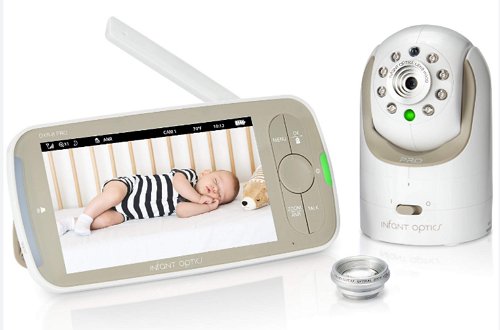 VTech DM221 Audio Baby Monitor
This audio-only baby monitor is the best-rated for pocket-friendly solutions. If you are not so interested in seeing what your infant is up to or are on a budget, you can use this simple audio invention. It is an advanced audio invention because it allows you to talk back to your child or another person in the room. It has a night light on the baby unit, and you can get an extra parent unit that can be kept in different rooms in your house.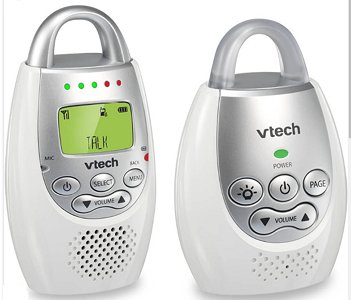 Nanit Pro Smart Baby Monitor & Wall Mount
This is the cheaper Nanit Pro Smart Baby Monitor & Floor Stand alternative. They have the same features, but this product can only be installed on the wall. It uses Wi-Fi to share video and audio feeds, accessible on the monitor or a smartphone through the well-designed app. Even though it is a video baby monitor, it has an audio-only feature that will keep playing audio when using other apps on your phone.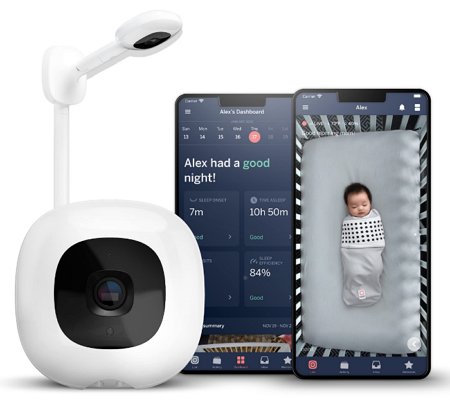 You can monitor your child from anywhere with the wide-angle lens, and there is a split screen that works well for moms of multiple. We mentioned in Part 1 that parents should watch the safety of the Wi-Fi connection. This baby monitor is safe because it uses two-factor authentication to encrypt videos in transit. It has a good memory for storing video clips, and you can integrate it with Alexa. You can also track your baby's sleep pattern with Nanit. However, the gadget is expensive, and its app also requires payment to access all its packages.
Eufy Baby, SpaceView Pro 720p Video Baby Monitor
Eufy is most reliable for its video quality. For instance, you can see the entire room by remotely tilting the camera. Furthermore, its two-way audio system helps to engage your child from anywhere in the house. Moms can even play lullabies for their children. It uses the FHSS transmission to ensure the live stream is only accessible to you.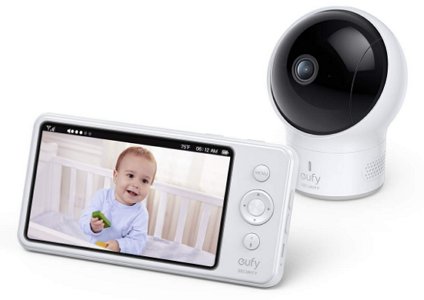 Miku Pro Contact-Free Breathing & Sleeping Tracking Monitor
Moms can choose a very compatible smartphone model by choosing Miku. It uses an app to get real-time details like room temperature and humidity as sound and motion sensor alerts. It has two-way audio. And there is a feature for selecting music feeds for your baby. In addition, you can get your baby's vitals, like sleeping stats, breathing, heart rate, etc.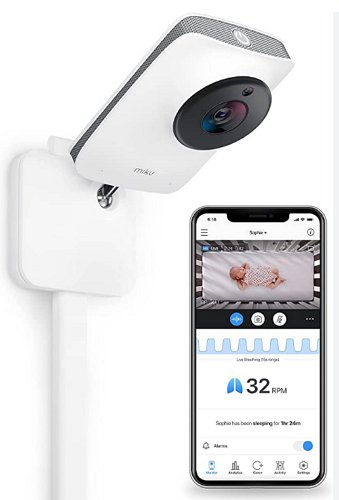 Moms adore this model because they can get their child's vitals without hand bands, socks, or other wearables. With securely stored videos, graphs, and summaries, you can get all the details you want from the app by downloading it. Moms appreciate it most because they do not have to pay any extra subscription fee for the gadget after purchase. And data is kept safe using an embedded tamper-resistant Crypto Chip.
Philips Avent Audio Baby Monitor Dect SCD502/10
This monitoring unit features a long operating time and a comforting night light. It uses DECT technology to ensure that its transmission is not interfered with by any other gadget. With its sound detection feature, you can know the sound level in your baby's room. The model has five LED lights to signal sound level even when the device is muted.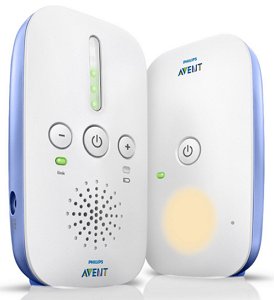 Part 3. How We Test the Best Baby Monitors
We arrived at this list using data from online stores and customers. It includes a long list of e-commerce stores like Amazon, Walmart, Nordstrom, etc. We also examined the recommendations of renowned editorial reviews from the New York Times and Tom's Guide. Importantly, we ensured we got opinions from mom on what has worked for them and what they would need more guidance on going forward. That lead us to create four criteria for selecting the best baby monitors.
Key Functions
We ensure that our pick covers all the possible monitor types available on the market for moms. Not only did we pick audio or video monitors, but essentially monitors in these two categories can cover a wide range of functionalities. This list is a useful resource for every mom because it provides all the baby monitor functions.
Safety and Privacy
moms are putting a lot of money on the line to ensure their kids are safe. It is only best for their child's safety that all our baby monitors allow them to keep their data personal. In addition, it goes a long way if they know there will be no third-party access or interference with whatever their child is doing.
Budget
Our picks cover all price ranges. The least expensive product on our list costs $39 on Amazon, aside shipping fee. And if you want to go for a full functionality option without necessarily paying extra, you can still spend in the range of $300. The maximum price is flexible because there are fewer expensive units, and you can choose the extra feature you want to include in the unit.
Durability
Any product that is not durable will likely be counterproductive for moms. We chose models that are proven to have withstood the heated condition of the kitchen, have a lasting battery so you are not disconnected from your baby at any time, and are easy to use.
Part 4. Use Your Old Phone as a Baby Monitor
If you do not want to spend extra money on a baby monitor, there is a solution for you. You can use your old phone as a camera and your present phone as a monitor. As a matter of fact, you can use any other gadget as a monitor. We are introducing to you AirDroid Parental Control.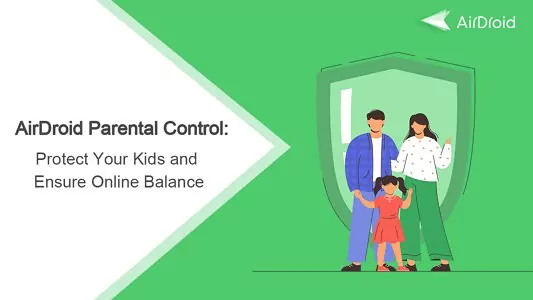 It is a monitoring app that gives you real-time updates. You can use your phone's back or selfie camera to constantly record what is going on in your baby's room. The app helps you sync the video to the dashboard in real time. This is a zero-cost alternative to the baby monitor options already mentioned earlier.
Conclusion
Babies need the most care. And no one can give that care as much as the mom. Hence, moms need to give their children the best care even while attending to their business, job, and other responsibilities at home. To avoid running to their toddler every time they hear a sound or keep peeping at a sleeping cutie, moms can sit comfortably and watch their baby using baby monitors.
Even if they are at work or out on a date and their child is with its caregiver, they can still watch their baby. In this article, we highlighted all the features that moms should look for when picking the best baby monitor. Not just that, we have also identified six of the choicest baby monitors on the market.
FAQ about Best Baby Monitor
Q 1. Do Pediatricians Recommend Baby Monitors?
Pediatricians recommend that home apnea monitors should be used at home. This monitor is designated for babies with breathing problems or who need oxygen. But because some baby monitors claim to perform cardiorespiratory functions, they counsel to abstain from using such.
Q 2. Is It Better to Have a Wi-Fi Baby Monitor?
Yes, it is better to have a Wi-Fi baby monitor if your connection is secured. Most Wi-Fi monitors have a wider coverage range. You can use them to monitor your child at work or out for a date night. Also, they allow the use of multiple monitors.
Q 3. Can a Baby Monitor Be Hacked?
Yes, a baby monitor can be hacked. Any piece of technological equipment can be hacked. Hence, it is best to go for technologically certified models to resist being hacked. You can ensure the transmission and the data on the device are not hackable.
Q 4. What Is the Safest Baby Monitor?
The safest baby monitor is the Nanit Pro Smart Baby Monitor. It uses two-factor authentication to encrypt audio and video feeds in transit. Hence, the channel is protected from interference, and the stored data are inaccessible to third parties.
Q 5. What Is the Best Baby Monitor for 2023?
Infant Optics DXR-8 Pro Video Baby Monitor is the best baby monitor for 2023. It is one of the highest-rated baby monitors online. It provides moms with a 5" LCD experience for only $200. Not being a Wi-Fi monitor makes it safe, and it uses a closed-loop system to remain hack-proof.
Q 6. What Is the Most Affordable Baby Monitor?
AirDroid Parental Control is the most affordable baby monitor because it would not cost you anything. You can use an old phone to set up a camera in your baby's room. And you can get a real-time update on what your child is doing.
Was This Page Helpful?