Decoding MDM's Role in Ensuring Cyber Security
1 Why MDM matters in cyber security?
Mobile devices and tablets play a key role in businesses' smooth and rapid growth. Because of commercial use, these devices are at high risk of cyber threats.
MDM is a specialized management toolset that helps IT admins to remotely monitor and control all corporate-owned devices and develop an efficient working environment.
MDM solutions provide a complete set of features that helps organizations to customize and implement security and management policies on all corporate devices to protect them.
1 Cyber Security Risks for Business
Cybersecurity risks vary in type. Here are some common cyber threats for businesses:
Malware and ransomware
Malware is software intentionally developed by cybercriminals to attack and access devices illegally.
These threats are unfavorable for businesses, leading to great financial loss and damaging the organization's reputation.
Ransomware is a category of malicious software that blocks the access of actual users to devices and demands money in exchange for restoration.
Insider threats
The potential security risks to an organization from its employees or partners are insider threats.
These threats are challenging to detect and pull down, as the person involved has easy access to the company's data and privacy.
The damages may include financial loss, a data breach, or reputational damage.
Phishing attacks
Phishing is used to manipulate human psychology and reveal the confidential information of individuals and businesses.
These are also called "social engineering attacks." The basic phishing element is a message sent to the end user.
It could be sent through email or any other social media platform.
Denial of service (DoS) attacks
DoS is one of the most devastating cyberattacks on businesses. It affects the device's normal functioning and prevents legitimate users from operating for a while, making it worthless.
DoS attacks also make websites and networks unavailable for users. It can directly lead to a loss of revenue, customers, and reputation.
2 The Role of MDM in Managing Corporate Devices
An MDM system acts as a shield that protects the business's devices from various malicious attacks.
Centralized management
Centralized management ensures enterprise device monitoring, control, and reporting from a centralized location. It also ensures easy scalability to manage the number of devices and provides greater control over enrolled devices to view the device usage and ensure compliance with the standards.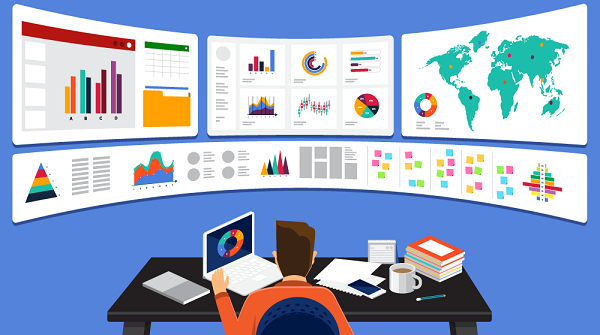 Benefits of MDM for cyber security
The role of MDM in cyber security is worth considering. Here are some attractive benefits:
Device Tracking
Regular device tracking helps the IT admins monitor, update, and troubleshoot the devices in real time. It helps reduce downtime and ensures the device is updated. MDM also enables enterprises to perform remote wipe and factory reset operations in case of theft or loss.
Security Policies
Businesses can set comprehensive security policies. It must include setting strong password policies, restricting USB file transfers, and restricting built-in device features.
App Management
Enterprises can create a private app store, including all business-related apps. You can customize the app store's design with companies' themes and icons and also get reports of app installation from the private store. You can also enable the forced installation of apps and updates on unattended devices.
3 AirDroid Business MDM Security Features
Comprehensive MDM Policy
AirDroid Business MDM helps enterprises manage devices remotely, restrict app and website access, create reports, and trigger auto functions for various alerts, like an auto-update of devices, to secure businesses.
Password management
You can set strong password policies to ensure only authorized users can access corporate-owned devices. Policies may contain screen lock passwords and password input limits.
App blocklist
It helps you block certain apps from being installed or used on Android corporate devices, keeping the device purpose-built and safe from malicious apps.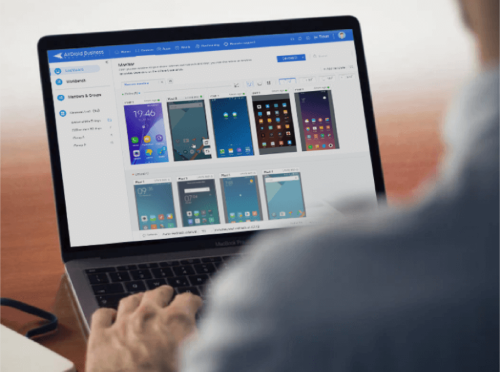 Device restrictions
It helps enterprises impose versatile limitations on device usage. You can set functionality limits for sound and video recording and screen capture.
Moreover, you can set safety limitations on corporate devices, including factory reset, safe mode, USB connection, and developer mode.
You can also impose app limitations and tethering restrictions like permission settings, uninstall an app, and disable Bluetooth, hotspot, USB, and other connectivity features.
Other MDM Features to Prevent Cyber Attacks
Here are some additional features of AirDroid Business MDM to save Android enterprise devices from cyber-attacks:
Remote monitoring and control
You can monitor the activities of corporate devices from the AirDroid Business Admin console and perform certain operations on unattended devices remotely to maintain workflow. The remote-control feature enables you to provide remote support to end users.
Geofencing
You can track the location of devices in real-time and create geofences for certain unsafe locations. You will be notified if the devices enter that area. It also helps you trigger workflows to lock down the devices on geo-fencing alerts.
Alerts and Workflows
You can create alerts to identify various metrics on your Android enterprise devices. Set alerts for data usage limits, battery level, charging status, device online and offline status, insufficient storage, external device connection alerts, and kiosk mode on or off alerts.
Workflows help you auto-execute pre-set operations when specific alerts are triggered. It includes device factory reset, device wipe and reboot, notification, switching to a config file, and group transfer.
4 Successful Use Cases of MDM for Cyber Security
Government Organizations
The government of any country has different organizations working to control cyber security risks and keep the data protected from misuse.
They are also legally authorized to maintain the citizens' confidential information database. MDM solutions will ensure that government organizations follow even stricter data security rules and legislation by securing devices in the field.
Storage and logistics
Mobile devices, wearables, barcode scanners, mobile printers, and tablets are primary devices in the storage and logistics industry.
These devices are used for communication, packaging, printing, dispatching, and keeping records. MDM solutions are necessary to manage the whole system smoothly. Remote troubleshooting by IT admins will lead to reducing downtime.
Additionally, the MDM solution will safeguard the device data and restrict unauthorized access by implementing strong password policies.
Education
Education is a basic need and necessity of every society. With technological advancement, educating students with the latest devices is compulsory to learn things clearly.
But it is unsafe in educational institutes to provide electronic devices to students as they are innocent and can engage in evil deeds.
MDM solutions can help organizations maintain a balance between use. It will restrict access to unnecessary apps and websites to keep focused on learning. Reporting device usage will also help the administrators to track normal usage.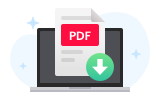 Mobile Devices Management for Android Devices
AirDroid Business provides an all-in-one MDM and remote control solution that helps your IT teams remotely provision, monitor,control, and secure unattended or attended Android devices. This datasheet gives you an overview of the benefits, core features, and pricing plans to fast track your research.
Free Download
5 MDM for BYOD Cyber Security
BYOD means to bring your own devices. It is a type of organizational management in which enterprises cannot provide devices to employees. So, they allow them to use their own devices for official purposes. Although it creates a path of security risks for enterprises, many costs are minimized.
The Challenges of BYOD Face:
Compatibility issues
In BYOD, employees bring their own devices that are not limited to a specific OS. Thus, compatibility issues arise, and many software or apps cannot run on devices. For example, iOS has strict policies and does not allow file sharing on Android devices. Moreover, iOS apps do not run on Android devices.
Productivity
With BYOD, productivity also gets affected, as employees use the devices during office time for personal use and need help focusing on work properly.
Privacy and Data security
The main concern about BYOD is data security. Confidential data is shared on employees' personal devices, and thus the risk of data breach and loss is increased.
MDM Measures for BYOD Security
Sandboxing
Sandboxing helps organizations create a separate space in the devices to differentiate between personal and official data. MDM enables businesses to create a sandbox in the employee's devices and save all office data, making it secure from malicious content and websites.
Protected Network Access
MDM provides secure network access policies to safeguard the company's personal data. It includes a secure Wi-Fi connection or a VPN.
Data Encryption and privacy controls
Data encryption by MDM is another effective way to secure data on employees' devices. Using privacy controls, MDM enables the employees to customize the privacy settings for their data and keeps it private from official files.
6 FAQs
What is MDM in cyber security?
MDM is a security software for the corporate sector that enables IT admins to control access to the data on corporate-owned devices and avoid unauthorized access. It helps users to implement security policies that monitor and control the data and also secure the information.
Why is cyber security important for business?
The continuity of businesses is directly concerned with their security. Almost all businesses use digital modes of communication and file transfer methods. Hence, cyber-attacks on business websites and devices pose a great risk. So, following up the cyber security measures for business growth is mandatory.
What is the difference between cyber security and enterprise security?
Cybersecurity is a wider concept that includes the overall security of computers and networks, while enterprise security specifically relates to the security organization's digital assets.
Further Consideration
Undoubtedly, MDM is the real solution for enterprises to ensure cyber security. They help in setting various device limitations and pre-set workflows. It also helps track official devices and perform remote actions for team support. Enterprises can secure large data files and manage access to various apps using the MDM tool.
AirDroid Business is an incredible MDM software that is very easy to set up, and a single dashboard is sufficient to maintain a large enterprise with more comfort. If you want to ensure the safety of your sensitive data, then don't waste a single moment and take action today to implement MDM and prevent cyber-attacks.
Was This Page Helpful?