[2023] How to Manage Airport Digital Signage?
Ever since the invention of digital signage, airports have become the hotspots for its application. Starting from showing flight information and navigation maps to safety alerts and advertisement, airport digital signage solution has become an integral part of airports across the world. There are many such use cases and numerous benefits of digital signage for airports.
Along with benefits, there could be certain challenges associated with airport digital signage. When you have digital signage placed in airports, you will need digital signage management software to manage the digital content. We will discuss in detail everything you need to know about airport digital signage solutions.
Part 1. What is Airport Digital Signage?
Let us begin by defining airport digital signage so that you can understand the technology. Thereafter, we will explain the different components of digital signage for airport so that you can understand how it works.
1What is Airport Digital Signage?
Airport digital signage refers to the digital display that broadcasts information to travelers and workers. Basically, airport digital signage refers to the use of screens to convey information, messages, and advertisements across the airport area.
The content on the digital signage is regulated by the concerned team through digital signage software. The software can automate content, make the screens interactive, and manage the apps in the digital signage system.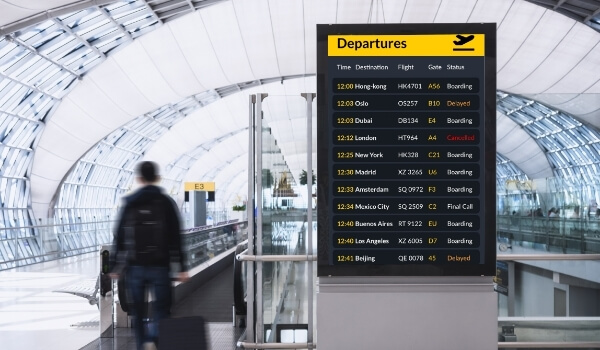 2Components of Airport Digital Signage
There are basically two components of airport digital signage system like any other digital system.
Digital Signage Hardware
The digital signage hardware refers to the display units where the information is shown. The display unit can be tablets, monitors, smart TVs as well as professional TVs. The display units can be of different sizes and shapes as per requirements and placement.
The display units need to have an operating system, apps, and storage space to be qualified as digital signage devices. If a non-smart display unit is used, a media player device is necessity to convert it into a smart and connected device so that you can use it for digital signage.
Digital Signage Software
Digital signage software is basically a complete management application from where you can control the content displayed on all the display units. You can group the connected display units and allot different content for different groups. You can manage everything from the dashboard.
Besides, the software allows you to remote control any device to troubleshoot any issue remotely. You can schedule app updates and maintenance during the off hours. Moreover, you can keep an eye on the device status so that they are never down and out.
Digital signage API is equally important to integrate cross-communication tools for real-time updates of timetables. Along with that, digital signage security is essential because airport digital signage is highly vulnerable to hacking attacks.
Part 2. Use Cases of Airport Digital Signage
You will find digital signage in all areas in an airport. This is because there are various use cases of digital signage for airports. We will discuss them one by one for better understanding.
Live Flight Schedule Info
The most common use case of airport digital signage is to broadcast flight schedule information in real-time. This means the digital display will show arrival, departure, and gate number information.
Besides, origin and destination information, flight status and delays are displayed. They can be updated and managed remotely through digital signage software. Moreover, multilingual presentation is also possible in digital signage these days.
Advertisement
The advertisement brings huge revenue for airports. These days, static advertisement banners are getting replaced by digital signage. This is because digital advertisement in audio-visual form is more eye-catching.
Digital signage shows advertisements for various brands, and the retail stores inside the airports use digital signage to grab attention.
Navigation for Wayfinding
Since an airport covers a large area with several entrances and exits, it is quite overwhelming for travellers to find their way to take their flights. That is where digital signage can help in navigation to find the way.
Starting from terminals and cafeteria to baggage collection points and transportation options, everything is illustrated through the display unit. In fact, the wayfinding can be interactive with touchscreen option.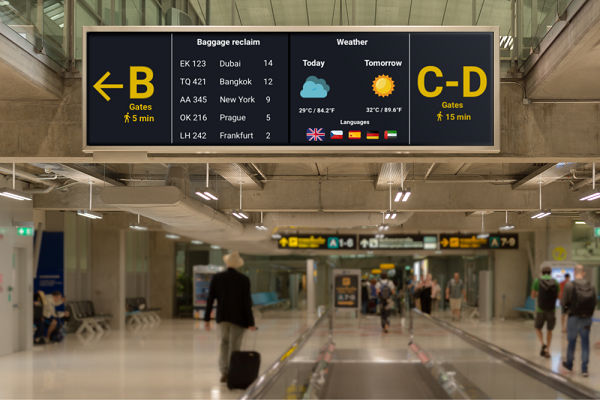 Safety Alerts for Travelers
Airport authorities give utmost important to the safety of the travellers. That is why they arrange dedicated digital signage to showcase the safety measures in the flights. They are equally important to put out alerts for the travellers to avoid panicky situations in crowded places.
Emergency Messages
Airport digital signage solutions can be useful for internal communication and emergency messages. It is equally useful for the management to communicate with the travelers as well as the workers. It could be an important announcement regarding duties, late flights, security threats, navigating the crowd, and likewise.
Local Info
Digital display units can show local information such as local news, weather information, and local events. Besides, showing different attractive in cafeterias as well as different events in lounges can come in handy.
Moreover, displaying interesting information about different trips and tours can keep travelers engaged during the waiting period.
Part 3. Benefits of Using Digital Signage for Airport
The reason why airports are embracing digital signage solution is that there are loads of benefits that digital signage has to offer. Here are the main benefits of using digital signage for airports.
Improve Traveler's Experience
First of all, showing fight schedule information in real-time is absolutely necessary for airports. Keeping that aside, showing the navigation map and making it interactive enhances traveler's experience especially the relatively new travelers.
Travelers can clearly understand the terminals, counters, and intricate landscape of the airports and go to the points that they need to catch the flight.
Quick Info Sharing
Digital signage for airports is the best way to share quick information with passengers as well as workers. Starting from navigation information and details of common signs used in airports to showing digital menus and informing about flight delays, information can be quickly broadcasted in the digital signage. Passengers do not have to ask officials as required information will be readily available on the nearby digital signage screens.
Advertising Potential
Digital signage is a big source of revenue for airports because the airport monitor can show paid advertisements and promotions. Brands pay huge money to put up their advertisements in crowded spots of airports. Besides, digital signage can show advertisements based on time slots to generate revenue from multiple sources.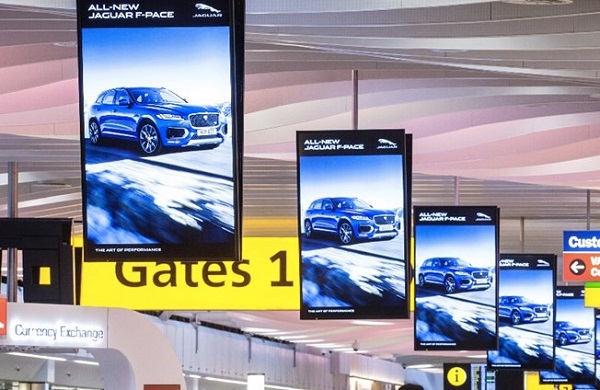 Internal Communication
Digital signage is the fastest way to communicate internally instantly. The airport authorities can notify the managers, counter staff, and workers of anything important that needs immediate attention. Internal communication is essential to run airports smoothly and enhance the productivity of the employees.
Besides, communicating about security threats and instructing employees to help out any passenger are prime examples of how digital signage is important for internal communication.
Entertainment and Information Relay
People spend several hours waiting for their flights at the airports. Digital signage is the only source of entertainment for them. Airport authorities can play movies and web series in waiting areas. Cartoons are played to keep the kids entertained.
Besides, sports matches are also broadcasted to keep people engaged. Apart from entertainment, relevant information such as weather reports, local news, and other infotainment help passengers fly through the waiting period smoothly.
Part 4. Will Airport Digital Signage Encounter Challenges?
Every new technology comes with some challenges, and airport digital signage solution is no exception. But the challenges of digital signage for airports can be overcome easily. Here are certain common challenges of airport digital signage.
1Software Updates
You need to update the software and operating system of the digital signage devices from time to time. This is because if the software is outdated, the device can malfunction and stop working completely. That is why you have to pay attention and regularly update and maintain the software for smooth functioning.
2Hardware Malfunctions
Digital signage devices are electronic devices, and they can malfunction anytime. Due to malfunctioning, they can break down and not show information in real time. This can be fatal for airports, especially when the hardware showing real-time flight schedules start to malfunction.
That is why there should be alternative hardware available for immediate switching without disrupting the information broadcast.
3File Format Incompatibilities
Even though it is less likely to occur, file format incompatibility with the software and hardware could be an issue. You may not be able to play the advertisement or show important information with the files containing them that are not compatible with digital signage system. Therefore, it is always advisable to cross-check file compatibility before using them on digital signage devices.
Part 5. Best Management Solution for Airport Digital Signage - AirDroid Business
Once you have airport digital signage solutions up and running, you have to ensure proper management of the systems for smooth functioning. We recommend AirDroid Business as the best management solution for Android digital signage for airports.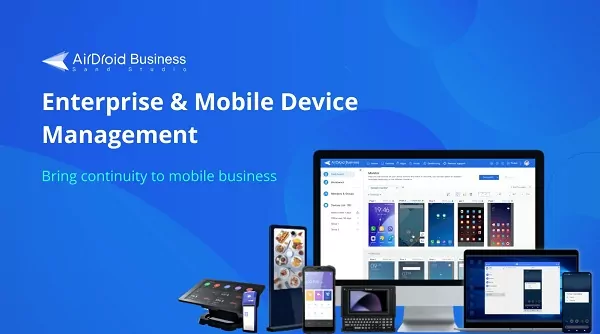 1. What is AirDroid Business?
AirDroid Business is a complete Android-based airport digital signage management solution. You can manage connected digital signage devices from anywhere and anytime. Therefore, you do not have to physically access the devices for digital signage at airports.
You can manage all the screens from a centralized dashboard. You can configure the accessibility of the devices for better security. You can turn Android devices into digital signage and streamline app updates during off hours.
Moreover, you can manage multimedia files in bulk and fix file format incompatibility to a great extent. In short, you can overcome certain challenges of digital signage for airports quite comfortably with AirDroid Business.
2. How AirDroid Business Help for Airport Digital Signage?
Here are the main features of AirDroid Business that are highly useful for digital signage for airports.
1Remote Control & Troubleshoot
You can remotely control the required Android digital signage device and troubleshoot any technical issue instantly. Therefore, you do not need the support team to travel and physically access the required devices to fix the issue. This saves cost as well as gets the issue solved immediately. This will reduce the downtime of the device and prevent bad user experience.
2Device Management & Security
You can continuously monitor the connected digital signage devices and airport monitors. You can monitor the performance of the devices starting from the connecting status to location and other useful parameters.
You can configure the access permission of the connected devices to ensure proper security for the devices. Besides, you can configure customized alerts to know instantly whenever the devices malfunction.
3Kiosk Mode
You can convert any Android device into a digital signage device through AirDroid Business. You can lock your device in a place and showcase advertisements like a digital billboard. Kiosk mode allows you to lock your devices and block unauthorized network access.
Besides, you can limit access to apps and settings on the target device and ensure safe browsing by whitelisting certain websites only. Moreover, you can create different groups for devices and different kiosk profiles for easy remote management.
4App Management
AirDroid Business allows you to upload multimedia files on media devices. You can schedule and plan app updates in stages so that the system does not start to malfunction and stays down during active hours. Besides, you can deploy apps remotely. In fact, you can create a custom app library and install apps on unattended devices.
Conclusion
We have explained everything about airport digital signage solutions. Digital signage for airports is a booming business as airports are steadily shifting to digital signage for better traction and modernization.
There is a huge demand for a better management solution for airport digital signage. We recommend AirDroid Business as the best management solution to take care of different aspects of digital signage for airports remotely.
FAQs
Is digital signage a good business?
Yes, digital signage is a good business because brands are shifting from physical signage to digital signage. Digital signage is more noticeable and creative, and hence, it is getting more traction from the targeted audience. Therefore, there is a huge demand for digital signage services along with support and maintenance services.
How is digital signage used aggressively after a pandemic?
After the pandemic, there has been an exceptional rise in digitization across the world. Since digital signage is portable, you can place it anywhere and check if it is working for you. If it is not working, you can place it somewhere else and get the required traction. Besides, interactive digital signage enhances customer experience as they get the required information and perform operations all by themselves.
Does digital signage help attract more customers?
Yes, digital signage helps attract more customers than physical signage. This is because digital signage is more eye-catching, engaging, and dynamic. The potential customers are likely to notice the digital signage and get interested in the product and service. There is a huge scope of creativity and interactivity in digital signage, and hence, it attracts more customers for brands and businesses.
Was This Page Helpful?