[Remotely] Lock Android Devices into Single App Kiosk Mode
How to Make Android Device Run Only One App?
In office environments, there have been instances of employees misusing mobile access to social media apps, resulting in a decrease in overall productivity for the company. Moreover, multiple devices are often needed in public spaces to achieve a single objective.
The Android single-app mode is an effective way to lock Android devices into running only a specific application.
We will introduce two methods to enable you to make Android devices run only one app: AirDroid Business MDM solution & App Pinning feature.
1 Single App Mode: Set Up Android Devices that Cater to Employee & Customer Specific Needs
There are different scenarios where we need to set up Android single application mode to boost productivity and reduce risks.
For Employee:
Logistics and Transportation
In the logistics and transportation industry, goods are transported on heavy trucks. Driving is risky, and a single-second mistake can lead to a great loss. To keep the drivers focused on their driving, their devices are set up on a single-app Kiosk mode to avoid distractions from notifications on their devices and other apps usage.
Healthcare
In the healthcare industry, several devices are utilized as single-app Kiosks to manage the system. Employees have single-app mode devices to book appointments for the patients and fetch the details of the doctors available etc. Various other single-app Kiosk mode devices, like patient healthcare monitors, are used in the healthcare industry. The nurses use multiple health check-up devices that are limited to a single-App usage to keep them focused on the patients and avoid extra usage.
Field Service Management
Providing field service management to a large geographic area is a complicated job as many contractors and employees are involved. Single-app Kiosk mode is the best way to restrict the devices of employees and contractors to a specific app to get them updated with the work schedule. The devices become purpose-built and hence keep distractions away.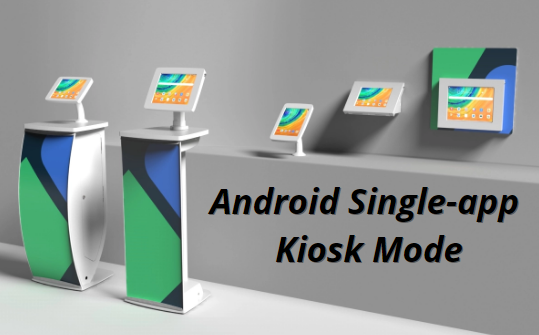 For Customer:
Single-app Kiosk mode not only eases the working of organizations but also provides huge customer benefits.
Retail
Several single-app kiosk mode devices are placed in retail shops and stores to perform various operations. With Single-app Kiosks, customers are limited to only payments or purchasing pages for secure transactions. They can also manage the returns separately within no time using the single-app Kiosks.
Digital Signage Kiosk
One of the best usage of single-app Kiosk mode is the digital signage Kiosk. Digital signage Kiosks are specially designed for advertisement purposes and are only used to display images or videos of brands to attract customers. The devices are set up with single-app Kiosk mode.
Education
In the education sector, the Kiosk mode is particularly important for youngsters. Devices with single-app Kiosks are provided to the students to keep them away from various distractions and let them focus on their goals with the help of that single-app that is helpful for them. It saves them from a large number of useless and dangerous apps.
2 Lock Android Devices into Single App Kiosk Mode
Method 1. AirDroid Business
AirDroid Business MDM is the best solution to securely lock Android devices into a single-app Kiosk mode. The application provides a well-mannered system for IT companies and enables them to remotely perform several tasks on the Kiosk devices.
How to Lock Android Devices to Single App Kiosk Mode?
Setting up single-App Kiosk mode on required devices using AirDroid Business is quite simple. Managers can set up Kiosk mode on the selected devices remotely with AirDroid Business using these steps:
Step 1.

Open Admin Console

Open AirDroid Business Admin Console and log in with the AirDroid account.
Step 2.

Config File

Open the Config file and choose a name for your Kiosk profile.
Step 3.

App Allowlist

Select the 'App Allowlist' tab and choose one app that you want to use in Kiosk mode.
Step 4.

Android Single App Mode

Navigate to Kiosk Launcher and then click on Single Aapp Mode. After saving the profile, click Add and select the device group to apply your Kiosk profile. Now, the group of devices you configure is turned into a fully single app kiosk.
How to Disable or Remove Single App Kiosk Mode?
Disabling single app kiosk mode Android is an easy process using the passcode. But don't consider it inappropriate for security concerns because only the manager or admin has the passcode, so only the admin can exit the devices from single-app Kiosk mode. The steps are detailed below:
On Kiosk mode with AirDroid Business device, click the three-dot icon and select the 'About tab'.

Click on Exit Kiosk at the end of the screen and then add the passcode provided by the admin. After entering the passcode, the device will be free from single-app Kiosk mode.
AirDroid Business MDM Kiosk Mode
App Allowlist & Kiosk Browser: The user can select specific apps that must run on the target Kiosks. The IT admins can manage the "website allowlist" and "browser settings" to make the systems fully functional. The Kiosk browser also provides an incognito mode for safe browsing in offices.
Customize Device Limitation: Helping IT admins to remotely control and monitor the Kiosk devices. It provides flexible and customizable features. Such as functionality limits (sound/video recording/screenshoot,Wi-Fi/hotspot,etc), safety (factory reset, developer mode, safe made), and compliance management.
Kiosk Launcher: Customize the interface and layout of the device, as well as whether to allow access to the notification bar.
Why AirDroid Business MDM for Kiosks?
Guarantee Data Security
AirDroid business MDM is a verified tool serving for a long time. It guarantees data security that every IT industry demands as a priority. No one compromises the data security, so using a verified application that provides safer Kiosk services is better.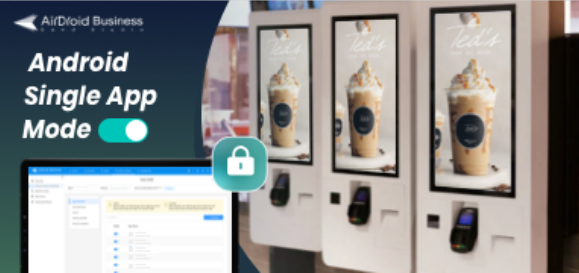 Boosts the Productivity of Employees
AirDroid Business MDM helps IT admins manage and control employees' device usage during working hours to increase the productivity of work and avoiding the misuse of devices. With this solution, devices are remotely accessed to resolve the technical issues within no time.
Hence, working process does not disturbs. File management and secure sharing of bulk files using AirDroid makes the working smooth. Geofencing and location tracking also helps a lot in boosting up the productivity of business.
It Saves the Business from the Extra Effort
It provides many security check features for the employees' devices as well as other public Kiosks and helps manage the tasks on selected devices remotely through technical support. It also helps track the location of devices and get alerts for various issues. All these features help a lot in reducing the efforts for boosting up the business.
Method 2. App Pinning
Open the Settings on your Android device.

Navigate to the "Security" or "Password & security" section.

Look for the "Screen pinning" or "App pinning" option and tap on it. Toggle the switch to enable the App Pinning feature.

Open the app you want to pin to the screen. Swipe up from the bottom of the screen to access the Overview screen (recent apps). Locate the app you want to pin and swipe up on its card to pin it. A pin icon or message will appear, and the app will be locked to the screen.
Note : The exact steps may vary slightly depending on your Android device's manufacturer and software version.
3 Extra Tips about Single App Mode
How to Turn on Single App Mode on iPad?
Apple Configurator is a Mac OS app that enables users to manage and customize iOS devices for ease of the company. Using Apple Configurator, it is easy to put an iPad into single-app Kiosk mode.
In Apple Configurator app, select the devices that need to run the single-app Kiosk mode.

Then choose Actions > Advanced tab.

Click on Start Single-app mode.

Now, select the app that will run in Kiosk mode, view other available features for better management, and click Apply.
Kiosk Mode for Windows 10/11
Single-app Kiosk mode is also applicable on Windows O.S. To enable this featue, you need to use Microsoft Intune. Microsoft Intune is an end-point management software that provides user access and serves with device management across various mobile and desktop devices.
To enable single-app Kiosk mode in Windows 10 and 11, create a profile by signing in to the Windows Endpoint Manager Admin center and creating a profile to perform configuration settings.

Then select 'Single-app Mode' to run Kiosk.

Perform all the configuration settings, including choosing the browser and application tab to select the App for Kiosk mode.
How to Configure Chromebook Kiosk Mode?
There are various ways to configure single-app Kiosk mode on Chromebook but using a Kiosk app on Chromebook is a straightforward way. To configure Chromebook Kiosk mode, you need a Chromebook, Chromebase, or a Chromebox 2017 or later.
First, download a Kiosk App from the Chrome Web Store and open the Chrome browser.

Click on the three-dot symbol at the extreme-right corner of the browser. Click on More Tools and then tap the Extensions option.

Turn on the developer mode by sliding the bar at the top-right side of the screen and selecting the option 'Manage Kiosk Applications.

Now, add the Kiosk App I.D. in the 'Add Kiosk Application' box and press 'Add.' Then press 'Done'.

Open the Kiosk app and tap on the launcher to select the Kiosk mode and start it.
4 Android Kiosk Browser - The Secure Lockdown Solution
Kiosk browser is one of the most secure ways to surf the internet. It restricts Internet browsing to certain web pages or disables access to certain websites.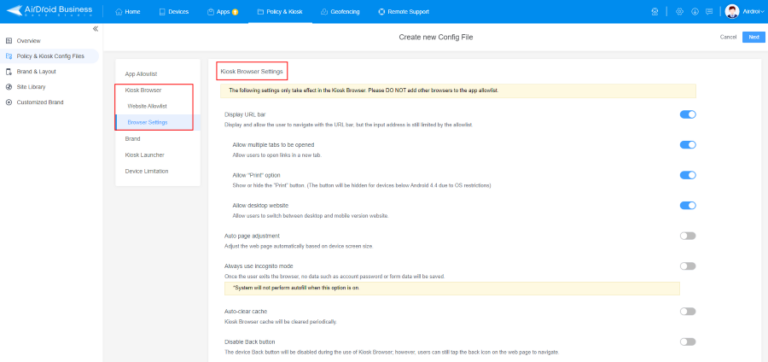 With the Kiosk browser feature, you can set up Website allowlist, and other kiosk browser settings below: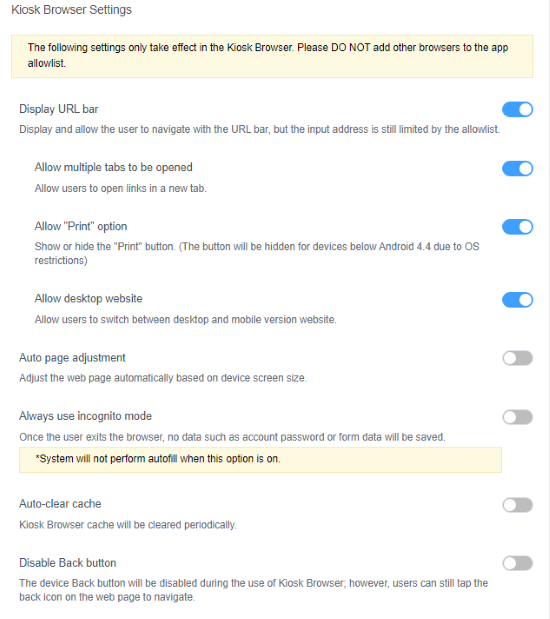 Users are able to pin a specific website in Kiosk using the AirDroid solution. It makes the device to browse only that specific website and does not allow access to any other website. This feature is mostly used in education and healthcare industry. Many other industries also use this feature to limit the access to internet using this wonderful tool.
5 Advanced Settings for Businesses Under Single App Kiosk Mode
After set up single app kiosk mode, if you want to configure your company devices to meet the following conditions:
When the device boots it must automatically load your preset application.
There must be no way to exit the application unless you enter the safe password which will allow you access to the device.
AirDroid Business is your best choice. Once devices are locked into kiosk mode by AirDroid Business, they cannot be exited unless the user enters the preset safe passwords set by the admin.
Additionally, you have the option to select the app to "run consistently". Enabling this feature ensures that the kiosk mode can only be exited from the Admin Console. You can also create an alert to detect if the target app is running in the foreground and implement a workflow to automatically restart the app if it is turned off.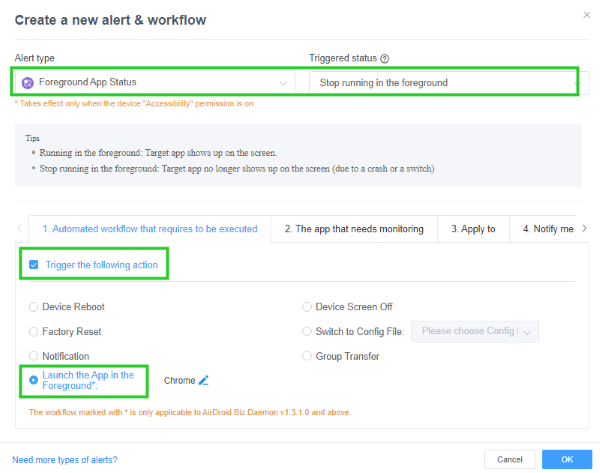 6 Closing
In this post, we have solved how to make Android devices run only one app. The notion of Kiosk mode for a single application is also crystal obvious. In addition, we addressed the uses of single-app Kiosk mode in various businesses and contexts. AirDroid Business MDM solution is the finest management tool for activating Kiosk mode on Android devices. We also provide a single app Kiosk mode setting methods for Windows, Chromebook and iPad. If you want to know more about Kiosk mode or AirDroid Business in general, get in touch with us or start a free trial.
INFOGRAPHIC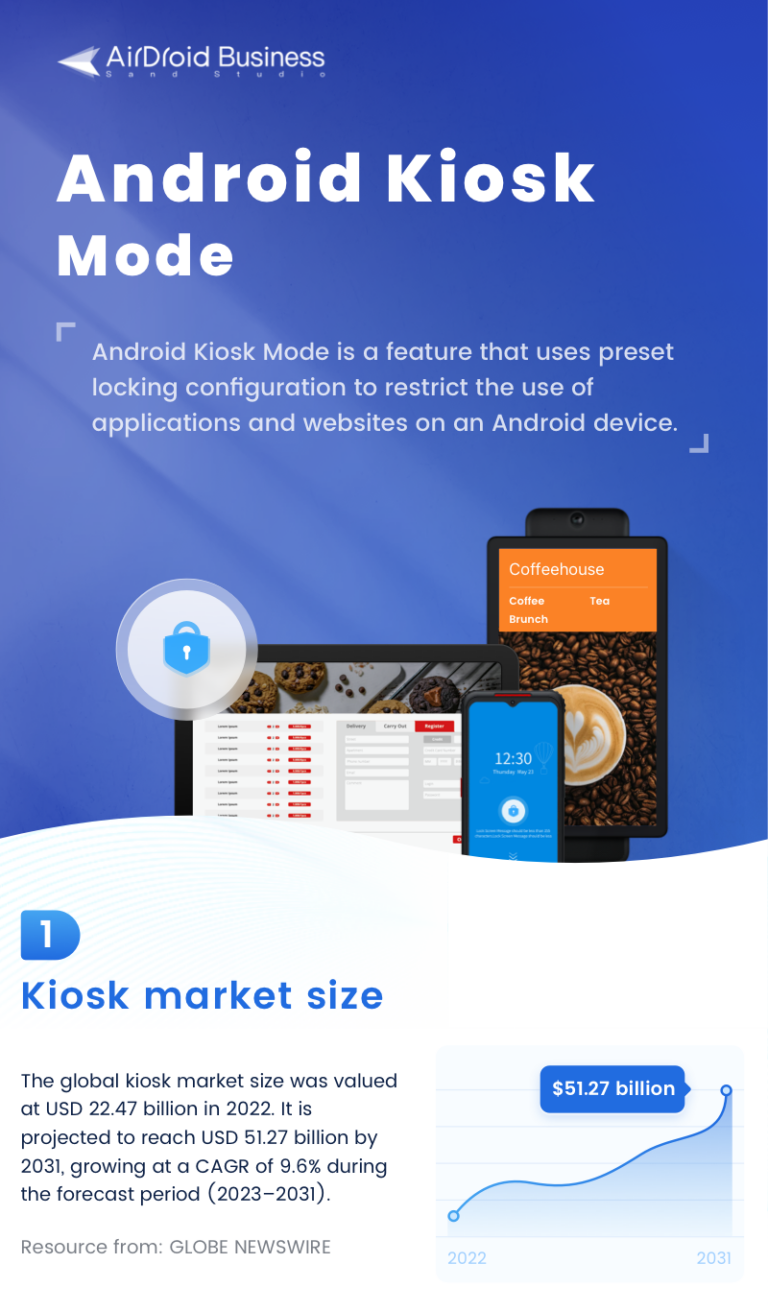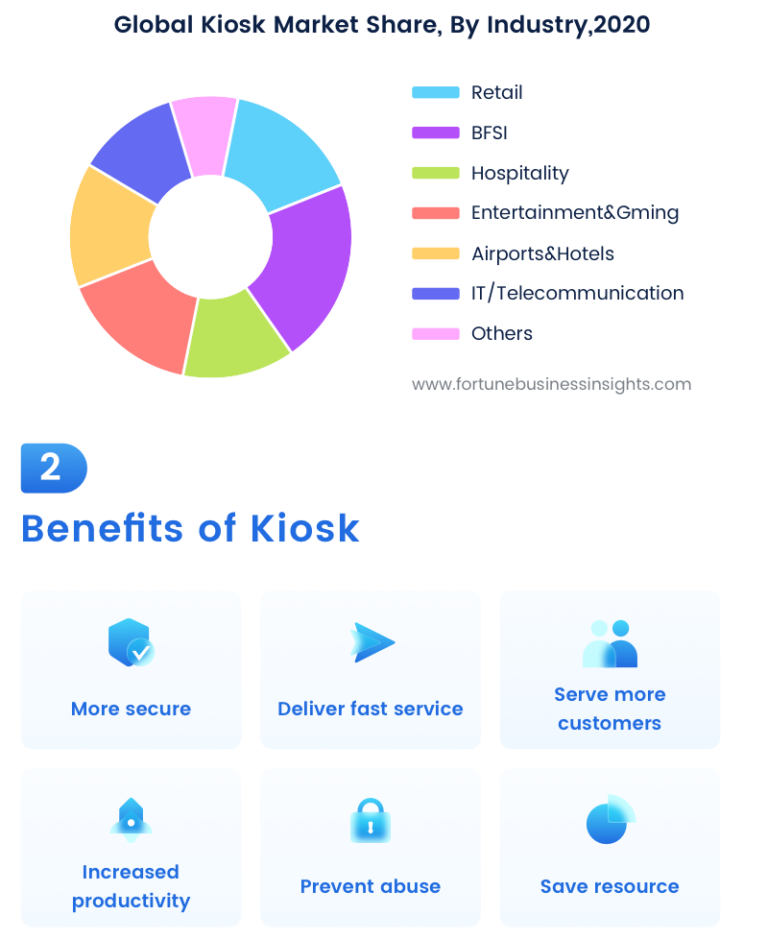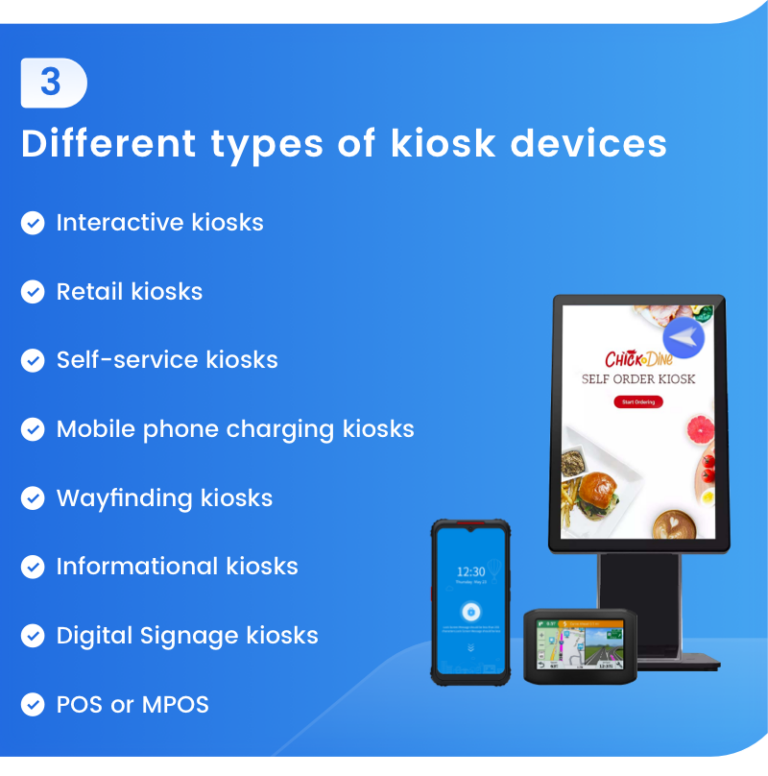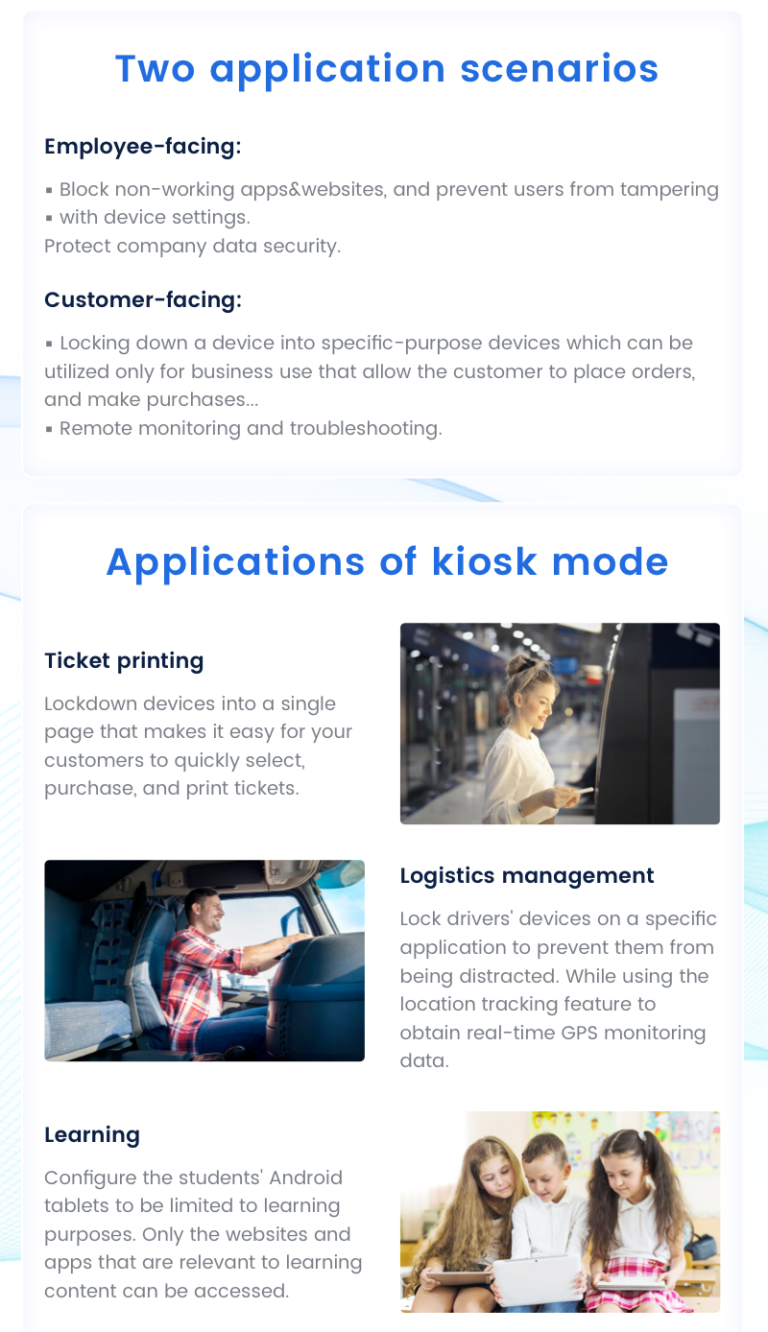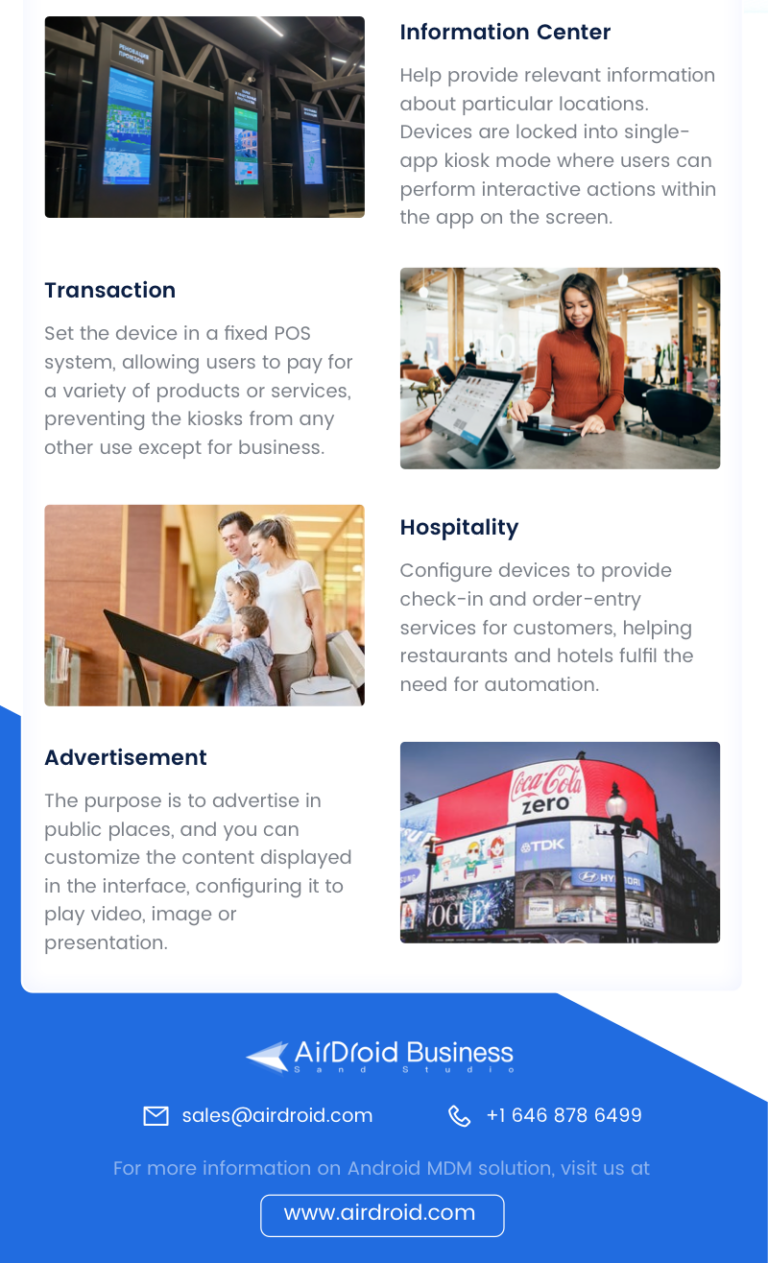 FAQs
Can I Receive Notifications When My Devices are in Kiosk Mode?
No, you will not receive any notification from the device when it is in Kiosk mode. Kiosk mode allows only a single or multiple Apps to operate on the device it is running and restricts all other Apps. Kiosk mode makes the device purpose-oriented; hence no notification is received on the device having Kiosk.
What Are the Pre-requisites for Enabling Android Kiosk Mode?
There are various things to be kept in mind as pre-requisites to enabling Kiosk mode on Android devices: Samsung devices must be running OS 4.0 Version or above. Other Android devices must be running Version or above, and the device must be enrolled as Device Owner.
What is Autonomous Single App Mode?
Autonomous single-app mode is a temporary Kiosk mode that locks an app on a device when logged in, and the Kiosk mode is removed when logged out. Such a mode is preferably used in exams when there is a need to restrict all other apps during the test, and Kiosk mode is removed after the test.
Is it Possible to Use A USB Drive on A Kiosk?
Usually, Kiosk mode disables all the features of a device on which it is enabled. Hence, a USB drive is unable to use on the Kiosk device unless the admin allows access to it in particular situations.
How Does Android Single Application Mode Work?
The Android single app mode aims to limit an Android device to running only one designated application, thereby preventing users from accessing other apps, websites, or device features. This feature is frequently utilized in public spaces like retail stores, banks, and restaurants.
Was This Page Helpful?