iTunes Cannot Read The Contents of The iPhone: Working Solution
iTunes is a popular app by Apple for the Apple ecosystem. This app acts as a media player and file manager. If you want to transfer files from your iPhone to your PC or vice versa, iTunes is your best bet.
But sometimes iTunes cannot read the contents of the iPhone. It may be due to technical issues, bugs, glitches, etc. If you are facing this issue, you're in the right place. Here in this article, we will explore some possible solutions to this iTunes file transfer issue. So, be sure to keep reading till the end.
Part 1: Reasons Why iTunes Can't Read The Contents of The iPhone
iTunes is a powerful tool that works as a media player and a file transfer manager. But there are times when iTunes cannot read the contents of your iPhone. Apple has yet to announce the exact causes and solutions to this issue. Like any other software bug, resetting your device, upgrading the software, etc., often solves the issue.
Experts suggest that if iTunes cannot read or extract items from your device, it is likely due to a bug within the software, corrupted files on your device, or an issue with your iTunes. Trying to troubleshoot the problem and find a solution before erasing all of your data is essential.
Part 2: How to Fix iTunes Can't Read iPhone Contents?
There may be times when iTunes cannot read the contents of the iPhone 12, iPhone 11, or any other models. Here are the fixes you can use when iTunes cannot read the contents of the iPhone windows 10:
1Update iTunes
We have discussed above that there has yet to be any specific issue identified by Apple regarding iTunes cannot read the contents of the iPhone. However, the problem persists because of some bug or glitch in the app.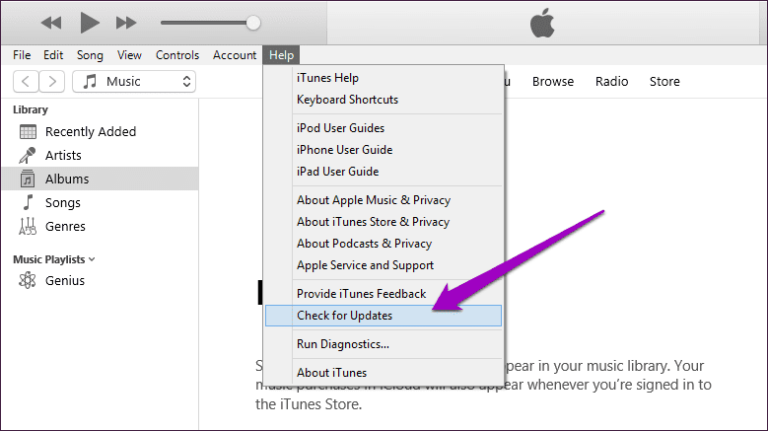 The first and foremost thing you can do to fix that is update iTunes. Most of the time, upgrading to the latest version resolves most issues. You can download it from the Microsoft store and the Apple website. To update iTunes, follow the steps below:
Microsoft store
Step 1: Open the Microsoft store app from the taskbar.
Step 2: Search iTunes.
Step 3: Click update (if there is any).
Apple website
Step 1: Launch iTunes.
Step 2: Go to help>search for updates.
Step 3: Follow the onscreen instructions.
2Remove and reinstall iTunes
If updating iTunes doesn't work, removing iTunes and installing a fresh copy is the next best thing to try. Sometimes the app's data might cause the issue, so when you uninstall it, you remove all its data. When you install a fresh copy, you get the latest files free from any error or glitch within the code. So, removing and reinstalling might solve the problem. Here is how to do it:
Step 1: Go to the start menu>settings.
Step 2: Select apps.
Step 3: Look for iTunes in the app list. The apps are alphabetically ordered, so they should be easy to find.
Step 4: Click uninstall next to the app.
Step 5: Then reinstall iTunes from the Microsoft store or apple website.
3Factory reset your iPhone
The last thing you can try to fix the iTunes not working issue is resetting your iPhone. A factory reset erases all the information and data from your iPhone and installs the latest version of iOS. So it will likely fix the iTunes issue. Let's take a look: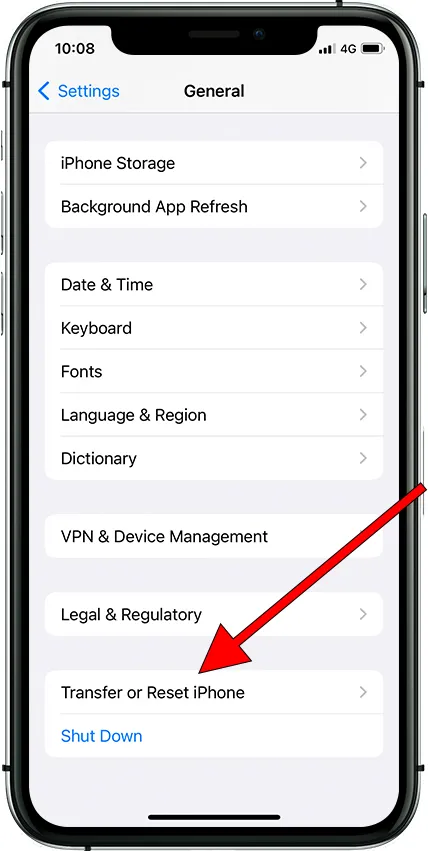 Step 1: Go to Settings > General > Transfer or Reset [Device].
Step 2: You may need to enter your passcode or Apple ID password.
Step 3: Depending on the model of your iPhone, it might take a few minutes to reset.
4Quick Access Your iPhone Files bypass iTunes
iTunes offers seamless file transfer between your iPhone and PC. If iTunes can't read your iPhone's content, you won't be able to transfer files. The solutions we discussed above should do the trick. If none of them works, don't fret. There is countless third-party software available for file transfer purposes.
In that case, you can use AirDroid Personal. AirDroid Personal is a tool tailored to smooth mobile and computer file transfer. It's available for iOS and Android, so there is no need to worry even if you use an iPhone. And it has many features to make your file transfers as seamless as possible.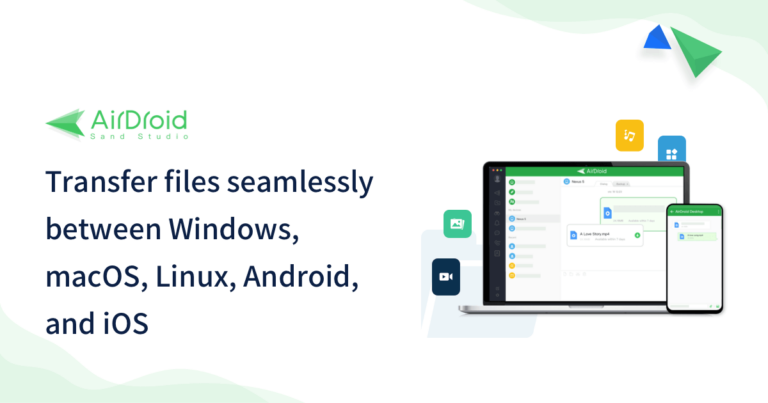 What's more, AirDroid also provides web-based solutions for people to access iPhone files from a PC with ease. People can visit AirDroid web from any web browser, which allows users to view and access iPhone photos and videos online without iTunes.
Part 3: Why AirDroid is Considered the Best Solution
Cross-platform File Transfer
AirDroid Personal supports file transfers across platforms and devices. No matter which platform you use, i.e., Android, iOS, mac, or Linux, you can use AirDroid to transfer files from one platform to another. Its performance remains consistent regardless of the platform.
Supports All Network Types
AirDroid Personal supports all networks, including Wi-Fi, 4G, 5G, and more. This ensures that you can transfer files wherever you are, no matter which network type you use. Whether you are under the same network or halfway across the world, it doesn't matter. AirDroid Personal lets you transfer files between devices seamlessly.
However, you will need to upgrade to premium if the two devices are not under the same network, as the remote data quota for a free account is only 200 megabytes.
Blazing Fast Speed
When it comes to transferring files, speed is a big issue. No one would want to wait hours after hours to transfer a few gigabytes of files. AirDroid Personal does not have that problem. You can get breakneck transfer speeds with AirDroid Personal. No matter how large the file size is, it can quickly and securely transfer over Wi-Fi or mobile network connections.
Original Photo and Video Quality
AirDroid Personal does not deteriorate picture and video quality during transfer. You will get photos and videos in their original quality. It automatically adjusts the resolution of your files to ensure that they look just as good after transferring.
Pros
Fast file transfer
Compatible with all types of network
Supports various network
User-friendly interface
Cons
The free version has only 200 megabytes of remote data quota
You need to purchase a premium for unlimited remote data
Folder transfer requires a premium
Transferring Files Between iPhone and PC Using AirDroid
Step 1: Download and install AirDroid Personal on both iPhone and PC.
Step 2: Open AirDroid on your iPhone.
Step 3: Select your iPhone from "My devices."
Step 4: Go to the location of the files you want to transfer, select the file, then click.
Step 5: The file will upload on the app. Then click send.
Pricing
Monthly: $3.99/month
Quarterly: $3.23/month
Yearly: $2.5/month
Useful Tips for Accessing iTunes Files Successfully
How do I get iTunes to read my iPhone?
You can try the following if your iTunes cannot recognize your iPhone:
1. Update software on both devices
2. Connect your iPhone directly to your PC
3. Allow accessories
4.Restart your device(both computer and iPhone)
5. Try a different port
How do I get iTunes to recognize music files?
Do the following to get iTunes to recognize music files:
1. Open the iTunes app on your PC
2. Go to choose File > Add File to Library or Add Folder to Library.
3. Select the music you want to add or select the folder containing the music
4. Click open
What can I do if iTunes can't read iPhone files?
If iTunes can't read iPhone files, you can use alternative tools such as AirDroid Personal to transfer files. Third-party tools work seamlessly, and you won't feel a difference.
When iTunes cannot read the contents of the iPhone, don't worry about it. Try the basic fixes such as resetting your iPhone, updating software, etc. If nothing works, AirDroid Personal is here for you. It can help you transfer files just like iTunes if iTunes cannot read the contents of the iPhone. So don't worry. Give it a try!
FAQ
How do I fix iTunes cannot read iPhone content?
Ans. You can try various methods to fix iTunes, which cannot read iPhone content. Let's take a look:
1. Update iTunes
2. Reinstall iTunes
3. Sync iPhone data with iTunes
4. Reset to factory settings
Do I need to keep my iTunes updated to transfer files?
Ans. The latest version of iTunes is only sometimes needed to transfer files across PCs and iPhones. However, it would be best to consistently upgrade to the newest software version as soon as it's available.
Was This Page Helpful?