Quick Synopsis of the Best iCloud Alternatives
When you handle more data of different file formats, choose the perfect space to store them optimally. Quick access and easy storage facilities are a few of the features to look at while choosing the appropriate memory drives. Structured and organized storage enhances the overall access time and the flexibility of the usage helps the users to work comfortably with data anywhere.
In this article, break the stereotype of depending on iCloud storage and explore the best iCloud alternatives. There are numerous tools in the digital market offering mind-blowing space for storing unlimited data efficiently. Here you will be studying the excellent storage space that assists users to store data professionally.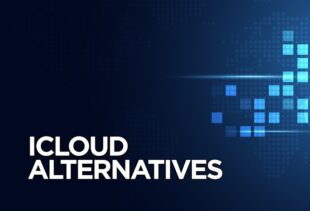 Part 1: iCloud Alternatives – Choose the Perfect Storage Space
Apple's iCloud is a stunning virtual memory drive that won most iOS users globally. The extended version of iCloud like iCloud Drive, and iCloud Plus has taken a different phase in providing comfortable storage for users where they can load the drive with unlimited data for a fixed cost. Based on the comfort the users prefer, the cost of the package varies. You can also switch over to alternatives to fulfil storage needs while handling huge amounts of data and files.
Many prefer the virtual storage space due to its flexibility in access and the data is available anywhere around the globe without any location restrictions. The security features of these types of storage seem to be high when compared to traditional methods.
1 Drop Box
Specialized for: Two-factor authentication for the files access
It is one of the widely used iCloud alternatives and is preferred by professionals of different levels. It is easy to use and has a simple environment. The secure server allows the users to store vulnerable data without any hesitation. The mind-blowing synchronization feature assists in the quick availability of files between the devices and servers. It works across many devices and there are no interruptions during the synchronization process through external advertisements. The great news about this tool is that you can use this storage in an offline mode and you do not have to connect to the network whenever you work with the files. Extreme authentication process such as 2FA is enabled to add extra security to the stored data.

Features
Simple interface with explicit controls for quick access
Do not require any technical skills to use this storage space
Easy to share while working in a team
The scanner option assists the users to scan the files
Excellent synchronization process
Dropbox is synchronized with the browser as an extension to enhance the storage feature while browsing. Windows Explorer allows the extension precisely and you can add content and menu options to it hassle-free. The in-built viewers in Dropbox let you take a quick snapshot of the data or image irrespective of its file format. You can use Dropbox to share files with your friends and colleagues. It is enough if you grant permission of access to permit multiple users to open the shared files. There is a mobile scanner option in Dropbox to scan the data before storing them in the memory space.
In a Nut Shell: Dropbox serves as a reliable storage host carrying a wide range of files in different formats permitting quick access to authorized users.
Price Details
Individuals - $9.99/month (2TB for 6 users)
Family - $16.99/month (2TB for 6 users)
Professional - $16.58/month (3TB for 1 user)
Standard - $15/month (5TB for 3+ users)
2 Microsoft OneDrive
Specialized for: Unlimited storage and share files via link
It is an attractive environment with a unique design assisting in quick file storage. This OneDrive offers unlimited storage for users. The files are protected with a password and allow the users to access the files even in offline mode. It uses IFTTT integration that helps to connect with different services hassle-free. Any changes with the files are quickly detected by OneDrive and notified to the user immediately. You can share the files with your friends and family through a link enabled with a time limit. The link expires as soon as the set time is fulfilled.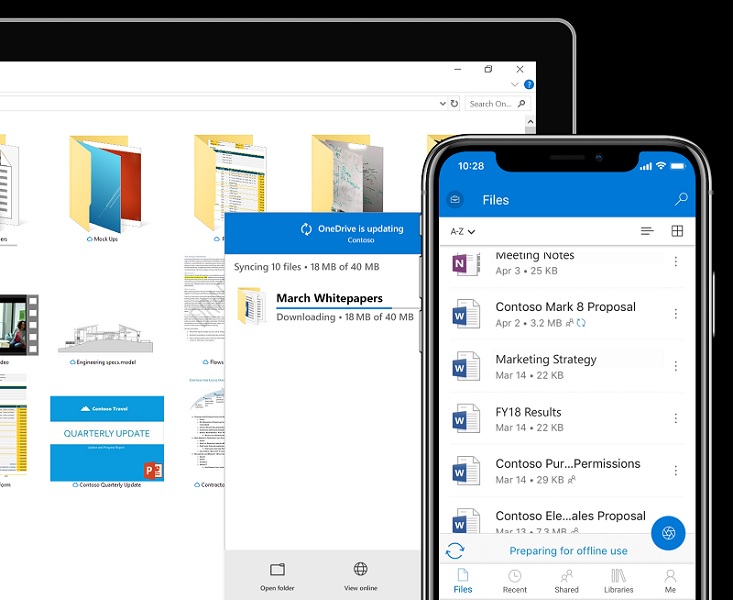 Features
Allow access to files for multiple users
Choose your desired files for synchronization with this platform
Easy to work in an offline mode
Attach a password to the shared files to avoid anonymous access
Quick file change detection is available with OneDrive storage space.
In a Nut Shell: Flexible storage space for users and offers mind-blowing integration options compatible with a wide range of services.
Price Details
Business Plan – $5/month (1 TB per user)
Business Standard - $12.50/ month (1 TB per user)
3 Mega
Specialized For: End-to-End encryption
Mega provides a secure space for your files with end-to-end encryption. It is also in-built with a two-factor authentication process to access the stored files. The excellent encryption algorithm helps the files to stay safe overcoming anonymous access. It allows the users to work in an offline mode and is compatible to operate in a dark mode thereby assisting in low power consumption.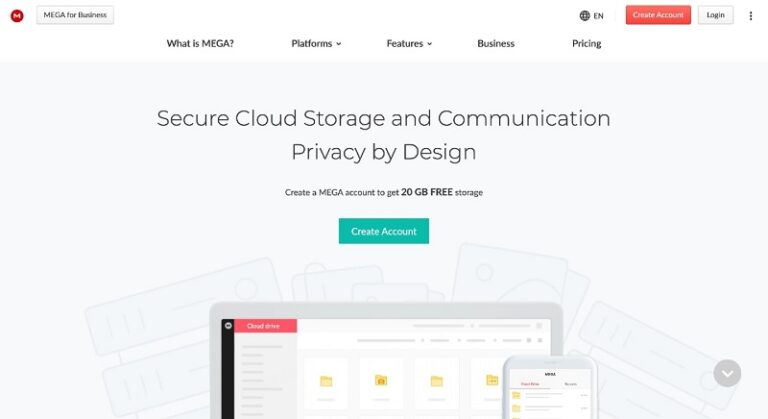 Features
A high-end encryption technique is implemented for the stored files to prevent anonymous access.
It supports the command line interface
Works well in the offline mode too
Allows the users to synchronize selective files with the storage space.
Share the files with multiple users easily.
In a Nut Shell: Compatible storage space and ensure authorized access to the users
Price Details
Basic plan - $5.85/ month
Pro - $11.71/ month
4 Google Drive
Specialized For: Collaborative editing
Google Drive offers excellent real-time collaboration for a team to work together hassle-free. It supports more than 63 languages and is in-built with a two-factor authentication process for file access. Enables the users to synchronize the data effortlessly irrespective of the file format. After a full backup, you can perform a differential backup provided by this tool to update the changes in the stored files. This service prevents redundant files and helps the files to stay updated for further processing.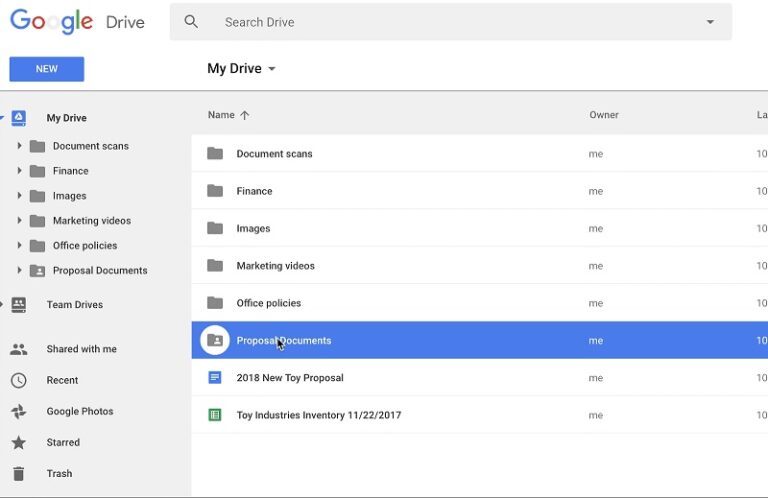 Features
Google Drive shows you the preview of the chosen page in a file or image from the stored files using the in-built viewer.
Send notification to the users when it finds any changes with the stored files
No internet connection is required because it works in an offline mode too.
Excellent integration features that permit the users to connect with different services hassle-free.
It is a collaborative tool and allows users with simultaneously editing while working in a team.
In a Nut Shell: Excellent collaborative editing storage space suited for the team while working together on a specific task.
Price Details
Business Starter - $6/user/month – 30GB
Business Standard - $12/user/month – 2TB
Business Plus - $18/user/month – 5TB
5 Syncthing
Syncthing is a lightweight storage space that supports a command line interface. It operates in a dark mode thereby allowing the users to work with less power consumption. The end-to-end encryption technique keeps your data safe and protects it from unauthorized access. It is a reliable storage environment and allows users to store a wide range of files effortlessly.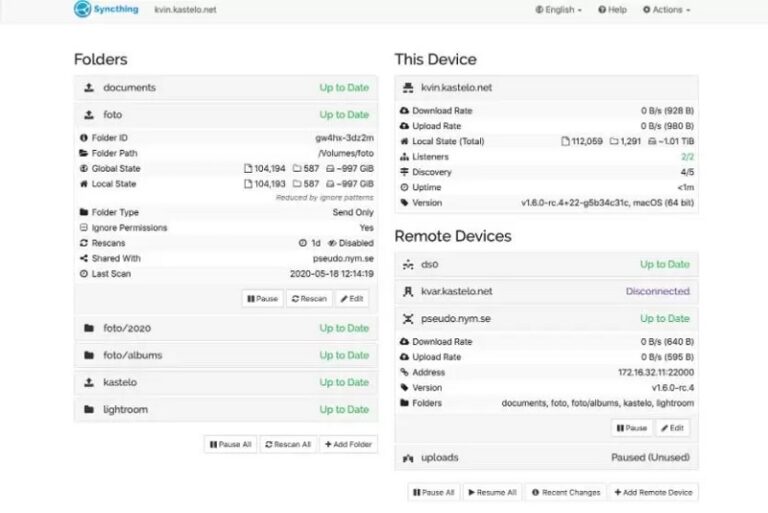 Features
Lighter storage environment and consumes fewer sources while synchronizing the process.
In-built with an excellent encryption technique
Allows the users to work with this space in a dark mode
In a Nut Shell: It is a simple storage space with an in-built encryption feature.
These are the iCloud alternatives you can switch based on your requirement. They are reliable and unique in their ways. Use those virtual memory spaces optimally while handling huge amounts of data.
Part 2: The Best iCloud Alternative – AirDroid Personal
The AirDroid Personal app serves as one of the best iCloud alternatives. It provides users with a wide range of functionalities like flawless file transfers, remote control, screen mirroring, Manages and backup files. It is an outstanding tool with a simple interface that enables a non-technical user to work comfortably. This application works across cross-platform without any compatibility problems. You can transfer files between devices and establish complete control of other gadgets for monitoring purposes. Use this program to screen mirror to acquire a better view of the content and back up the vulnerable files for future use.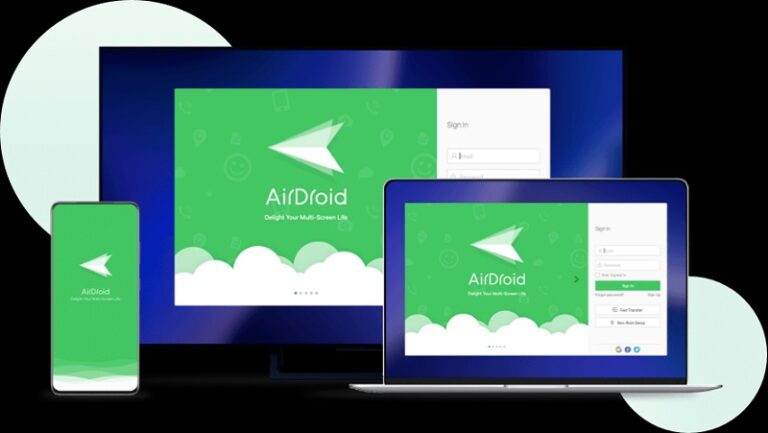 Features
User-friendly interface with explicit controls for quick access
Manages and backup files wirelessly for future reference
Easy to control other gadgets wirelessly
Transfer files from one device to another without any data loss
Mirror the screen of any device hassle-free.
The above-discussed features of the AirDroid Personal application assist the users to work with the files conveniently. Transfer larger files at a faster rate irrespective of its working platform. Establish remote connectivity between the gadgets to fulfill the needs.
Conclusion
Therefore, this article had given quick glimpses of iCloud Alternatives. You can connect with the perfect one that matches your requirements. Stay tuned with the AirDroid Personal app and discover its functionalities in real-time. It provides a complete solution for your device needs. It is high time to explore the AirDroid Personal tool and use your electronic devices optimally.
FAQs
1. Do iCloud provide free storage space?
Yes, iCloud offers users free storage space soon after the signup process. You can enjoy up to 5GB. For extra storage, purchase the premium version of the tool or switch to iCloud+ service.
2. How do you choose the storage drives?
Memory space provided at a reasonable cost is the crucial factor when choosing storage drives. Watch the compatibility too when you work with cross-platform.
3. Do you feel the iCloud, Google Drive and Dropbox storages are safe to use?
Yes, these storages are safe to use because they are in-built with the encryption algorithm. It works with an authentication procedure thereby protecting the files from anonymous access.
Was This Page Helpful?