How to Get More Space On Your Phone Without Deleting Anything
Nowadays, our entire life revolves around our mobile phones. The ubiquity of phones, coupled with their top-notch functionalities, has made them an indispensable part of our lives. From personal to professional, every facet of our existence is somehow connected to the tiny devices in our pockets. However, despite the gargantuan developments in mobile device technology, it has its limitations, one of which is storage restriction.
We perform so much of our routine activities on phones that the device storage is used up at a rather lightning-fast speed. And needless to say, there is nothing more frustrating than a popup on your phone screen that says 'your storage is full' when you are doing something important, like capturing a precious memory or preparing an urgent word file while commuting. Moreover, the irony is that deleting items and creating space is even more irksome.
So, if you never want to get the hassles of having your phone memory full, then read ahead. This article will tell you how to get more space on your phone without deleting anything.
Why Is The Phone Storage Always Full
Our phones are an extension of the tangible routine functions we are mandated to do daily. Therefore, they are bound to be a warehouse of documents, photos, files, videos, audios, and applications. One of the primary reasons our phone storage is always packed is that we do not delete obsolete pictures, screenshots, and videos from the device. Likewise, some phones have such complicated storage that it is difficult to find everything in one place and delete all the unwanted files. The cache app, a store for temporary files, is another big culprit for using up your phone's storage space fast.
Consequently, unused apps also take up a considerable amount of storage in our phones. Lastly, phones with massive storage spaces are expensive.
Furthermore, most of us are so busy that deleting unwanted files, documents, and media becomes a big chore, ultimately resulting in the piling up of unwanted data and finishing the device storage.
What If Your Phone's Storage Is Full? Do You Want to Delete Something To Fix It?
The first instinct when you see the 'your storage is full' message pop up on your phone screen is to delete photos, videos, applications, and even Whatsapp chats. However, the process is so tiring that most of us give up after erasing the first few items we encounter. Nevertheless, the good thing is that there are multiple easy breezy ways to optimize your storage space, even without going on a deleting frenzy. Therefore, if you are looking for ways to get more space on your phone without deleting anything, then this is the right place.
How to Get More Space On Your Phone Without Deleting Anything
Let us look at some traditional and non-traditional ways to optimize the device storage space -
1Via The Third-Party Software - AirDroid Personal
access and manage their files on multiple devices. It comes with a range of handy features for seamless multi-device management. AirDroid Personal provides you access to every component of the connected Android devices and controls them remotely. One of the most sought-after features of AirDroid Personal is that it optimizes your Android phone's storage space without deleting any items. Well, if you are curious to know how, then read ahead. Use the File Backup and Management Feature Of Airdroid Personal to Get More Space on Your Phone without Deleting Anything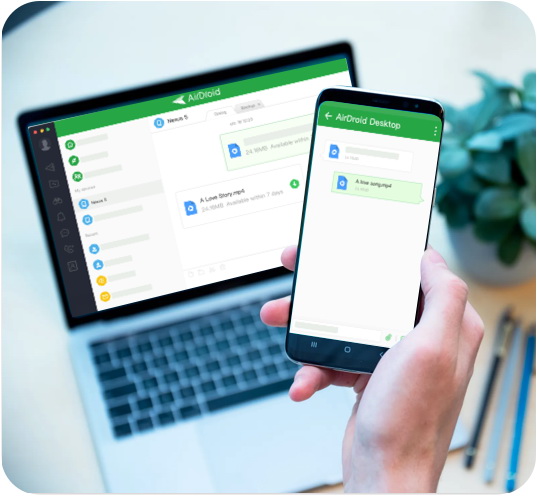 The device management feature of AirDroid Personal means that you can connect your mobile devices to your desktop and access its data, including images, videos, messages, contacts, etc. From the desktop client or the web client, you can check up and manage photos, videos, music, apps, storage, and more on your device. It is also possible to automatically synchronize and upload photos and videos to the PC so that your phone gets more storage even without deleting anything.
Likewise, the AirDroid Personal backup feature enables you to back up photos and videos on your phone to your desktop via a local connection. Thus, helping you increase the device storage without deleting any content. It is essential to remember that AirDroid Personal allows free backup of photos, but if you want to backup videos, you need a premium account. Nevertheless, the steps to use the AirDroid Personal Backup feature on your phone to optimize your phone storage area -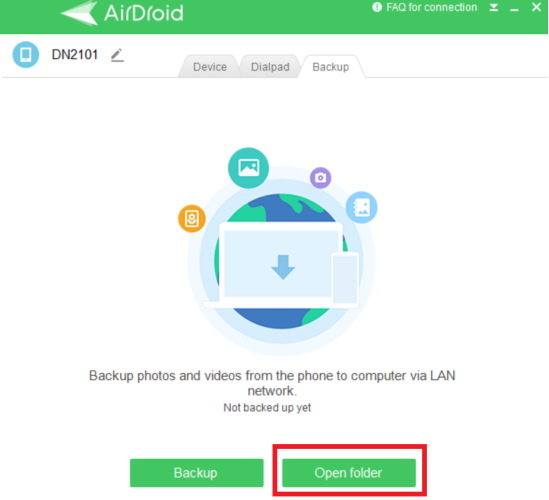 How to backup android to PC using Airdroid
Step 1.Open the AirDroid Personal application on your phone by tapping Tools > Backup.
Step 2.Select the 'Backup' option.
Step 3.Select the computer on which you want to save photos and videos on
Step 4.After choosing the desktop, click the 'Yes' button, and the backup will begin.
If you want to use AirDroid Personal's backup on your computer, the steps are as follows –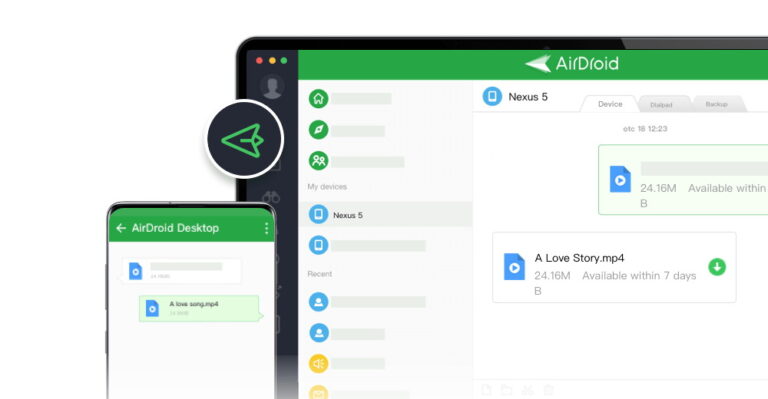 How to transfer file from android to pc using Airdroid
Step 1.Open the AirDroid Personal program on your computer
Step 2.Click on 'File Transfer'
Step 3.Select the phone whose photos and videos you want to backup
Step 4.Tap on the 'backup' button
Step 5.Follow the instructions to set up 'Automatic backup' on your phone
Step 6.Tap on 'Done'
So, there we have it, an overview of how to get more storage space on your phone without deleting anything. Now that we know how AirDroid Personal can be an absolute lifesaver when it comes to phone memory let us look at some of its other features.
Features of AirDroid Personal
Wireless Data Transfer- AirDroid Personal supports the complete transfer of data from your phone to your desktop wirelessly. With the assistance of AirDroid's File Transfer feature, you can transfer files between smartphones and laptops, smartphone to smartphone, Android to iPhone, and vice-versa. Bulk transfer of files and data becomes easy and quick with AirDroid Personal.
Remote Notification Management - AirDroid Personal allows you to receive notifications from your phone on your PC. It also synchronizes your messages so that you can read and reply to them via your computer. You can make voice calls, respond to SMS, and check Whatsapp notifications remotely without using your Android phone.
AirMirror – It is a wonderful feature that allows you to infiltrate any application of your smartphone and use them on the computer. You can play games, make notes, scroll through media, and likewise on your desktop by connecting your smartphone to your computer with AirDroid Personal.
Phone Tracking – The File Transfer app of AirDroid Personal lets you find your connected phone by using the GPS location of the device. In addition, you can completely erase the connected phone's data if it gets lost to prevent any privacy breach and data misuse.
Therefore, it would be safe to say that AirDroid Personal is a multi-tasking genius. It allows you to get more space on your phone without deleting anything and helps efficiently manage multiple Android devices from one location. So now, let us glance through some of the veritable benefits of AirDroid Personal.
Benefits of AirDroid Personal:
Seamless management of multiple Android devices as you can synchronize your desktop with up to five Android devices.
Increased efficiency by streamlining all tasks to one location
Can remotely access Android devices with broken screens
You can watch videos on higher-definition videos by using AirDroid Personal's screen mirroring feature.
You can transfer and manage files across multiple Android devices.
You can optimize and increase your phone's storage space sans deleting any files
AirDroid Personal is affordable, and student discounts on paid packages are available.
It is an incredibly easy-to-use Android management package.
Well, there we have it, an overview of a non-traditional method of getting more space on your phone. Now, let us gauge some of the traditional ways to increase the storage space of your Android device.
2Via Traditional Ways
Way 1. Optimize Photo Storage – Your photos are squeezed to the size, dimension, and resolution that keeps them to the smallest size possible without starkly hampering their quality. The process reduces the overall size of all your photos and frees up storage space.
Way 2. Change the Image File Format and Video Resolution – By changing the image file format and video resolution, you are reducing their size and increasing space on your phone.
Way 3. Clear Your Browser or App Cache – By clearing the cache, you wipe all multimedia and non-essential data from your phone, clearing up more space.
Way 4. Remove Downloads from Streaming Apps – By deleting obsolete downloads from streaming applications such as Netflix and Amazon Prime, you can free up some GBs from your phone quickly.
Way 5. Offload Apps You Do Not Use – It means setting your device to automatically delete apps that you rarely use while retaining the settings and files for future requirements. It is an excellent way to get more space on your phone without deleting anything.
What Things Take Up Storage On The Phone? What Files Take Up The Most Space?
The files that take up the most space on your phones are –
Videos
Photos
Games
Big applications like Instagram
Downloads on streaming applications
App data
Junk files
Messages
Documents such as Word files, audios, etc
Concluding Thoughts
So, there we have it, a comprehensive overview of the traditional and non-traditional ways to get more space on your phone without deleting anything. With the ways mentioned above, you do not have to spend hours deleting unwanted files from your device when the 'memory full' message pops up.