(Solved)How to Fix Move To iOS Not Working?
'Move to iOS' is a very helpful app. It makes the transition from android to iOS an easy one. Before the app, users often hesitated to make a move. Because they were worried about their files and apps on the old android. But Move To iOS makes it as simple as a few clicks. But what if 'move to iOS not working?
Well, that's a fairly common issue for users. Complaints like 'huawei move to iOS not working' or 'Samsung move to iOS not working unable to migrate' often appear in the smartphone forums. It's only natural because a cross-platform transfer is not an easy task. So, let's learn more about the problem and its solution.
Part 1. Move To iOS Not Working Transfer Interrupted
Why Is Move To iOS Not Working?
For various reasons, you might experience 'move to iOS not connecting' when using the app. One or both of your phone settings might not be suitable for the transfer. Or, the reason might be related to compatibility.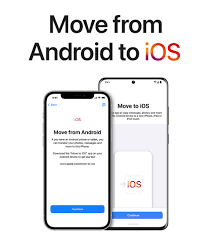 A 'move to iOS not working could not communicate with device' issue if any of the following causes are present-
The Apple Device has an iPhone operating system that is less than 9
Your Android device is less than Android Four
The Android phone runs on Android Nine
The IOS doesn't have adequate space for the transfer.
The devices are connected to different Wi-Fi networks
Both or one of the phones don't have a full charge
The IOS doesn't have adequate space for the transfer.
Solutions For 'move to iOS not connecting to iphone'
When you face the problem of android to iPhone transfer not working, consider the aforementioned causes first. You can then try restarting your phones and checking the Wi-Fi.
Has the issue arisen due to software glitches or different Wi-Fi connections that will solve it? However, if it persists, check and turn off problematic applications.
1Restart iPhone And Android
This is a time-tested technique to solve minor issues in your phone's system. However, iPhones have changed much over the years. The arrangement of buttons has become much different in the current models compared to the older ones.
Here's how you restart your iPhone if you have an iPhone 11, 12, 13, or XS/XR/X-
Step1: Simultaneously keep pressing the Volume down and side button till the Slider appears
Step2: Do a left-to-right swipe with the Slider to power off the device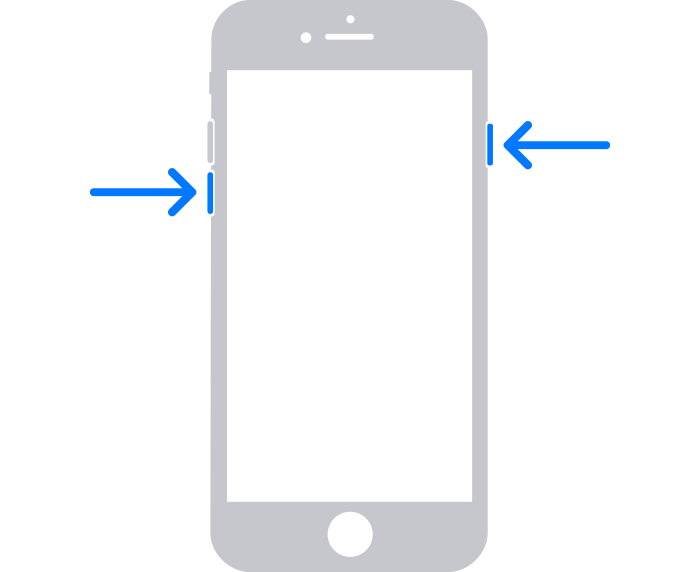 Step3: Wait half a minute, and press the side button until the apple logo appears. Your iPhone will start.
Other models of the iPhone have a Sleep/Wake button. You can find it at the top of the phone in older models. Meanwhile, this button is on the right side in the newer models (iPhone six and later). To restart these devices, follow these simple steps-
Step1: Hold the Sleep/Wake button until you see the Slider
Step2: Left to right swipe the Slider, and the phone will start to shut down
Step3: A spinner on the screen will indicate that the shutdown process is ongoing. Wait for it to complete.
Step4: After the spinner's gone and the screen completely dark, press the Sleep button again and don't release until the Apple Logo surfaces. Your device will start again.
For android phones, the process varies according to the company and the model. However, almost all phones have a 'Side button' and 'Volume buttons.' In most devices, it goes like this
Step1: Press the Side Button alone or in combination with the 'Down' portion of the Volume down.
Step2: A menu appears with three options - Power Off, Restart, and Emergency Mode
Step3: Select Restart and wait for the device to do so.
2Connect Phones To The Same Wi-Fi
One of the main reasons for 'move to iOS not connecting' is that the devices are not on the same Wi-Fi network. In this case, you should first turn off Wi-Fi on both devices. Then connect them to the same network again. For your iPhone, the steps are as follows-
Step1: Open 'Settings' on your iPhone
Step2: From the list, find 'Wi-Fi' and turn the Slider beside it to OFF
Step3: Now, again, turn on Wi-Fi and choose a network from the list
Step4: Connect to it by providing sign-in credentials if required
The Wi-Fi settings on Android slightly differ across models. However, most of the components are more or less the same. So, the steps might go like this.
Step1: From the slide-down menu, tap on the Wi-Fi icon to turn it off
Step2: Now, long press on the Wi-Fi icon to open the preferences
Step3: From the list, turn on the Slider at the top to activate Wi-Fi
Step4: Select the same network from the list that you chose for your iPhone
3Turn Off Android's Smart Network Switch
Consider network settings if you still face the 'move to iOS not connecting to iphone' issue. Android features like Smart Network Switch prevent 'move to iOS' from working when activated. You can disable it easily.
Step1: Open Settings and choose Wi-Fi
Step2: From the Preference page, select 'More' (top left)
Step3a: Touch 'Smart Network Switch' and stop it
Step3b: Turn off the tick mark beside Connections Optimizer
You can then reconnect your phone to the Wi-Fi and try again.
Part 2. Android To iOS Transfer Not Working: Try AirDroid
If there is the only solution to be recommended for 'move to iOS not working', then it is AirDroid Personal. It is a better and more convenient file transfer app than Move to iOS from every aspect.
First of all, your devices don't need to be on the same Wi-Fi for AirDroid to work. This is not the case with Move to iOS. You can also use AirDroid long after an iPhone has finished setting up.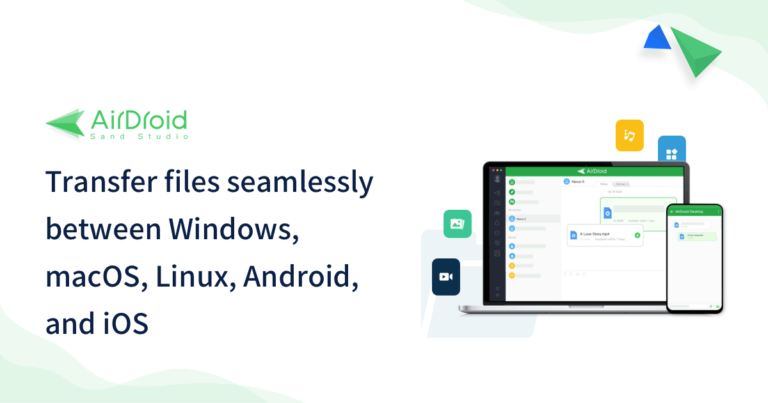 Features:
Share files from Android to nearby iOS devices without internet
Transfer big files at the fast speed of 200 mb/s
Manage, compose and send phone messages from PC
Retrieve data from the phone in the event of theft or accident
Work with all kinds of formats and platforms
Share your screen to other nearby devices
Pros
Users can enjoy a lot of liberty
Increased security for data
Easy, fast, and simple transfer
Cons
It needs better educational content.
Style and color need improvement.
Price: 29.99$/year
How To Use AirDroid When Android To iOS Transfer Not Working
You can follow these simple steps to move files with AirDroid when you face 'android to iPhone transfer not working.'
Step1: Download AirDroid on your android, iOS, and PC
Step2: Create an account and sign in to complete the installation process on all devices
Step3: Open the app on android and permit it to access files
Step4: Head to AirDroid Transfer on your PC and select your PC
Step5: Click the paper clip or attachment icon to select files and then send them to the PC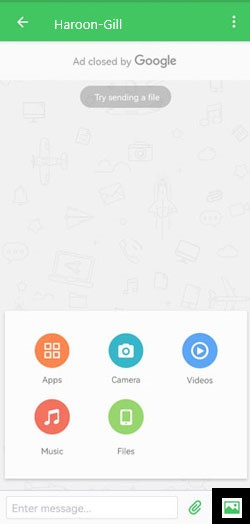 Step6: Now, open the app on your PC and select your iPhone from the My Devices list
Step7: Drag and Drop the files you received from android to your iPhone.
Part 3. Top Apps For Moving To iOS
The best solution for the 'move to iOS not working' issue is to use a professional app. It's not to say that the Apple Company has failed to create a competent tool. Instead, software applications whose sole purpose is to transfer files can handle the job better. Here are some applications you can consider when facing a 'move to iOS not connecting' issue.
1Contact Transfer
Contacts are one of the most precious items on an old phone. If the fear of losing them is holding you back from making a transition, Contact transfer is the perfect app for you. It is specifically designed for moving contacts between phones. Plus, it provides safety for your data.
Features:
Works post-set-up: 'Move to IOS' doesn't work once you have fully set up your iPhone. But that's not the case with Contact Transfer. You can use it to upload contacts to an iPhone you bought second-hand or one you were already using.
In-app edit: You can edit or update your contacts directly from the app. This allows you to access your contacts from your desktop and other devices.
Pros
It has a free trial version.
No data loss
Can provide back-up for contacts if the device gets lost
Cons
Can't transfer other files effectively
It needs Wi-Fi and a USB
Price:15.00$
2Droid Transfer
Droid transfer offers a variety of options. You can transfer photos, music, contacts, calendars, and all kinds of files with Droid Transfer. There are many options in this app that are not available on Move to iOS.
Features:
Backup messages: Droid Transfer backs up all the messages on the default Messaging App on your android. As a result, you can never lose treasured connections and relationships.
Preserves emojis: On some transfer apps, the text messages break format when transferred. Also, the emojis get lost or damaged. But Droid preserves the messages in their entirety. So, the emojis are safe, and so is the format.
Pros
It offers all kinds of file transfers
Works well with various messaging formats
Lets you retrieve messages from lost phones
Cons
It needs a helping app called Transfer Companion
Works via PC only
Price:30.00$
3SHAREit
When you face the issue of android to iPhone transfer not working, SHAREit can be a fantastic solution. You can move a wide range of files across a variety of platforms. Moreover, It's free.
Features:
Media Player: if you download SHAREit on your phone, you are getting a music and video player as a bonus. So, you can instantly play the content before sharing or after receiving it.
Versatility: You can use the app on all platforms. This makes it a good choice when 'android to iOS transfer not working.' Plus, you can share, literally, all kinds of files you can have on your phone
Pros
Free app
It supports a wide variety of transfer
Has media player features
Cons
Frequent ad pop-ups
Slow speed
Price: Free
Conclusion
Move to iOS has made life easy for many former android users. Without the app, they might have made their transition to iOS. At the same time, problems like 'move to iOS not working' are common if you use the app. So, ensure you are using the proper iOS and android systems.
However, if you face the 'move to iOS not working unable to migrate problem' too many times, don't waste time with the app. Use something like Contact Transfer, SHAREit, or Droid Transfer. However, if transferring files from android to iOS is something you must do daily, undoubtedly AirDroid is the best solution.
FAQ (Frequently Ask Questions)
Are free file transfer apps good alternatives to Move to iOS?
Ans. Free apps can come in handy when you need to move files from android to iOS immediately and don't have better options. However, you will have little success with moving big files with such apps. Plus, there is also the pain of sitting through the advertisements. Also, many such apps tend to steal user data.
How do I know if my android version is the cause of 'move to iOS not working'?
Ans. You can quickly know this by acquiring the software information of your phone. For that, go to settings and choose 'About Phone.' After that, select 'Software Information.' The following page will have an option called 'Android Version.' You will usually find it in the second position from the top. The version number will be mentioned under it.
Can I use Move to iOS to transfer files from android to a used iPhone?
Ans. No. Once the setup of a new iPhone is completed, it will not permit any file transfer via Move to iOS. So, you must move the files from your android before the setup.